Search continues
for lost woman
A 38-year-old who has been
missing for almost a week
might have a mental illness
---
Twelve-year-old Edward Tam looked into the dense forest along Likelike Highway yesterday hoping rescue workers would find his mother, Evin, who has been missing since Sunday.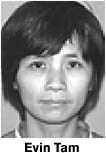 "She ran in the forest, she got lost and she got stuck in there and she might be lying up there. And me and my dad think she might have died," said Tam, who has an 11-year-old sister. "For five days without food and water, she might have died."
Police continued their search for the 38-year-old Aina Haina woman, which began Monday morning after her husband reported her missing midnight Sunday. Despite a public plea for help Monday, police received no reports of sightings since then.
Tam's light-blue 1996 Honda van overturned on the Likelike Highway near the Burmeister Overpass at about 3 p.m. Sunday.
When passers-by stopped to help, they saw a woman fitting her description running 200 yards from the van up along the highway, then into the forest, said police Missing Persons Investigator Phil Camero. Her slippers were found about 30 feet down an embankment.
Police said family members had said Tam had been acting strangely before the accident, talking to herself. Police said she could have an undiagnosed mental illness and might also have suffered a head injury in the accident.
"I think she hit the head, broke the glass," said her husband, Joe Tam.
Tam said he thought his wife had gone to visit his father's grave Sunday, but the flowers were still in the van, which overturned on the town-bound side of the highway.
"If my wife lucky, we find her in the forest," he said. "If somebody saw her, please call police. We concern she hit the head."
Tam put up posters along the highway and in Kaneohe and checked in Chinatown, an area she frequents.
Yesterday, 30 police and Department of Land and Natural Resources officers, two police dogs and volunteers from the Hawaiian Trail and Mountain Club searched the forest from the highway to the ridgeline, Camero said. Rescuers searched from the Likelike Tunnel to the Burmeister Overpass on the Ewa side of the highway and did spot checks on the Diamond Head side of the highway.
The police helicopter equipped with infrared capability began searching at 5 a.m. yesterday, Camero said.
Camero said the search was suspended Thursday while police awaited tips. But they received none and resumed the search yesterday. Fire rescue teams had gone in earlier this week. Police asked them to stand by yesterday.
Mabel Kekina, who heads the Hawaiian Trail and Mountain Club, said unlike her club members who are used to rough terrain, Tam was not.
"She lost her shoes, so she's barefooted," Kekina said. "It's really rough going with nothing on your feet."
And she noted Tam might have had internal and head injuries.
Kekina said Tam could have gone uphill, slipped and might be hidden under the brush.
Tam's first language is Chinese and she speaks limited English. She is 5 feet 1 inch tall, 106 pounds, with a slim build, black neck-length hair and brown eyes, and was last seen wearing a light-colored T-shirt, jeans and sandals.
Witnesses are urged to call police Missing Persons Investigator Mary Aragones at 529-3064, or anonymous calls may be made to CrimeStoppers at 955-8300 or *CRIME on a cellular phone.