---
A fish auction story
It took 16 years, but Hawaii finally
has its industry showcase
---
Sixteen years ago a development to showcase Hawaii's fishing industry was proposed for Honolulu Harbor. This morning, the Kewalo Basin commercial fish auction takes its final bids before it moves to the new "fishing village" next week.
Fish village debuts
The new fishing village at Pier 38 will feature:

» The United Fishing Agency, which reopens in its new location at 1131 N. Nimitz Highway, at 5:30 a.m. Tuesday. Auctions will be held at the same time every day but Sundays. The agency's phone number remains 536-2148.

» Pacific Ocean Producers, which sells fishing and boating gear. The company will close its Pier 36 store on Sept. 11 and open its new Pier 38 store Sept. 13. An affiliate business, Life Raft & Marine Safety Inc., is expected to open by October.

» Nico's Pier 38 restaurant, which is expected to open in the Pacific Ocean Producers Building by October.
United Fishing Agency has been making do in a cramped, outdated building at 117 Ahui St., near Kewalo Basin, for 25 years. It will start selling fish at its new, 15,000-square-foot building on Pier 38 on Tuesday.
At the new location, fishing boats will offload their catch directly from the pier to the auction house.
Compared with the current hauling of iced fish from boats to auction in open, un-refrigerated trucks, "this will mean a cost savings, a time savings and the fish will be less handled, so the freshness of the fish will be better maintained," said Akira Otani, United Fishing Agency president and the son of founder Matsujiro Otani.
Because the company's new facility will be three times larger, with more refrigeration space, it also will meet federal and international standards for seafood handling that have been unattainable at the old location, Otani said.
Pacific Jennings, owner and captain of the longline vessel Kami M., said he and other fishers hope the new standards will translate into better prices and an expanded market.
Officials took years to find a location on the old Pineapple Pier to carry out the concept of putting Oahu's fish auction alongside retail seafood sales, fishing-related businesses and restaurants that serve both tourists and fishermen.
After no private developer took on the project, the state did it. But its original development estimates of $6 million ballooned into $16 million for a 32,000-square-foot multi-user building, public restrooms, and infrastructure and landscaping for the 16-acre village.
The project was delayed a couple of years as the state spent an additional $1.4 million to deal with an underground petroleum pollution problem at the site.
Despite United Fishing Agency's sparkling, $3 million building, the auction's basic daily routine will remain the same, said Brooks Takenaka, auction assistant manager.
The fishing boats -- predominantly longliners -- will be unloaded in the early morning, the fish weighed and labeled for sale, and the bell to open bidding will ring at 5:30 a.m. six days a week.
The fish -- ahi, aku, marlin, mahimahi, wahoo, swordfish, opah, monchong and opakapaka -- will be iced and displayed on plastic pallets in the new building just as they have been in the old, Takenaka said.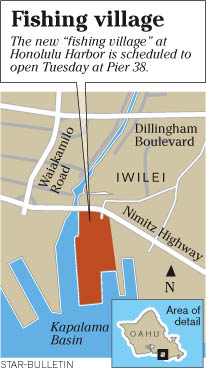 The operation will continue to be the only large-scale commercial auction in the United States where seafood buyers can touch, smell and taste the raw flesh of each individual fish that they buy.
"I think this is the fairest thing," Otani said yesterday morning as a dozen commercial buyers at the Ahui Street location squeezed sample chunks of ahi to assess their firmness, color and desirable oil content before bidding.
Some buyers, like Ronald Camarao of Diamond Head Seafood Co., have been coming to the Ahui Street location for decades, he said.
"This is old-fashioned," Camarao said as United Fishing workers used gaffs to move 60- and 80-pound tuna onto waiting trucks and covered them with crushed ice for delivery. "They're trying to become modernized."
But the old-style auction was something that Dexter Teruya, who works for local fishcake manufacturer Okuhara Foods, particularly wanted his 15-year-old son, Jayce, to see.
The younger Teruya, out of school for Admission Day, was impressed. He had never seen one whole tuna, much less a room full of them.
"I didn't know what it would be like," he said.
The highest price for a single fish yesterday was a 254-pound sashimi-grade ahi that went for $1,778. It was destined for local high-end sushi restaurants, the buyer said.
Four longline boats and a number of smaller boats supplied the more than 34,000 pounds of fresh fish sold yesterday. During the Christmas holidays the auction has moved up to 200,000 pounds of fish a day, said General Manager Frank Goto.
Jim Cook, longline fishing boat owner and vice president of Pacific Ocean Producers, a fishing and boating supply store, has supported the fishing village from the beginning.
His support has not waned, despite the delays and cost overruns, and his company will move its supply store next month from Pier 36 to a new, $3.5 million building on Pier 38. Also in its building will be an affiliate business, Life Raft & Marine Safety Inc., and a new restaurant, Nico's Pier 38, an outdoor dining spot that will serve fresh seafood and plate lunches for $5 to $7.50.
The state building does not have tenants yet, but Cook said he is confident they will come. Last year, Transportation Director Rod Haraga said the state will be able to recoup its investment from lease rents.
"I think it's going to be good -- good for the industry, good for the people and good for the economy," Otani said.