---
[ BRIEFLY ]
---
Public hearing for Ewa connecting road Sept. 1
State transportation officials will hear testimony on the planned construction of Ewa's North-South Road at a public hearing Sept. 1.
The Transportation Department issued a draft environmental assessment on the project in late July, and is expected to release a final version of the review later this month. Written comment on the project's environmental assessment is due to the Transportation Department by Sept. 16.
Once completed, the 2 1/2-mile North-South Road will connect a yet-to-be-built extension of Makakilo Drive with an extended Kapolei Parkway and give Ewa residents a new H-1 freeway entrance ramp. The first phase of the six-lane road will cost at least $30 million, officials have said.
The public hearing will be held from 7 to 9 p.m. at the Asing Park conference room, 91-1450 Renton Road. An open house will be held prior to the meeting between 6 and 7 p.m.
Disabled kids invited to technology camp
Children ages 8 to 13 who have disabilities are invited with their sisters and brothers to Camp Cool, a technology day camp, from 9 a.m. to 3 p.m. Sept. 11 and 18 at the Assistive Technology Resource Centers of Hawaii computer laboratory in Iwilei.
The children may choose to work with video, digital photography, computer-based applications or Web site development.
The Assistive Technology Resource Centers of Hawaii, a statewide, nonprofit organization that provides access to assistive technology for people with disabilities, and the United Cerebral Palsy Association are sponsoring Camp Cool. The cost is $10, including lunch and a T-shirt. Enrollment is on a first-come, first-served basis.
The site is accessible to people using wheelchairs or other mobility aids. Other accommodations should be requested by Friday. For information, call 532-7110.
---
ROADWORK AHEAD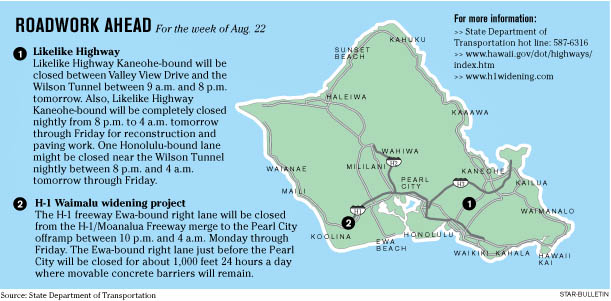 ---
---
[ TAKING NOTICE ]
---
» Johnmurf De Vera of Campbell High School in Ewa Beach participated in the National Youth Leadership Forum on Medicine in Arizona with some 350 other high school students from around the country who are interested in a career in medicine.
» Lauryn Ando of St. Francis School in Honolulu was a runner-up in the 10th Annual Junior Scholastic "Can You Find the Mapman?" contest, which drew nearly 10,000 entries from students in grades 6 to 8 throughout the United States and Okinawa, Japan.
» The Rotary Club of Kapolei has awarded 25 scholarships totaling $50,000 to Leeward Oahu high school seniors, ranging from $1,000 to $3,500 for college expenses. The scholarship funds were generated by the Rotary Club of Kapolei's annual Taste at Kapolei, an oceanfront event featuring Hawaii's finest chefs, beer and wine stations, live entertainment and silent auction.
The recipients are:
Darlene Abalos and Sheldon Yoneda, Kapolei High School; Germaine Afuola, Jennifer Chieng, Krystle Duldulao, Eduardo Duquez, Krystle Faller, Dave Gandule, Mariann Major, May Guevara, Tiffany Ho, Lorraine Lizardo, Jennifer Liem, Thuan Nguyen, Tasha Corcino and Kathryn Sagayadoro, Campbell High School; Shaina Philhower, Leona Wright and Kau'i Kahoonei, Nanakuli High School; Jordan Ahloy, Kamehameha Schools; Peter Kamakawiwaoole, Keolahou Christian Academy; Kawika Vellalos, Ho'ol'olu Academy; Dawn Kato, Hawaii Baptist Academy; Leiticia Lopez, Waipahu High School, Liberty Peralta, Waianae High School.
» Waianae High School students participating in its Searider Productions program earned two first-place honors in the National Television Academy's National Student Television Awards for Excellence, sponsored by the Time Warner Foundation.
In the news category and technical achievement categories, first-place prizes were given to Holly Stephens, Sam Kapoi, Liberty Peralta and Chad West for "Careless Teen Drivers." Honorable-mention winners for "Overweight Teens" included Peralta, Linda Siu, Keone Taaca and Keoni Fernandez.
An honorable mention was given in the technical and sports categories for "Athlete's Best Friend," produced by Nick Smith, Chad Brown, Mika Pitolo and Solomon Alfapada.

---

Honolulu Police Department Crimestoppers