---
[ FAST FACTS HAWAII ]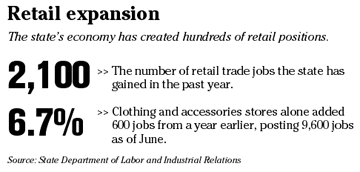 ---
BACK TO TOP
|
Retail benefits from economy
The vacancy rate at Hawaii retail properties dropped to 6.4 percent in the second quarter from 7.6 percent a year earlier, a sign of the improving local economy, according to a report released yesterday by commercial real estate firm
CB Richard Ellis Hawaii
.
Most retail expansion occurred in community and neighborhood retail centers, and the average asking rent has been pushed up to $2.49 a square foot, excluding malls and resorts, the report said.
Investors plan more than $400 million in Hawaii retail construction and renovation projects, and more than $71 million in retail property has changed hands in the past year, said Jeffrey Hall, senior director of research for CB Richard Ellis.
Moody's upgrades Big Isle rating
Moody's Investors Service
has upgraded Hawaii County's general obligation bond rating to A-1 from A-2, which will reduce the cost the county pays for insuring its $203.6 million debt.
Moody's said the upgrade reflects strong tax growth in recent years and economic development and construction projects that are expected to continue to boost taxes. The rating service also considered the county's improving financial performance and modest debt.