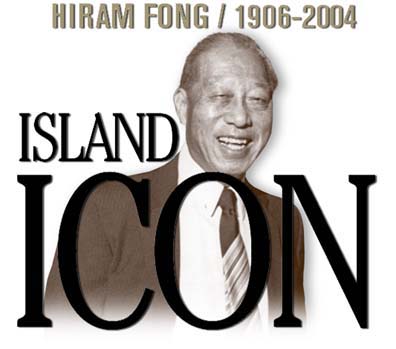 ---
---
The senator's rich life mirrored
the ambitions of a brash young state
At 97, former U.S. Sen. Hiram Leong Fong, with the aid of a walker, still went to work in the Bishop Street offices of Finance Factors every day.






---



"Hiram Fong was a legend in his time. He was a patriot ... a most revered Asian-American leader."



---


"(Fong) lived a life that was the very personification of the American dream, Hawaii style, rising from humble beginnings to broad success as a business person, community leader and elected public servant."



---


"He never forgot his Kalihi roots, and he didn't waste time fighting shadows."



---


"He really was a person of the people who represented the state wonderfully, and it was an honor to know him."



---


"He was an amazing man. I spent a lot of time with him over the years and grew to respect him even more each year."



---


"He was really a giant, a giant for the Republican Party. He spanned the entire period of Democratic ascendancy because of his long life. It was great that he was around for the return of a Republican governor."






Even this summer, after he had been hospitalized in intensive care at St. Francis Medical Center, Fong still kept a hand in business affairs, participating in board meetings by telephone from his hospital bed.
Saturday, doctors sent the senator home to Alewa Heights Drive to be with his family. At 1 a.m. yesterday, Fong died with his daughter, Merie-Ellen Gushi, at his side and his wife, Ellyn, nearby, according to family and friends.
Yesterday, as state flags flew at half staff in his honor, longtime friends and political associates fondly remembered the first U.S. senator of Asian ancestry as a tough fighter who worked his way from the streets of Kalihi to graduate from Harvard Law School, serve as a Republican in the Senate for 18 years and build a financial empire that made and lost him millions over the years.
U.S. Congressman Neil Abercrombie and others likened the arc of Fong's life to the transformation of Hawaii to a modern state and society.
In a written statement, Abercrombie said: "Born of immigrant parents into modest circumstances, Sen. Fong worked hard and achieved great success in the fields of business and politics."
Ronald T.Y. Moon, chief justice of the Supreme Court of Hawaii, said, "The man's life is legendary. No other Asian American has done so much for his country and state in developing positive relations between Asia and the United States. His life's story is a model for all young minorities who strive for the American dream."
Gov. Linda Lingle, who made Fong an honorary chairman of her 1998 gubernatorial campaign, said yesterday that he was successful "because he had been able to talk to average people, he was able to talk to people of high social position and everyone in between and treat them all the same way.
"He stood up on this little rise of land to address the crowd, and it was the most inspiring, motivational speech that I have ever heard a politician make and you could feel the crowd responding to him."
She said, "I think that was really the secret to his success: He never forgot his own beginnings."
Fong was born on Oct. 15, 1906, the seventh of 11 children of immigrants from Kwangtang province in China. Fong's father had emigrated to Hawaii at the age of 15 to work in the sugar cane fields, and his mother was a maidservant. His parents named him Yau Leong Fong, but he later changed his name to Hiram.
As a child growing up in Kalihi, Fong shined shoes and sold newspapers on the street. He also caught and sold fish, delivered poi and charged 25 cents to caddy a nine-hole round of golf.
Fong graduated from McKinley High School and worked his way through the University of Hawaii at Manoa in jobs ranging from bill collecting to guiding tourists. He graduated from Harvard Law in 1935.
For the next three years. Fong was a deputy attorney for the city and county of Honolulu. In 1938 he set out on a 14-year career in the legislature of the Territory of Hawaii. He served four years as vice speaker (1944-1948) and six years as speaker (1948 to 1954).
During World War II, Fong joined the U.S. Army Air Corps and rose from first lieutenant to judge advocate of the 7th Fighter Command of the 7th Air Force.
After the war, Fong helped found the law firm of Fong, Miho, Choy & Robinson. In 1946, Fong pooled money with the Chang and Chun families to buy a potato field in Kapahulu they transformed into the Market City Shopping Center.
The shopping center, which was anchored by the first Foodland, became a profitable business and the financial foundation for other enterprises. In 1952, Finance Factors Ltd. and the Finance Factor family of businesses was founded with five other partners.
---
---
Finance Factors Chairman Daniel Lau, one of the original founders, said yesterday, "I am saddened by the loss of such a great man and close friend."
On July 28, 1959, Fong, who referred to himself as "the titular head of the Republican Party" in Hawaii, was elected to the U.S. Senate.
Fong often told friends that he was proud of his part in supporting civil rights legislation during the 1960s and his support of the Immigration Reform Act of 1965, which attempted to eliminate racial discrimination in U.S. immigration law.
U.S. Sen. Daniel Akaka praised Fong yesterday for being "a compassionate advocate for civil rights and workers' rights."
Akaka said Fong "personified the spirit of bipartisan cooperation as he worked with Republican and Democratic colleagues and administrations to enact landmark civil rights legislation."
Fong was re-elected in 1964 with 53 percent of the vote, despite a Democratic presidential landslide in the state for Lyndon Johnson.
By the 1970 campaign, Fong had lost votes because of his support for President Richard Nixon and the American role in the Vietnam War. He was narrowly re-elected that year, defeating political newcomer Cec Heftel.
In 1977, Fong retired to focus on his business interests.
U.S. District Judge Samuel King, who was appointed to the bench by Nixon at the urging of Fong, said yesterday: "We did a lot of politics together. One of his favorite questions was, 'Do you have the votes?'"
King, who considered Fong a friend and owed his judgeship to him, said: "Hiram Fong was an absolutely honorable man. His word was as good as gold, and he never went back on it."
For the last 10 years, Fong's finances and family have been torn apart by various disputes and court fights among family members and shareholder factions involving the founding families of Market City.
In a fight for control of Market City, Fong's youngest son, Marvin, and his wife, Sandra, sued Fong and his wife. In March 2003, Hiram Fong and his wife filed for bankruptcy, citing more than $10 million in debts to four local banks, business associates and family members.
In a written statement issued at the time, Fong said he was filing bankruptcy because the actions of his son Marvin and Sandra had "left me with no other options."
Fong's statement said: "After suing his mother and me, they have refused to settle the differences between us. It is most unfortunate when people 'bite the hand that feeds them,' especially when it is your own son and his wife."
Family members say that Marvin had not spoken with his father for four years. But yesterday, Marvin issued a press release through a public relations firm saying that he met with his father Friday and that "my father and I made peace before his death."
Fong's other children - Hiram Jr., Rodney and Merie-Ellen - could not be reached for comment.
Late yesterday, there were no confirmed details about services, which are being handled by Nuuanu Memorial Park and Mortuary.
---
Staff reporters Richard Borreca, Debra Barayuga and Diana Leone contributed to this story.
---
---