Schofield soldier dies in
crash in Afghanistan
---
A 30-year-old soldier from Oklahoma has become Schofield Barracks' third fatality in Afghanistan.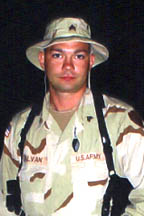 Helicopter crew chief Sgt. Daniel Lee Galvan, of Moore, Okla., died Thursday when the UH-60 Black Hawk helicopter he was in crashed in the Afghan mountains along the border with Pakistan. Three other crew members from the 25th Infantry Division and nine of 11 Marines on board were also injured in the crash.
The Army said last night two of the three injured crew members have returned to duty.
Galvan's unit is part of Task Force Diamond Head, which is planning a memorial service for him on Monday, said Maj. Stacy Bathrick, a 25th Infantry Division spokeswoman in Baghram. She said that all the Black Hawks flown in Afghanistan, estimated to be about 30, belong to the 25th Infantry Division from Schofield Barracks.
In Texas, Galvan's grandmother Carmen Artega told a local television station that the last time she saw him, he told her, "'Don't worry, Grandma, and I don't want you to cry because I'm coming back.' Those were his last words."
His 30th birthday was on Tuesday, Artega said.
Galvan's survivors include his wife, Sonya, two children, his father, Ernest, a 24-year Army veteran who served in Vietnam, and his mother Melba. He enlisted in the Army in June 1996 and was assigned to the 25th Aviation Regiment in June 2002.
Artega told the KGBT-4 television station: "My son came over, and it was an unusual hour for him to come, so I asked him what's wrong. He said, 'It's Danny,' and that's all I had to know."
She says that as a child, Daniel and his sibling lived with her for a while because their father, her son, was in the Army. Daniel was born at Fort Ord, Calif., "and they used to stay here with me. When he was a year old, they stayed here with me because his daddy was on a mission."
Artega said Galvan enlisted in the Army right out of high school.
Galvan and the three other injured soldiers are members of the 25th Infantry Division's 2nd Battalion (Assault), 25th Aviation Regiment.
Bathrick said a pilot and crew chief of the Black Hawk were returned to duty yesterday. She did not identify them.
The Army said the Black Hawk was on a routine mission shuttling Marines and not involved in combat operations.
"The helicopter was destroyed in the crash but did not burn," according to a military statement. "Hostile fire was not involved. The cause of the crash is under investigation."
The injured troops were taken to Camp Salerno, an American base near Khost city, 90 miles south of Kabul, for treatment. There were a total of 11 Marines aboard the Black Hawk, the Army said.
Among those injured in the Black Hawk crash was 1st Lt. Christopher Marvin, 25, the other pilot of the helicopter.
His father, Mike Marvin, of Bloomington, Ill., said the Army told him that his son had a broken leg and other injuries.
Marvin was moved yesterday to Landstuhl Army Hospital in Germany. The Army said last night that he also had injuries to his arm.
Mike Marvin, a retired Army colonel, Vietnam War veteran and Black Hawk pilot, said his son joined the Army three years ago because "he wanted to fly like me."
The Black Hawk is a utility helicopter used for transporting personnel, equipment and supplies. It can carry a crew from four to 11 passengers.
Galvan's death raises the 25th Division's fatalities to three in Afghanistan and six in Iraq.
Since the Iraq war started in March 2003, 11 soldiers and one civilian with ties to Hawaii and have been killed in Iraq. Of the 12 deaths in Iraq, 11 were due to hostile action.
---
BACK TO TOP
|
Men from his unit describe
Galvan as a key leader
---
Sgt. Daniel Galvan was remembered by soldiers in his unit as a patriot, a key noncommissioned officer and a man who loved to ride his Honda Shadow 750 cc motorcycle.
Galvan was killed in a helicopter crash Thursday in Afghanistan, two days after he turned 30. In telephone interviews from Afghanistan last night, two of his fellow soldiers praised Galvan's dedication to his job and country.
"He loved to work. He was always the last to leave," said Spc. Paul Ramirez, who served under Galvan for the past three years. "He was always there when you needed him. He was the prime example of the NCO (noncommissioned officer) creed: Be, Know and Do."
Capt. Matt Champion, commander of Bravo Company who has known Galvan for 15 months, said the Oklahoma native had been recommended to be soldier of the month and was in line to be promoted.
"He was a key component of my company," said Champion. "He was the cornerstone -- a bedrock on what the company was based on. I depended on him from the moment we stepped off the C-17. He loved his country and he loved what he was doing. ... He died doing what he loved, in the service of his country."
Champion said there also was a lighter side to Galvan. "He was the kind of guy that would host a Saturday night poker game. He didn't always win, but he didn't mind that. He enjoyed the camaraderie."
Galvan's past awards included an Army Commendation Medal, three Army Achievement medals and two Army Good Conduct medals.
"He loved his country," Champion said. "He was a soldier's soldier."