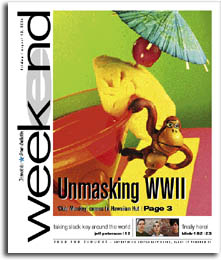 [ WEEKEND ]
---
---
Looking at
WWII Hawaii
---
We're in what looks like some military watering hole somewhere in Honolulu, circa World War II. There's a taxi dance going on. Nervous soldiers buy tickets for the opportunity to dance with one of the available young women there.
Club Monkey
Where: Hawaiian Hut, 410 Atkinson Drive

When: 8:15 p.m. today and tomorrow

Admission: $15 at the door

Info: 599-3931
It's a temporary solace from wartime worries, to trip the light fantastic to big band hits of the day and hold a pretty young thing in your arms before being shipped off to the front.
But, wait a minute. Everyone's wearing these flesh-colored masks, each painted with a vacant expression.
This is not some fetishistic scenario. Instead, we've entered the world of "Club Monkey," the latest production from Monkey and the Waterfall Dance Theatre Company, to be staged, appropriately enough, in the faux-Polynesian splendor of the Hawaiian Hut this weekend.
The company, co-directed by Yukie Shiroma and Ben Moffat, concludes its trilogy of performance arts works that were originally staged at downtown's The ARTS at Marks Garage in 2001 and 2002.
The previous productions were dark in tone, addressing addiction in all its facets. This time 'round, it'll be an evening inspired by the clublife and floorshows of wartime Honolulu, whether they were hapa-haole Hawaiian galas, Nisei productions and even drag revues.
Helping out Shiroma and Moffat again this year are regular company collaborators mask designer and visual artist Michael Harada, kumu hula Michael Pili Pang, Cocoa Chandelier (aka Sami Akuna) and University of Hawaii dance professor Betsy Fisher.
Both she and Moffat share an intriguing duet, with the 6-foot-4 Moffat looming over her in drywall stilts like some lurching, four-legged beast of a military commander. A commentary on both the futility of war and gender roles, what starts as a surreal and physically demanding dance with a palpable edge of danger ends as a poignant portrayal of human vulnerability.
"I actually feel giddy about it," Fisher said in a post-rehearsal conversation last week at the Mid-Pacific Institute dance studio. "There's definitely a fear factor to it."
This is Fisher's second time with the Monkey and the Waterfall company, and she said she appreciates how her discipline in dance broadens when she works with the company to include characterization.
"With my dance background, I've done a lot of spatial stuff with an emphasis on technique, and Yukie offers another lens to look at dance, something more character driven."
Fisher and the rest of the cast of 20 will also do a mixture of modern and Hawaiian-themed pieces, with the inimitable Cocoa Chandelier during his/her usual gender-bending performance.
---
---
AFTER DOING the previous two site-specific productions downtown, Moffat said that it was the company's intention to do its next production in a wartime cabaret setting.
"Especially since there are parallels between now and the decadence of that period, when it was fascinating to see how entertainment was used as a distraction during such a time of uncertainty."
Ideas were bandied about and improvised upon in shaping "Club Monkey," with Shiroma channeling and shaping the production as its prime director.
"I came up with the idea of using the framework of a wartime club," Shiroma said. "The whole piece, actually, is a tribute to my parents," who shared their memories during that time with their daughter.
"This is so much fun to do," said an enthusiastic Fisher, "the freedom that we have in putting this thing together. It's a blast!"
But there's no denying the serious intent behind the production.
"Our company's overall theme has always been how people conceal and reveal themselves through masks," Shiroma said, "whether that mask, in real life, is clothing or gender. It's all facade. And that masking is more intense during wartime."
Shiroma did extensive research to prepare for "Club Monkey," to see how gender and race were dealt with in wartime Hawaii.
"I found out that, with the influx of the haole soldiers to Hawaii, it disrupted the local social system that only dealt with the kamaaina plantation-owning haoles. In fact, using only women from the mainland, prostitution was given legal sanction by both the military and the City. Because of that, Hawaii residents had the lowest incidence of venereal disease in the U.S. during World War II.
" 'Club Monkey' is not a literal re-creation of that time," she said, "but, as we look back at it, a reflection."
---


Click for online
calendars and events.