[ 2004 OLYMPICS ]
---
Frazier no stranger
to Olympic stage
The UH athletic director will be
marching in his sixth opening
ceremony
This is the last of the series on people with local ties taking part in the Olympic Games in Greece. Tomorrow: Let the Games begin.
---
"Runners, to your marks."
How many times has Herman Frazier heard that call to the starting line?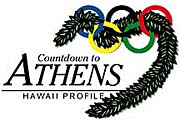 The Frazier File
Position: Team USA Chef de Mission

Competition dates: Aug. 13-29

Birthdate: Oct. 29, 1954

Birthplace: Philadelphia

Residence: Honolulu

College: Arizona State

Tie to Hawaii: University of Hawaii athletic director

Fun Fact: Legendary Arizona State football coach Frank Kush tried to recruit Frazier to play for the Sun Devils, but Frazier's mother "worried about my little bones and told me I couldn't," said Frazier, who competed at 158 pounds.

Did you know? Frazier, whose first sport was baseball, didn't begin competitive running until his senior year in high school. Four years later, he was on the gold-medal winning 4x100 relay team at the 1976 Olympics in Montreal.
More than he can count. Not as often as he would have liked.
Frazier was one of the several hundred American athletes left without an Olympics in 1980 when the U.S. led a boycott of the Moscow Games to protest the Soviet invasion of Afghanistan.
His athletic door was slammed shut, but it opened the window to become part of the U.S. Olympic Committee and ensure that such a boycott by America didn't happen again.
"I was one of the athletes chosen to meet with (U.S.) government officials when the decision was made," said Frazier, the 49-year-old athletic director for Hawaii. "We were told by President Carter we would not be going and why. At the time, I supported what he was saying but the longer I've been around ...
"I think about one of the greatest athletes of our era, Renaldo Nehemiah, and that he never had the chance to compete in the Olympics. We were roommates (at the 1980 U.S. Track and Field Trials). After the boycott, that's when I wanted to get involved."
Tomorrow in Athens, Frazier will lead the U.S. delegation into Olympic Stadium as the team's Chef de Mission. It's the ultimate job at what he calls the ultimate in competition.
"This will be my sixth Opening Ceremony," said Frazier, who also marched in 1976, '96, '98, 2000 and '02. "You can't explain the feeling you get when you come down that ramp and you are the U.S. team. There's no other spirit that engulfs you like this, to hear the roar of the crowd.
"And to have it back in Greece, the birthplace of the Games, will be very, very special. The Greeks were upset in '96 when they didn't host the centennial Olympics. But they would not have been ready. They are now and this will be their shining moment."
Frazier has been in Athens since Aug. 1. It's been a lot of work, with a few headaches induced by drug issues and last-minute pullouts due to injuries.
"The doping issues in track and field continue to be the topic of the day," Frazier said Tuesday via e-mail. "We will eventually get through all of that and move on with sports. The other countries feel for us in respect to the negative publicity that has been bestowed upon us by a few.
"The teams are ready. We continue to welcome additional teams to the village every day. (Monday), we received our official welcome by the Mayor of the village. There were in excess of 60 journalists present and we had around 100 athletes and officials. We have had some teams check in here and depart to other parts of Europe to train but they will all be back for the (opening) ceremonies (tomorrow) evening."
Frazier addressed Team USA last week, touching on safety, processing and behavior. There will be no in-your-face celebrations as happened at the 2000 Sydney Olympics, most notably by the 400-meter men's relay team.
"We talk to them about how we think that we should behave whenever we're somebody's guest," said Frazier. "One of the things we're trying to get people to focus back in on is sport and sport only."
"I've told them they are no long a member of USA Basketball, USA Track and Field. They are Team USA."
Security is tight and the U.S. delegation, including some 400 athletes, is aware of being a target of terrorists. When most of the team moved into the Olympic Village on Monday, the U.S. flag was not raised to signify the team's arrival.
Officials chose to wait until Tuesday to raise the flag, saying it gave the team time to settle in without fanfare or extra notice.
Frazier has had his personal brush with the security issue. On Monday, he wanted to get to the American College of Greece for a briefing and left with his driver and no escort.
"The driver was scolded by the authorities," Frazier said. "We now have to wait for an escort wherever we go."
And he is ready to go ... anywhere he wants at this Olympics. Frazier has been issued a rare 'AC' credential, which is an all-access pass to every venue, hospitality room, media interview and official proceeding such as drug testing.
"What I have is better than tickets," he said. "Yes, it is cool, especially to be able to go from one venue to the next and see such great athletes.
"In Sydney, I went to tennis to watch the Williams sisters play doubles, then to swimming to see this great kid named Ian Thorpe, then watched Tommy Lasorda coach baseball, then went to basketball to watch U.S. players like Kevin Garnett. The same night, I caught some late-night track. I am a sports junkie.
"Growing up, I watched the Olympics on television like everyone else. I never envisioned me having this opportunity. But it's something that gets in your blood."
Although this is Frazier's last official duty with the U.S. Olympic Committee this Olympiad, it likely won't be his last.
His term as USOC vice president expired in June, but he's already looking at a possible role when the Summer Games are in Beijing. Being elected as USOC president could be in Frazier's future.
"I'll probably serve on a small committee," he said. "I'm probably the youngest Chef de Mission they've had and (USOC President) is not out of the realm of possibility."
Frazier hopes to be able to continue his influence on the USOC to bring more Olympic-caliber competition to Hawaii, such as the USA Triathlon Trials held in Honolulu in April. He has already had conversations with the triathlon organizers for a return engagement and "there are 8-10 national governing bodies who see Hawaii as a potential place for their trials," he said. "I'm confident Hawaii will host more events."
Frazier has come a long way since beginning his track career at Denison University, a Division III school in Ohio. It's been a journey that has included team gold (4x400 relay, 1976 Olympics) and individual glory (bronze medal, 400 meters, 1976 Olympics).
He counts among his friends some of the most famous and infamous names in the history of the Games. When asked which Olympian was the most inspiring or who he enjoyed meeting the most, Frazier took a step back to look at the 1968 Games in Mexico City and the Black Power salute given by 200-meter gold medalist Tommie Smith and bronze medalist John Carlos during the medal ceremony.
It was a nonviolent protest that was meant to call attention to the fact that America's civil rights movement had not gone far enough to end racial injustices against black Americans. Smith and Carlos were kicked off the U.S. team and banned from the Olympic Village.
"I admired what they did and they paid dearly for it," Frazier said. "If guys like that didn't blaze the trail, there is no way I could have been able to do what I've been able to do."
In many ways, Frazier has taken the baton from the past and is ready to pass it on to the future. Tomorrow is the big day and "I am absolutely ready for it," he said.
---
---
BACK TO TOP
|
Hawaii's connection
---
Hawaii is represented by 18 athletes with ties to the islands, two officals and the USOC's Chef de Mission. The athletes are either current or former residents and/or competed for the University of Hawaii or UH-Hilo.
---
| | | | | | | |
| --- | --- | --- | --- | --- | --- | --- |
| Name | Hometown | School | Age | Sport | Country | Competition dates |
| Robyn Ah Mow-Santos | Honolulu | Hawaii | 28 | Volleyball | USA | Aug. 14-28 |
| Marie-Luc Arpin | Montreal | Hawaii | 24 | Water polo | Canada | Aug. 16-26 |
| Lindsey Berg | Minneapolis | Punahou '98 | 24 | Volleyball | USA | Aug. 14-28 |
| Nik Berger | Wien, Austria | Hawaii | 30 | Beach volleyball | Austria | Aug. 14-28 |
| Heather Bown | Orange, Calif. | Hawaii | 25 | Volleyball | USA | Aug. 14-28 |
| Brandon Brooks | Honolulu | Punahou '99 | 23 | Water polo | USA | Aug. 15-29 |
| Tania Brunton Tupu | Wellington, N.Z. | Hawaii | 30 | Basketball | New Zealand | Aug. 14-28 |
| Andy Bussey | Kailua | Punahou '97 | 21 | Kayak (K-2) | USA | Aug. 23-28 |
| Aaron Chaney | Laguna, Calif. | Punahou '75 | 47 | Water polo (ref) | USA | Aug. 16-26 |
| Bryan Clay | Azusa, Calif. | Castle '98 | 24 | Decathlon | USA | Aug. 23-24 |
| Kathy Colin | Kailua | Punahou '92 | 30 | Kayak (K-2, K-4) | USA | Aug. 23-28 |
| Herman Frazier | Honolulu | Hawaii (A.D.) | 49 | Chef de Mission | USA | Aug. 13-29 |
| Lovie Jung | Fountain Valley, Calif. | Arizona | 24 | Softball (2B) | USA | Aug. 14-23 |
| Stein Metzger | Redondo Beach, Calif. | Punahou '91 | 31 | Beach volleyball | USA | Aug. 14-28 |
| Kelsey Nakanelua | Honolulu | Hawaii | 38 | Track (100m) | Am. Samoa | Aug. 21-22 |
| Kristy Odamura | Richmond, B.C. | UH-Hilo | 28 | Softball (IF) | Canada | Aug. 14-23 |
| Leilani Okuda | Honolulu | McKinley '83 | 39 | Softball(umpire) | USA | Aug. 14-23 |
| Stacey Porter | NSW, Australia | Hawaii | 22 | Softball (1B) | Australia | Aug. 14-23 |
| Lauren Spalding | Kula, Maui | None | 24 | Kayak (K-2, K-4) | USA | Aug. 23-28 |
| Clay Stanley | Honolulu | Hawaii | 26 | Volleyball | USA | Aug. 15-29 |
| Brooke Wilkins | Brisbane, Australia | Hawaii | 30 | Softball (P) | Australia | Aug. 14-23 |
---
Note: UH associate track coach Andy McInnis, a former Canadian Olympic team coach, will be a track analyst for Canada's CBC.