[ STAR-BULLETIN / KITV 4 NEWS POLL ]
---
Presidential preferences
follow party lines in isles
A statewide poll finds 48 percent
favor Kerry with many undecided
---
Democratic presidential hopeful John Kerry is the leading candidate among Hawaii voters, according to the statewide Star-Bulletin and KITV-4 News poll.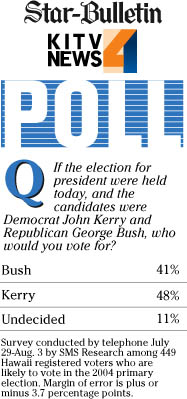 Of the 681 registered voters who were surveyed, just more than 48 percent said they support Kerry. But because of the number of undecided voters, there is no clear majority in the presidential race. Forty-one percent were behind President Bush, while 11 percent were undecided.
Bush had the lead among respondents who said they make between $50,000 and $75,000 annually. Fifty percent of those surveyed in that salary bracket said they plan to vote for Bush, while only 35 percent said they supported Kerry.
But Kerry supporters were in the majority among residents in all other salary ranges.
Voters who said they make more than $150,000 annually showed the widest support for Kerry, choosing him over Bush nearly 2-to-1. Forty-four percent of those polled who earn less than $25,000 a year -- the lowest salary bracket -- also said they would vote for Kerry, compared with 43 percent who would opt for Bush.
Hawaii-based SMS Research conducted the poll from July 29 to last Tuesday and included residents who said they would likely vote in the presidential election. The margin of error was plus or minus 3.7 percentage points.
The Massachusetts senator proved popular among 18- to 24-year-olds -- with support from 74 percent. Fifty-one percent of respondents 35 to 44 years old and 48 percent of those 65 and older also said they would vote for Bush.
Men were split on whether to vote for Bush or Kerry, with about as many backing either candidate. But women leaned toward Kerry: 50 percent of those who responded said they would vote for him, vs. 36 percent who choose Bush.
Lifetime Hawaii residents -- the largest group of respondents -- showed strong support for Kerry, giving him a 14-point lead over Bush. And 58 percent of those who said they had been in Hawaii for less than five years also backed the presidential hopeful.
Support largely fell along party lines, but 16 percent of those who identified themselves as Democrats said they would vote to re-elect the Republican president. Only 8 percent of Republicans backed Kerry.
---