[ STAR-BULLETIN / KITV 4 NEWS POLL ]
---
Case leads in race
for U.S. House seat
The incumbent has 67 percent
backing to win a second term
---
Incumbent Democrat Ed Case leads Republican challenger Mike Gabbard by a more than 3-to-1 margin in the race for the 2nd Congressional District seat, according to a new statewide poll conducted for the Star-Bulletin and KITV-4 News.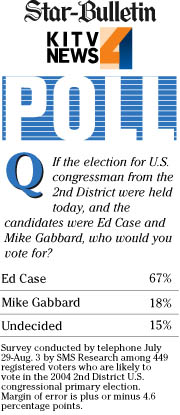 Of 449 respondents, 67 percent said they would vote for Case, 18 percent picked Gabbard and 15 percent were undecided.
The telephone survey was conducted July 29 to last Tuesday by SMS Research. The margin of error is plus or minus 4.62 percent. The question was asked of 449 registered Hawaii voters who are likely to vote in the 2nd Congressional District primary elections next month. The district includes rural Oahu and the neighbor islands.
The two men are considered their parties' leading candidates for the general election, but both still must get past primary opponents next month.
Case said the results confirm the feedback he is getting from constituents and polls conducted by others.
"I think the results show that the people I represent are pleased with the job I'm doing," he said.
Gabbard said he is not discouraged by the results.
"Most people don't know who I am yet, so it's way too early for polling," he said. "Also, when the people learn that Case is a social extremist, not a social moderate, and a fiscal liberal, not a fiscal conservative, the numbers will change dramatically."
Gabbard also noted that in the 2002 governor's race, a Star-Bulletin poll conducted a month before the Democratic primary showed Case with 18 percent. Three weeks later he received nearly 40 percent of the vote to finish second to Mazie Hirono. Case later won a special election for his congressional seat.
Case said he believes his wide lead in the polls will force Gabbard to campaign more aggressively.
"My opponent in past campaigns and in this campaign has shown a willingness to become a negative campaigner. This poll shows he will go negative a lot sooner than expected," Case said.
In the Sept. 18 primary, Case is facing a challenge from Hilo businessman John Gentile. Gabbard is facing three Republican opponents in the primary: Oahu physician and radio talk show host Inam Rahman, Maui chiropractor Jonathan Treat and Honolulu city lifeguard Miles Shiratori.
---