[ 2004 OLYMPICS ]
---
---
Running Man
Honolulu resident Kelsey Nakanelua
will represent American Samoa
in the Olympics
---
Kelsey Nakanelua can be called a lot of things. He is Hawaii's 100-meter dash record holder, the state's five-time "fastest human," a Navy reservist and a single dad.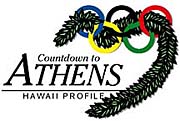 Soon, the sprinter will also be known as one of the oldest athletes in this summer's Olympic Games in Greece -- a designation Nakanelua is all too happy to highlight.
"Nobody believes I'm 37," he said yesterday at a Pearl Harbor press conference. "I'm close (in age) to one of the oldest running competitors."
Most Olympic sprinters are in their early to mid-20s, though older athletes are starting to make more of a showing at the Games.
Nakanelua, of Honolulu, leaves today to represent American Samoa for a second time in the Olympics.
In 2000, at the Olympic Games in Sydney, Nakanelua placed 79th out of 99 contestants in the 100-meter dash. He will be running in the same event this year.
Nakanelua was born and raised in Hawaii, but his father is from American Samoa, so the runner was able to qualify for their track and field team.
"The guy's a freakin' inspiration," said David Lusk, 30, Nakanelua's friend and fellow Navy reservist. "Older guys like us don't have any excuses."
Friend Kenneth Perel said: "I think it's phenomenal. It's just a testament to his inner strength."
Nakanelua's mother, Judi, said her son has always been a runner. He ran his newspaper route as a kid, joined the Kamehameha Schools cross-country team as a teenager and took the title of "Hawaii's fastest human" five times as an adult.
He also holds the Hawaii record for the 100-meter dash, with a time of 10.59 seconds.
All that is especially significant for someone who got hit by a car when he was 7 years old, broke his hip and had to learn to walk again.
"Yeah, in the beginning it was very difficult to learn," he said. "It was different."
Nakanelua says he feels more at ease going into the upcoming games than he was in 2000. He is more familiar with what is expected of athletes and how things are set up.
The Olympian said he cannot afford to send his mother and 11-year-old son to Greece for the Games, but they will be getting e-mail updates on his performance.
Plus, he said, he is not sure he would want his family there anyway, given the tight security and fears of a possible terror attack.
"I'm very proud of him," his mother said. "I wish I could be there."
Nakanelua is scheduled to arrive in Greece on Thursday, and his meet is set for Aug. 21.
The runner will not have much time to rest when he gets back.
Right away, he will start his master's degree classes at the University of Hawaii. Later in the year, he is heading to Navy boot camp on the mainland.
---