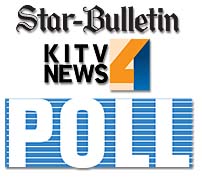 ---
Bainum leads
in race for mayor
A Star-Bulletin/KITV-4 poll
shows undecided voters could
turn the tide for Hannemann
---
Duke Bainum is leading opponent Mufi Hannemann in the race to become the next mayor of Honolulu, according to a Honolulu Star-Bulletin/KITV-4 News poll.



| | | |
| --- | --- | --- |
| | Tomorrow: A look at the Case-Gabbard congressional race | |



"We're very pleased with the lead. People want change, they want honest change and an experienced leader," Bainum said.
But with a sizable number of undecided voters and many respondents saying they may change their mind, the race is still a toss-up.
"We're not concerned. We're right where we thought we'd be considering Duke is outspending me 2-to-1," Hannemann said. "We're trending upwards and we're in good shape."
And the poll indicates that former Mayor Frank Fasi could win enough votes to force a runoff at the general election.
"I wouldn't call that one," said Jim Dannemiller, president of SMS Research, which conducted the poll.
The poll also shows that city Prosecutor Peter Carlisle is 40 percentage points ahead of former Prosecutor Keith Kaneshiro, who is trying to get his old job back.
The telephone survey was taken July 29-Aug. 3 among 424 Oahu registered voters who are likely to vote in the Sept. 18 election for mayor and prosecutor.
The margin of error is plus or minus 4.8 percentage points.
---
---
Respondents were asked: "If the election for mayor of Honolulu were held today, and the candidates were Duke Bainum, Mufi Hannemann or Frank Fasi, who would you vote for?"
A total of 39 percent said they would vote for Bainum, 32 percent for Hannemann, 12 percent for Fasi and 17 percent were undecided.
A candidate must garner 50 percent plus one vote to win outright in the Sept. 18 special election. If not, the top two vote-getters go head-to-head in the general election.
"I don't think the poll is a valid one. First of all, we haven't gotten into the mix as to what's exactly at stake," said Fasi, who resigned as mayor in 1994 to run unsuccessfully for governor. "I expect to win by a landslide when people are aware of what the issues are and what the stakes are."
Dannemiller said the race is too close to call because of the number of undecided voters and the fickleness of voters.
Of those who said they would vote for either Bainum or Hannemann, about 40 percent said they might change their mind.
"The commitment to either candidate is not particularly deep," Dannemiller said.
Both Bainum and Hannemann said that they will work to persuade undecided voters to go their way in the remaining weeks of the campaign.
Hannemann said that includes getting Bainum to agree to more debates. They have shared the stage for question and answer forums or debates three times.
"You can expect (my campaign) to be more evident and more ambitious with our advertising and we'll continue to call for debates and forums. I feel that's the difference," Hannemann said.
Bainum said he would continue to talk about his positions on the issues. "We're confident that that when all voters hear those platforms -- they will decide in my favor," Bainum said. "We're not taking anything for granted."
Fasi does have a role but not as a spoiler, Dannemiller said. "He doesn't take votes from one of the candidates. ... He takes votes from both sides."
---
---
Dannemiller said Fasi's candidacy will likely lead to a runoff election on Nov. 2 between Hannemann and Bainum.
"Frank is going to guarantee that this thing is going into the general, but he probably won't be in it," Dannemiller said.
Fasi sees it a bit differently. "One or the other has to be knocked out and I don't know who it's going to be," he said of his opponents.
Hannemann and Bainum each said they believe they can win in September but are prepared to go the distance if need be. Hannemann also said that he believes that he can win over Fasi supporters.
In the race for city prosecutor, 58 percent of respondents said they would vote for Carlisle, while 18 percent opted for Kaneshiro and 24 percent are undecided.
"They look terrific," Carlisle said of the numbers. "I hope it's because of the performance of this office and the law enforcement community in general in the last seven years."
Kaneshiro, who served two terms as city prosecutor after being elected in 1988, said it's still early in the race and the poll numbers won't alter his strategy. "I'm not going to change what I'm going to do ... That's not going to change the emphasis on the drug problem."
Kaneshiro said his campaign should get a boost by an upcoming visit by famed forensic scientist Henry Lee. "There's a reason (respected law enforcement officials) are supporting me. They believe in me."
Carlisle, who is running for his third four-year term, also said that his campaign won't change as a result of the numbers.
"Complacency is a great way to lose political endeavors," Carlisle said.
Carlisle also noted the high number of undecided voters and called for debates between himself and Kaneshiro to help voters make up their minds.
Dannemiller said that the numbers in the prosecutor's race indicate a Hawaii tradition of voting in incumbents.
---
---