[ 2004 OLYMPICS ]
---
---
Jung is second to none
in sport of softball
The starting second baseman
for Team USA is living a dream
after leaving Hawaii at age 3
This is the sixth in a series on people with local ties taking part in the Olympic Games in Greece. Tomorrow's story will be on Bryan Clay
---
Mediocre is not in her vocabulary. Never has been.
"Why be good when you can be great?" asks Lovieanne Leimomi Jung.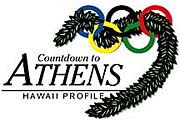 The Jung File
Sport: Softball (second baseman)

Competition dates: Aug. 14-23

Birthdate: Jan. 11, 1980

Birthplace: Honolulu

Residence: Fountain Valley, Calif.

College: Fresno State/Arizona.

Tie to Hawaii: Jung's family moved from Hawaii when she was 3.

Fun Fact: Mother, Gloria Pagala Jung, was a cheerleader for Farrington; dad, William 'B.J.' Jung, played football for Kalaheo.

Did you know? Jung danced hula until deciding to stick with softball.
Just like the pit bull she would choose to have as a pet, when Jung grabs onto something, she doesn't let go. Such is her love for softball.
Although Jung started relatively late in the sport -- at age 14 -- it didn't deter her from one of her earliest goals: to be on the Olympic team. Ten years later, she finds herself in Athens as the starting second baseman for Team USA.
The hard work has paid off for Jung, who, at 5-foot-6 and 145 pounds, is the smallest player on the team.
"Every time we line up to take pictures, I'm always in front," Jung told Muscle & Fitness Hers magazine. "So I've taught myself not to be intimidated by others' strength and size."
More impressive than her lifting stats -- she can clean lift 170 pounds and squat 260 -- is her versatility on either side of the second-base bag. Jung was an All-American at second base for Fresno State (1999-2000) then became an All-American shortstop after transferring to Arizona (2002-03).
Team USA needed her back at second and Jung has made the transition back to the other side of the bag smoothly.
"It's a little bit different on that side of the field," Jung told the Arizona Daily Star last month. "There's more responsibility than people know about. We have to be able to read slappers and cover first base and second base. I like it fine. I am able to be on the field every day."
Jung started 51 of Team USA's 53 games on their "Aiming for Athens" tour this year (the team went 53-0). She batted .301 with 11 doubles, four home runs and 31 RBIs; her fielding percentage was .951 with three errors.
"Lovie has made the transition because she is a very heady player who understands defensive schemes and the game very well," said USA coach Mike Candrea, Jung's coach at Arizona. "She had two great years at Arizona. We haven't seen the best of her."
Jung was born in Honolulu to parents who grew up in Hawaii. Mom, Gloria, went to Farrington and dad, B.J., to Kalaheo.
The family moved to California when Jung was 3. They left plenty of relatives in Hawaii, a number of whom came to watch Jung play for the U.S. in the international tournaments held at the Rainbow Wahine Softball Stadium in 2002 and 2003.
The team spent several evenings at the home of Jung's aunt in Salt Lake having local-style dinners. Although she grew up mostly in California, Jung enjoys lomi salmon, saimin and spam musubi.
"I'm just in awe of everything she's done," said Gloria Jung. "She started so late in the sport.
"I danced hula. And she had been dancing hula since 9. One day she said, 'Nope, I want to play softball.' When she went to the Junior Olympics, they played the Olympic team. She said right after that she wanted to be on the Olympic team."
Gloria Jung named her daughter after a character from one of her favorite television shows "Gilligan's Island" -- Lovie Howell, played by Natalie Schaefer.
Lovie Jung is ready to tour the podium and the championship that eluded her in college.
USA Softball, which has been ranked No. 1 in the world for 18 consecutive years, will attempt to win its third consecutive Olympic gold medal when it takes the field on Aug. 14. After its opening game vs. Italy, the U.S. faces medalists from the past two Olympics on three consecutive days: 1996 and 2000 bronze medalist Australia on Aug. 15, 2000 silver medalist Japan on Aug. 16, and 1996 silver medalist China on Aug. 17.
"There's a lot of talent on the bench," Jung said. "There's a lot of talent one through nine, and every one of our pitchers is great."
Candrea, who lost his wife, Sue, to a brain aneurysm last month, has similar words for Jung.
"She's brought great leadership, and so far, she's just done an all-around tremendous job and been a positive leader for the young kids," Candrea said.
"The thing I'm most proud of is that Lovie is well-balanced as an athlete and in her personal life," said Gloria Jung. "Mahalos to coach Mike Candrea and the late Sue Candrea for this. In my opinion, they have shown her the meaning that, with support and a strong, loving relationship, you can be a complete person, on and off the field."
Lovie Jung is currently dating Jon Garland, a pitcher for the Chicago White Sox. She hopes to continue her softball career professionally, either in the new Ladies Professional Fastpitch Association or the first-year National Pro Fastpitch league.
Whatever happens, it won't be mediocre.
---