---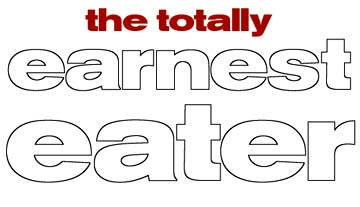 A true professional faces meal
of onions with no tears
---
A 395-pound professional eater -- able to eat 29.5 hot dogs and buns in 12 minutes-- is coming to town to add onions to his menu.






Maui Onion Festival

Featuring: Cooking demonstrations, cooking and eating contests, games for kids and onion foods
When: 11 a.m. to 5 p.m. Saturday and Sunday
Place: Whalers Village, Lahaina
Admission: Free; purchase food from food booths

Highlights

Eric vs. Eric: Onion eat-off between Eric Booker and local "Onion King" Eric Seigmund, 3 p.m. Sunday
Recipe contest: 1 p.m. Saturday for amateur chefs and 1 p.m. Sunday for professionals






Eric "Badlands" Booker of New York will have a showdown with Lahaina champion Eric Seigman, the perennial "Onion King," at the 15th annual Whalers Village Maui Onion Festival this weekend.
A member of the International Federation of Competitive Eating with a "master" ranking, Booker holds the world record in doughnut eating (48 in eight minutes) and corned beef hash (2 pounds in two minutes).
He learned about the Maui festival -- No. 8 among the World's Top 10 Eating Contests -- while watching the Travel Channel. "I thought, 'Wow!' It looks like some contest. It's not an easy thing to eat onions. I love a challenge," Booker said.
He later met Seigman at the national Glutton Bowl (yes, there really was such a thing, held in Santa Monica, Calif., in 2001). He asked Seigman how he ate the onions without dissolving into tears. Seigman told him, "You just gotta eat them."
"So I think I got a shot," Booker said.
The contest will test his "four tenets of competitive eating": strategy, focus, capacity and stamina. That is, develop a strategy to get the most food down the fastest, focus the mind, prepare the stomach to hold a large amount of food and work on endurance -- "It's a lot of work to eat nonstop for eight minutes to 30 minutes."
For someone who once made himself chow down cow brains, Booker said eating onions should be a piece of cake.
Well, not exactly.
"If you are strong psychologically, you can get past something you're eating that's difficult to eat. You have to stay focused and basically think about the first thing you'd like to eat later," Booker said, like a "nice candy bar in my pocket."
A conductor for New York City's 7 Subway Train, Booker is also an amateur rapper and has made a "hip-hop eating CD," available for sale on his Web site, www.badlandsbooker.com.
Booker has been a competitive eater for eight years, starting with Nathan's Famous Fourth of July Hot Dog Eating Contest on Coney Island, "the Super Bowl of eating."
He's entered that contest every year for the sake of winning a year's supply of hot dogs, but takes pride in having eaten his way to the top prize several times. He ended up having to buy a bigger refrigerator to hold the dogs: 480 links weighing 60 pounds.
For those who still cannot comprehend the size of the task, a hot dog on a bun is one of the most difficult things to eat. "You're dealing with two different entities -- a dense, meaty, spicy hot dog, and a dry, doughy bun," Booker says. The first year, he admits, "I had no style, no technique," no knowledge of the "double Japanese" strategy he uses today, the one invented by the current four-time winner, Takeru Kobayashi of Japan.
This strategy involves breaking the hot dog in half, so both pieces can be shoved into one's mouth and gulped down, then dunking the bread into water to break it down so it slides down more easily.
But Booker has fine-tuned the method so that he takes "two hot dogs at a time and two buns at a time. I don't break them in half because I have a bigger mouth than (Kobayashi) does." One huge gulp with a big hard swallow and the poor dog is a goner. "No chewing," he added.
---
---
It may seem ironic that a professional eater would be concerned about losing weight, but Booker is intent on losing 100 pounds by next July 4, the anniversary of his entry into the sport. He is well on his way, having lost almost 50 pounds. He and his wife, Regina, joined Weight Watchers this year because they were tired of feeling sluggish after "pigging out" at fast-food joints.
He wanted to feel "strong, energetic and full of life. Losing weight made my game better. You don't gain weight from eating contests but from your everyday habits."
He said he suffers from no health problems, and that his health has actually improved since he started this "sport." (Booker also calls professional eaters "athletes.")
He is in constant training to expand his stomach capacity, so twice a week, he simulates a large quantity of food with healthy vegetables or fruit. Two or three days before a contest, he drinks a gallon of water at a time "to fool my stomach so I end up really hungry before a contest. Stay hungry and focused, that's my mantra."
Booker is also going to the gym to try to lose weight around his stomach, because "a lot of fat around the middle restricts the stomach from growing."
In preparation for the onion-eating contest, Booker took a few days to figure out what would be the best way to eat the onion -- "should I cut it in quarters or half, or just gnaw at it? I figure out what works for me."
His son videotapes him trying different techniques, and he times himself to see which is the fastest method.
Practicing on non-Maui onions, which aren't sweet, caused quite a bit of a "crying sensation," so he bought some from Maui and his eyes didn't tear as much. Maui will be his first onion-eating contest, Booker said, and "I wouldn't miss it for the world."

Click for online
calendars and events.