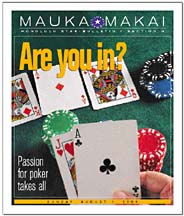 [ MAUKA

MAKAI ]
---
POKER
POWER
TV tourneys
fuel a rage
When to watch
---
While I'm not a high-stakes Texas Hold 'em poker shark, I play one on television. Or, more accurately, I shuffle it up with the panoply of amateurs, professionals and celebrities who have increased in numbers during the last several months since poker has become a staple on cable television.
Before the card game was converted into a TV phenomenon with the help of additional cameras and graphics, we learned to play the variations of draw and stud poker amongst family and friends in the privacy of homes.
That learning curve is a lot smaller nowadays, what with Internet Web sites plus, just as important, the popularity of niche cable TV shows such as "World Poker Tour," "World Series of Poker" and "Celebrity Poker Showdown."
The competition has not only gotten more intense among players, but in the cable business as well, as the Travel Channel, ESPN, Bravo and Fox Sports Net have been jockeying for position and their share of the profit pie.
2000 "World Series of Poker" champion Chris Ferguson has said that since the improvement of translating the game for a wide audience, "poker is being revolutionized." Even professional players have had to refine their games.
"It's much easier to pick up the tells (those telltale facial and gestural tics) of my opponent by watching (their play on TV)."
This, Ferguson says, "definitely is going to raise the level of play," as more people come into the game with a better sense of strategy, due to the expanded TV coverage. In a few years, the number of truly excellent players could double.
And with more games comes mo' money, mo' money, mo' money in tournament play.
The "World Poker Tour" premiered on the Travel Channel on March 30, 2003, and has since drawn an average of 5 million viewers (big numbers for cable programming), making it cable's highest-rated show. These numbers haven't been lost on the channel's competitors.
Sports channel ESPN extended its coverage of the annual high-stakes "World Series of Poker" that emanates from Binion's Horseshoe casino in Las Vegas. NBC's Bravo cable channel used the Hollywood home games of the "World Poker Tour" as a jumping-off point for its "Celebrity Poker Showdown," now in its second season. The inaugural season championship finale reportedly drew more than 1.7 million viewers.
Even Fox Sports Net has tried to become a player, with "Late Night Poker," a British show that began back in 1999, using fixed cameras under a glass table to reveal players' cards. The channel recently aired "Showdown at the Sands," which was televised less than 24 hours after the winner was crowned, making it more timely than ESPN's telecast of this year's "World Series of Poker," the main events already held back in late May.
The people behind the ESPN and Travel Channel poker shows put their own spin on how their particular shows have helped with the explosion of popularity of Texas Hold 'em.
Bob Chesterman, coordinating producer for ESPN Original Entertainment, said the network has been airing the "World Series of Poker" since 1994, although not in consecutive years, and using independent producers.
"Last year, we decided to take over the production ourselves and put more money and time into it, and ramped up the production a lot," he said. "ESPN used to cover only the final day of the tournament. Last year, we covered all of the main event that led to the final. And this year, we covered the entire month's worth of the tournament, making a total of 22 shows.
"We were going into the TV production of 'World Series of Poker' before the 'World Poker Tour,'" Chesterman claimed. "It was really serendipitous that we both were starting around the same time. Truthfully, I think poker's boom in popularity happened when last year's WSP champion, Chris Moneymaker - an online player that won a seat in the series through a $40 online tourney buy-in - won the $2.5 million final pot."
Chesterman thinks the 2 million viewers who watched the first show of this year's "World Series of Poker" will build in number, leading up to the two-hour finale on Sept. 14.
"Since anybody can enter the WSP, there's a big appeal with our audience. Anybody can sit down at a table and play, even guys like me who mainly play with friends. This year, there were around 2,500 entrants."
ESPN's contract with Binion's Horseshoe casino and the "World Series of Poker" runs until 2007.
Steve Lipscomb gives ESPN credit for what it's done with the WSP. But the president and founder of the "World Poker Tour" - plus its show's creator and executive producer - wants to talk up his own baby. The former attorney working out of Los Angeles relates how his move into the documentary field and 10 years' worth of low-stakes poker games with his buddies led to the formation of the tour and TV show.
"I originally directed and produced a documentary for the Discovery Channel on the 1999 'World Series of Poker' tournament, and its audience numbers doubled the night it aired. While I was on hiatus from a show I was doing with Comedy Central, I thought about the untapped audience that would watch poker on television, so I wrote a business proposal in September 2001 and took it to investor Lyle Berman, of Lakes Entertainment, a month later.
"I was glad that he got my idea right away, but I admit I was surprised when his board got it as well. So we were in business starting February 2002. We signed up the who's who of professional players and got the classy casinos around the world to sign long-term deals with us.
"You have to realize that when we started production in June 2002, at that time nobody thought poker would be interesting on TV. None of the hotels and casinos were ever approached to sell their poker tournaments to television."
To Lipscomb's credit, he helped create a whole technical production process (one that he hopes he can get a patent trademark on in the near future) that made the game, specifically Texas Hold 'em, intriguing and exciting to watch on TV.
"In a way, we created a language of poker on TV," he said. "It was only afterward that other shows copied what we'd done. We were smart enough to document the whole process, and we'll see how it turns out, patent-wise."
Lipscomb acknowledged that the use of "hole" cameras to show viewers the two cards each player is dealt is an important element in the success of "World Poker Tour." But, he said, "the WPT cam, while part of the formula, is not a large part of the whole nut.
"The game on TV plays like it's live and plays as a sport. The graphics come out and track what the players have, so viewers can play along. Our graphic package has been copied in every possible way. We also took poker commentary to a more accessible level. Earlier on, listening to game insiders talk about the game on TV was incomprehensible, the equivalent of talking about nuclear physics, which only dumbfounded the larger community.
"To make the game accessible as part of our overall plan, it literally took eight months to edit our first show. It was a relief when the graphics came through, because so many of the previous permutations didn't work.
"It's become this great spectator sport on television. I tell my producers that the first objective of the show is to have viewers feel like they're sitting in a seat on the table, and to feel like the poker gods have struck them down when they lose a million in chips on the turn of the river card. It's the ability to tap into the 50 to 80 million players at home. ... That's human drama, storytelling representing the human condition."
Lipscomb sees nothing but an exponential growth in the "World Poker Tour," which has started its third go-round at the Mirage in Las Vegas. (The third season of the WPT starts airing on the Travel Channel in late February or early March.)
And there's the attraction that anybody, ANYBODY, can win it all. Will a future Chris Moneymaker come from the islands? All you need is the bucks for a small fee to enter either a satellite "World Poker Tour" tournament or to buy into the 2005 "World Series of Poker" at Binion's in Vegas.
Feeling lucky?
---
BACK TO TOP
|
When to watch
---
The most popular poker shows on cable television:
'World Series of Poker' on ESPN
>> Tuesday: $1,500 Razz World Championship, 4 p.m.
>> Aug. 10: $5,000 Limit Hold 'Em World Championship, 3 p.m.; $5,000 Pot Limit Omaha, 4 p.m.
>> Aug. 17, 24 and 31 and Sept. 7, 3 and 4 p.m.: Main Event Rounds
>> Sept. 14: Main Event Finale, 3 to 5 p.m.
'World Poker Tour' on the Travel Channel
>> Wednesday: Foxwood's World Poker Finals, 6 p.m. (shows repeat 3 p.m. Saturdays)
'Celebrity Poker Showdown' on Bravo
>> Thursday: With Hank Azaria, Seth Meyers, Gail O'Grady, Amy Poehler and Jeffrey Ross, 6 p.m. (Shows repeat 9 p.m. Thursdays, 8 p.m. Fridays and 10 a.m. Saturdays.)


Click for online
calendars and events.