---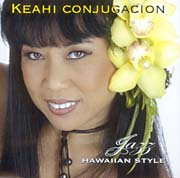 "Jazz Hawaiian Style"
Keahi Conjugacion
Hula Records International
Keahi Conjugacion isn't the first to blend hapa-haole music with jazz in recent years, but since she's coming from a jazz background, the results are much closer to Hawaiian jazz than some of the other efforts. Her husband, pianist Dan Del Negro, provides a solid foundation. Gabe Baltazar, David Choy and Buddy Fo add their instrumental magic to various selections.
Guests aside, it's Conjugacion herself who makes this album a success. She opens with a smooth "Sweetheart Medley" that effectively sets the mood and showcases her scat-singing technique. There's a subsequent song or two that is closer to pop than jazz, and an occasional problematic use of synth fills, but a jazzy Hawaiian and hapa-haole ambience predominates, whether she's singing in English or Hawaiian. Island jazz takes a welcome step forward here.
www.HulaRecords.com
---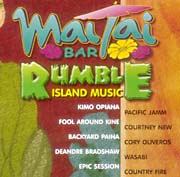 "Mai Tai Bar Rumble"
Various artists
Shaka
Despite the dubious track records of some of the people on the production side, this compilation album isn't as bad as might be assumed. While the liner notes don't reveal the judging criteria, the acts featured here participated in a battle of the bands contest. They range in style from Jawaiian to acoustic rock to cover bands. The songs include both praiseworthy originals and lame attempts at classic oldies. Two groups wrote songs about partying at the venue.
Epic Session ("Push and Pull"), Courtney New ("Headed In the Right Direction") and DeAndre Bradshaw ("Lokelani") contribute the most substantial originals, with "Push and Pull" sounding perfect for "island music" formatted radio stations.
A semi-acoustic, light rock makeover of Earth Wind & Fire's "September" by Kimo & Cory is the lone remake that offers an original take on a familiar hit.
---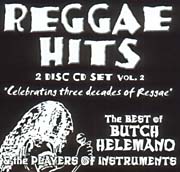 "Best of Vol. 2"
Butch Helemano & The Players of Instruments
Kana'i
If Kana'i Records was giving Butch Helemano the respect he deserves, this latest recycling project would come with a thick booklet of liner notes. There'd be an accurate account of his role as a pioneer of original reggae music in Hawaii, his long-standing commitment to record only originals, and how he was eclipsed by both purists and Jawaiian acts in the early 1990s, despite his move away from Biblical themes.
There would also be information on where these recordings fit in his overall discography, and why one of these so-called "originals" uses the melody of a well-known Hawaiian hit.
On the other hand, this 2-CD set has 21 songs and sells for only $9.99 in stores -- that's less per song than for legal downloads, and it's cased in a jewel box! Look at it that way and the label's appalling lack of respect for this venerable pioneer is almost excusable.
BHelemano@aol.com
---
John Berger, who has covered the local entertainment scene since 1972, writes reviews of recordings produced by Hawaii artists. See the Star-Bulletin's Today section on Fridays for the latest reviews. Contact John Berger at
jberger@starbulletin.com
.