---
[ FAST FACTS HAWAII ]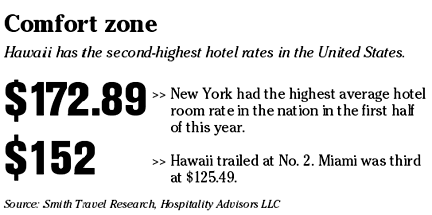 ---
BACK TO TOP
|
Starwood losing contract to manage Maui hotel
Starwood Hotels & Resorts Worldwide Inc.
, which has managed the 196-room Kapalua Bay Hotel since February 1999, said yesterday it will lose its agreement to run the hotel at the end of August.
The owner of the property, an investment fund advised by Morgan Stanley, is selling the hotel to Maui Land & Pineapple Co., the developer and operator of the Kapalua Resort community.
Maui Land, which is in the final stages of completing the deal, already has decided it wants a new hotel management company.
David Cole, chairman and chief executive of Maui Land, said the company has selected a new partner to manage the property but he declined to name the firm, saying the agreement is not yet final. Most employees are expected to keep their jobs.
Cole said the Maui luxury resort, which opened in 1978, eventually will be renamed the Kapalua Beach Hotel.
Bankoh CEO sells more shares
Michael O'Neill, who is stepping down as chairman and chief executive of
Bank of Hawaii Corp.
, sold 212,698 shares in the bank Wednesday for $43.62 to $44.10 a share to reduce his holding to 4.8 percent.
O'Neill earlier this year sold nearly 800,000 shares of stock, including 70,000 shares that he donated to a charitable fund, for about $30 million. The options exercised by O'Neill would have expired within 90 days of his leaving the company.
Schuler Homes to change name
Honolulu-founded Schuler Homes, bought by Texas homebuilding giant
D.R. Horton Inc.
in 2002, is changing its name to D.R. Horton, Schuler Division, effective Sunday.
The change will not affect the company's commitment to building quality homes, said Mike Jones, division president. Jim Schuler, founder of Schuler Homes, is now based in Seattle and has been a region president for D.R. Horton since the merger.
---
BACK TO TOP
|
[Hawaii Inc.]
PROMOTIONS
>>
Central Pacific Bank
has promoted five employees to assistant vice presidents.
Wayne Arakaki
has been promoted to assistant vice president and the company's Dealer Center loan officer. He previously worked as City Bank's Dealer Center assistant manager.
Roselane Dela Cruz-Short
has been promoted to assistant vice president and Kahului Branch manager. She previously worked as a
Bank of Hawaii
teller.
Sandra Gibo-Umoto
has been promoted to assistant vice president and Kaimuki Branch manager. She joined the company in 1973 as a teller.
Wendilee Adkins
has been promoted to assistant vice president and human resources division training and development officer. She joined the company in 1990.
Lori Cheng-Kurokawa
has been promoted to assistant vice president and advertising manager. She previously worked as and account executive at
Milici Valenti Ng Pack
.
ON THE BOARD
>> The Portland Metropolitan Rotary Club in Oregon has elected
Brenda D. Smith
president. Smith was the first woman to head a Rotary club on Oahu and formerly served as president of the Hawaii Kai Rotary Club. She also was assistant dean of nursing at Hawaii Pacific University.
>> The Muscular Dystrophy Association has re-elected Michael Rosenberg national vice president. He is the president and general manager of KITV4.