---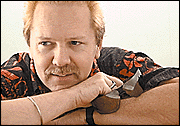 Island Mele


By John Berger
Friday, February 21, 2003
---
A Happy Family

Mele Ohana
Mele Ohana

Mele Ohana performs at the Maui Prince Hotel as the duo of Wayne Kamakeeaina (vocals, guitar, banjo, ukulele) and Tarvin Makia (vocals, bass), but they enlisted several friends as guests on this souvenir album. Ron Kuala'au takes over on lead vocals and guitars on "Me Ke Aloha Ku'u Home O Kahalu'u," Alan Villaren plays guitar on several other songs, Henry Allen plays steel guitar, and so on. In short, the musical family heard here includes several calabash cousins.

Kamakeeaina and Makia put the emphasis on original songs. Some are of the earnest autobiographical type. Others --- co-written with Keli'i Tau'a or Yoshio Owa -- have more substance. "Shinkansen," written by Tau'a and Kamakeeaina, combines Hawaiian lyrics and Japanese narration. "Olomana Blues," by Makia and Owa, adds a retro player-piano jazz number to the collection.

---




"Playing It Like It Isn't

James Hill
Self-produced

Few countries embraced Hawaiian music more fervently in the last century than Canada. Canadians were not only keen students but became innovators as well. The Langley Ukulele Ensemble is keeping Canada's Hawaiian music tradition alive in the new century as well, and the group's featured soloist, James Hill, is stepping forward as a young virtuoso. Hill isn't coming out of the same milieu that molded Jake Shimabukuro, but approaches the instrument with a similar open-mindedness. Hill's choice of material underscores his desire to display the versatility of the ukulele outside of the standard Hawaiian and hapa-haole context. He explores familiar classical, jazz, Latin and country melodies with excellent results overall. Hill's decision to add other instruments is problematic in places, but his talent and vision still shows through.

The album is available at www.ukulelejames.com or through the Langley Ukulele Ensemble at (604) 340-8537.

www.ukulelejames.com

---




"Surftides"

Rene Paulo
Respect

Pianist Rene Paulo first connected with audiences in Japan almost 50 years ago, but his interest in Japanese pop music dates back to his childhood in multi-ethnic Wahiawa. This album, one of two released recently by a Japanese record label, brings him back to that section of his extensive repertoire, even though some of these Japanese songs aren't that old. (The other new Japanese album, "Waikiki," contains his solo arrangements of Hawaiian and hapa-haole standards; both can be found in some local record stores.)

Most of these melodies are relatively unknown in America, but Paulo's arrangements -- drawing on his natural talent, formal training and imagination as an arranger -- make them worth a listen. Producer Takahashi Kenichi correctly resists the temptation to dilute the beauty of Paulo's solo work by adding other instruments and the liner notes share the story behind each tune.

info@respect-record.co.jp





---




John Berger, who has covered the local
entertainment scene since 1972, writes reviews of recordings
produced by Hawaii artists. See the Star-Bulletin's Today
section on Fridays for the latest reviews. Contact John Berger at jberger@starbulletin.com.
| | | PRINTER-FRIENDLY VERSION
E-mail to Features Editor
---
© 2003 Honolulu Star-Bulletin -- http://archives.starbulletin.com
---
-Advertisement-