---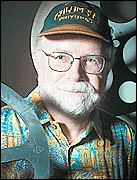 Reel News

Tim Ryan
Wednesday, January 29, 2003
---
Surfer girls
hit reality TV

---




CORRECTION

Friday, January 31, 2003

» The Japanese feature film "Mana" is finishing 14 days of filming on the Big Island. An item on Page D5 on Wednesday said incorrectly that it was 14 weeks.

---




The Honolulu Star-Bulletin strives to make its news report fair and accurate. If you have a question or comment about news coverage, call Editor Frank Bridgewater at 529-4791 or email him at

corrections@starbulletin.com

.

Roxy/Quiksilver, working with MTV and Brass Ring Entertainment, has created a reality show. With a working title of "Surfer Girl," the show will follow 14 amateur surfers, ages 18 to 24, competing against one another in Australia, Tahiti, Peru, Costa Rica and Hawaii. Auditions were held last year in California, New York and Honolulu. The women train, surf and compete for the chance to become a professional surfer, gain a wild-card spot in the Roxy Pro Fiji contest and a sponsorship contract from Roxy. Outrigger Hotels is a sponsor, hosting cast and crew at its Sun City Resort in Australia and for some 10 days at the Outrigger Reef in Waikiki beginning March 1. While on Oahu, the women will compete in their own contests on the south and north shores. ...

The $3 million Japanese feature "Mana" by General Entertainment Co. of Tokyo is finishing 14 weeks of filming on the Big Island. The story is about a burned-out Tokyo office worker (Ayako Kawahara) who travels to Hawaii and, while meeting local families, realizes how pleasurable life can be. The crew spent about $1.5 million on the Big Island.

In other Japan-related news, Miki Fujimoto, the country's version of Britney Spears, has finished three days of production on the Big Island for a photo book due out in April and a 30-minute DVD to be released in May. Big Islander Kaori Mitana was filming coordinator. ...

Yes, Dwayne "The Rock" Johnson is ready to swing the two-by-four in the MGM/Hyde Park remake of "Walking Tall," expected to go into production in early summer. "Actors can do three films a year, so it has no effect on (his commitment to) 'Kamehameha,'" says the film's screenwriter, Greg Poirier. "We're taking our time to get the script right, and nothing has changed, including our timetable." ...

The award-winning documentary "An Untold Triumph," which premiered in November at the Hawaii International Film Festival, makes its mainland debut tomorrow at the Smithsonian's Museum of American History. It tells of the Army's 1st and 2nd Filipino Infantry Regiments and the vital role they played in World War II. ...





---

Reel News unspools every Wednesday.
Contact Tim Ryan at tryan@starbulletin.com.
| | | PRINTER-FRIENDLY VERSION
E-mail to Features Editor
---
© 2003 Honolulu Star-Bulletin -- http://archives.starbulletin.com
---
-Advertisement-