---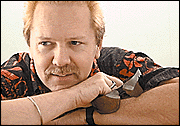 Island Mele


By John Berger
Friday, January 3, 2003
---
"Haiku"

Riley Lee & Jeff Peterson
Hula Records International

Japanese instruments are conspicuously absent from Hawaiian music, and so Riley Lee and Jeff Peterson represent a unique fusion of those musical traditions. Lee is one of the few non-Japanese to master the shakuhachi flute, while Peterson is one of Hawaii's leading young slack-key guitarists. "Haiku," their latest collaboration, show that the two aren't coasting on their uniqueness.

Their last album, "Bamboo Slack Key," was thematic and featured originals inspired by a trip to Hana. Here, they're experimenting with multi-tracked arrangements that allow them to add secondary tunings and tonalities. There's also a third instrument, and Ernie Provencher's subtle bass lines provide support without being intrusive.

Imaginative arrangements of four island standards reaffirm Riley Lee and Jeff Peterson's place as innovators in Hawaiian music.

www.hawaii-calls.com

---




"Blue Album"

Kalapana
Oceanbeat

Any doubts about Kalapana not recording after the tragic death of Mackey Feary are swept away with "Blue Album." As in 1977, when the sound of "Kalapana III" reflected Feary's departure from the original line-up, musical adjustments are evident. The presence of founding members Malani Bilyeu and D.J. Pratt are pre-eminent on this album, with Bilyeu the dominant vocalist and guitarist Pratt the single, strongest instrumental presence. Bilyeu is also the primary composer, but Pratt, fellow band members Gaylord Holomalia and Kenji Sano, and longtime Kalapana associate Maurice Bega, all make important contributions.

Bilyeu has retained all of his usual vocal appeal, with the pain of lost love his primary theme. "Keala" is his one outright happy song. Bega adds another with "2 Hearts," while Holomalia's "Manga" is an instrumental showcase for Sano, Pratt and alumnus saxophonist Michael Paulo.

www.kalapanamusic.com

---




"Instrumental Peace"

Barry Flanagan
Finn

Barry Flanagan makes his long-awaited solo debut with a beautiful album as impressive as his best work with Hapa. The title song is a successful blending of acoustic and electric instruments with guests Gaylord Holomalia (keyboards), R. Carlos Nakai (Native American flute) and an uncredited percussionist. "Kyoto" neatly balances guitar and flute, but many of Flanagan's hardcore fans may find the later tracks more to their taste, since those are the ones that showcase his virtuosity as a soloist.

There is much to enjoy. Flanagan's reworking of tunes by Miles Davis, Earl Klugh, Peter Frampton and Joe Satriani, display his insights as an arranger. "Rodeo Drive, Makawao" and "Paniolo 'Ona Slack Key" are two of the originals that capture his talent as a Hawaiian guitarist. Unfortunately with the absence of liner notes, we don't know what inspired these songs, so we can only guess the story behind "Trini Kaopuiki Aloha."

www.barryflanagan.net





---




John Berger, who has covered the local
entertainment scene since 1972, writes reviews of recordings
produced by Hawaii artists. See the Star-Bulletin's Today
section on Fridays for the latest reviews. Contact John Berger at jberger@starbulletin.com.
| | | PRINTER-FRIENDLY VERSION
E-mail to Features Editor
---
© 2003 Honolulu Star-Bulletin -- http://archives.starbulletin.com
---
-Advertisement-