---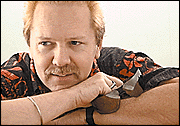 Island Mele



Friday, December 6, 2002
By John Berger
---
"Satisfied"

Keahiwai
Island Groove Productions

The duo of Lei Melket and Mailani Makainai who make up Keahiwai hit it so big with their first album that producers Aaron Kimura and Jon Yamasato decided to stay the course keeping the format and arrangements so similar to the debut, that this new album is certain to please fans.

While Melket and Makainai play instruments at their gigs, it's the multi-faceted Yamasato who handles the musical duties in the studio. The female duo wrote most of the songs, and if their lyrics mirrors their actual lives, they've been paying big time for mistreating decent men. The doleful confessions tend to be phrased in a free-flowing rhyme and meter: Melket's "Satisfied," a fine piece of Jawaiian pop, is a notable exception.

Remakes of "Lost In Emotion" and "Where Did Our Love Go" fall well short of the originals, despite interesting work by Yamasato and the other studio players.

www.islandgroove.com

---




"Just a Reminder Note"

Quadraphonix
Self-released

This is one of the more interesting non-Hawaiian albums to come out locally this year. Quadraphonix's album is a great reminder of the musical diversity here, and makes for some excellent and original acid jazz as well. The quartet of E. Clemens (percussion), S. Copp (acoustic bass), J. Heraux (drums) and S. Sadagopan (guitar) deserves to be heard by an audience beyond their fans of the local underground scene.

The contrast between Sadagopan's electric guitar and the acoustic rhythm section is the key in an imaginative blending of American and world music riffs, rhythms and textures. Rapper Jamal Mamalias adds a vocal component on "Nu Neus."

An expansive, hidden track that kicks in 12 minutes after the final notes of the last listed song ends is worth hearing, too.

call: (808) 306-QUAD (7823)

---




"A Gallery"

Teresa Bright
Pumehana

If truth-in-labeling laws applied to local records, there'd be a notice on the cover of Teresa Bright's beautiful new album mentioning that this is primarily a retrospective of her past work. Loyal fans will have to decide if they're flush enough to buy it to get just four new songs. On the other hand, malihini just discovering Bright's voice will find this a fine introduction, even though there's little information on the meaning or significance of the songs. Why, for instance, did she choose to record a Maori song as one of the new batch of songs?

Bright excels at reworking hapa-haole classics as seductive Latin-flavored light jazz, and this retrospective has some of her sweetest confections. Her work with talented cousin Frank Kawaikapuokalani Hewett has shared new ideas in Hawaiian music as well, and that part of her repertoire is found here. With songs like "Poliahu," Hewett's Hoku-winning contribution to her solo debut album, there are many other gems here.

www.tropicalmusic.com





---




John Berger, who has covered the local
entertainment scene since 1972, writes reviews of recordings
produced by Hawaii artists. See the Star-Bulletin's Today
section on Fridays for the latest reviews. Contact John Berger at jberger@starbulletin.com.
| | | PRINTER-FRIENDLY VERSION
E-mail to Features Editor
---
© 2002 Honolulu Star-Bulletin -- http://archives.starbulletin.com
---
-Advertisement-