---
Sunday, July 7, 2002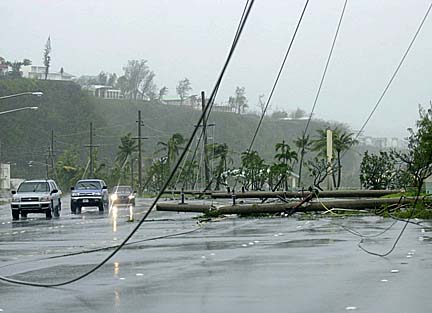 ASSOCIATED PRESS
Cars drove by downed utility poles Friday in front of Alupang Beach Tower in Tamuning, Guam, during Typhoon Chata'an. The storm dumped 8 inches of rain on parts of Guam yesterday morning, forcing hundreds of people into shelters but causing no serious injuries.
---
Bush declares
disaster areas on Guam

---

Staff and news reports

KENNEBUNKPORT, Maine >> President Bush declared those parts of Guam struck by Typhoon Chata'an a disaster area yesterday.

The action makes the Pacific island territory eligible for federal recovery assistance.

The assistance will be made available to local governments on a cost-sharing basis to remove debris and for emergency protective measures, the White House said.

The typhoon struck on Friday and yesterday.

In Hawaii the Salvation Army has issued "an urgent public appeal" for cash donations to help relief efforts in the wake of Typhoon Chata'an's devastation of Chuuk near Guam.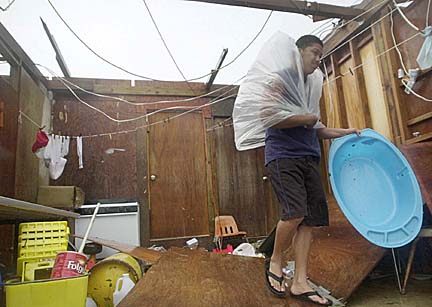 ASSOCIATED PRESS
A resident of Guam cleaned up last week after Typhoon Chata'an.
---
And more than a dozen volunteers from the Hawaii State Chapter of the American Red Cross flew to Guam yesterday to conduct damage assessment and other services.

Daniel de Castro, Salvation Army community relations director in Hawaii, asked the public to send checks to the Salvation Army, P.O. Box 620, Honolulu, HI 96809.

Donors can designate whether their donations go to Chuuk or Guam. Sending cash is the most "cost-effective" way of helping instead of shipping supplies, he said.

The Hawaii branch sent eight members of its Salvationist Service Corps Team to help in relief efforts that have spread to Guam, de Castro said.

Ralph Hood, divisional commander of the Army's Hawaiian and Pacific Islands Division, said:

"Many families are hurt. We have many of our staff and volunteers helping in Chuuk right now, and we are prepared to send more help as needed."

Rain from the typhoon caused massive mudslides, resulting in nearly 40 deaths and many injuries.
E-mail to City Desk
---
© 2002 Honolulu Star-Bulletin -- http://archives.starbulletin.com
---