CLICK TO SUPPORT OUR SPONSORS

---

---
Sunday, July 7, 2002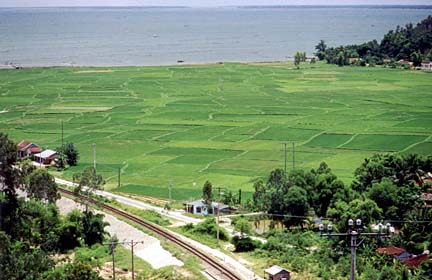 COURTESY DR. JIM DORIAN
The rolling green landscape between Da Nang and Hue.
---
Vietnam looks to Hawaii
as its link to America

[ PACIFIC PARTNERS ]

---

By Ben Cayetano

IT is much easier to lead a war than govern a nation," said Vo Nguyen Giap, the brilliant North Vietnamese general and national war hero, about Vietnam's attempts to rebuild itself after North Vietnam won the war in 1975.

My trip to Vietnam last month revealed only too clearly what Giap meant. Our delegation's trip to Hanoi, Hue and Da Nang was the first for a Hawaii governor. Our purpose was to explore opportunities for Hawaii businesses and the University of Hawaii and to develop a stronger relationship between Hawaii and Vietnam.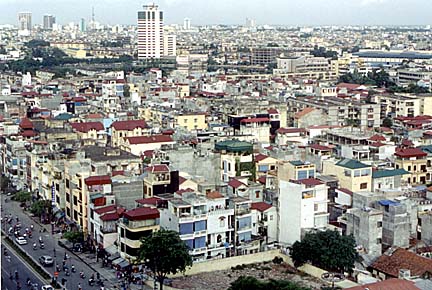 COURTESY DR. JIM DORIAN
The bustling skyline of modern Hanoi. More than half of Vietnam's 80 million people were born after the war, and they're "warm and friendly," reports Cayetano.
---
The two decades that followed the war were still difficult ones for Vietnam. Armed conflicts with Cambodia in 1975 and China in 1979 cost the Vietnamese an additional 72,000 lives. Moreover, economic reforms modeled after Russia failed miserably. Natural calamities such as typhoons and floods also took their toll. Added to this was the U.S. embargo on trade and travel to Vietnam that drastically impaired the country's economic growth and isolated it diplomatically from the world.

In 1994, the United States lifted the embargo and re-established diplomatic relations in 1995. Last year, the United States and Vietnam entered a historic trade agreement. Since then, Vietnam's exports to the United States have doubled and continue to grow, but total U.S. investment remains small.

The Vietnamese government officials I met seemed motivated to expand economic growth and trade with the United States. They appeared eager to promote "joint ventures," a term I heard used repeatedly and which says much about how poor the government remains. Virtually all of the tall buildings (25 stories maximum) in Hanoi are the products of joint ventures between the government and foreign investors.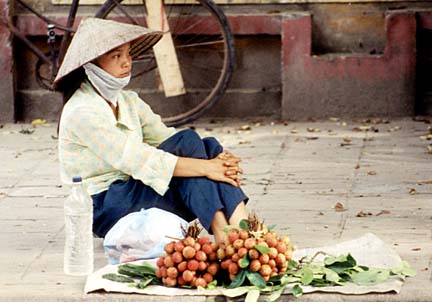 COURTESY DR. JIM DORIAN
A street peddler selling lychee.
---
For Hawaii, the opportunities are mainly in education, tourism and professional services.

Vietnam has tremendous potential as a tourist destination. Despite the stifling heat and monsoons, the country's natural beauty is striking, its beaches rival Hawaii's and its culture is fascinating.

Vietnamese hotel employees are friendly and warm. But their need for better training and skills was evident in even the best hotels. Here, the UH's School of Tourism Management can play a role by partnering with Vietnam's universities, as it is now doing in China and other Asian countries.

Last year, UH established an MBA program with the Hanoi School of Business. From all accounts, the program's first class, 20 Vietnamese and nine American students, has been a great success. The Vietnamese students I spoke with had nothing but praise for the opportunity, as one student put it, "to learn how to do business the American way."

Opportunities abound for Hawaii's architects, planners, engineers and environmental consultants. Vietnam's infrastructure is generally old and worn. To grow a viable tourism industry, new infrastructure must be planned, designed and built. Vietnamese professionals lack the experience and must rely on foreign expertise to develop world-class resorts.

For some, Hawaii is seen as a role model. Indeed, the governor of Hue, Nguyen Van Me, who has visited Hawaii several times, asked for assistance in tourism training, development of the Lang Co beach resort, protection for the environment and developing a master plan for tourism.

"Vietnam is communist in name only, " a Vietnamese businessman told me. Indeed, everywhere we visited, Vietnamese businesses seem intensely engaged in that great American sport -- capitalism. Officially, privatization of state-run businesses has been slow. Unofficially, private entrepreneurship seems to be growing fast. Moreover, there is a great demand in Vietnam for American products, and acquiring them rather than Japanese or Korean products, is a mark of prestige for the Vietnamese people.

Doing business in Vietnam, however, is risky -- perhaps riskier than in any other place in Asia. U.S. Embassy officials say the highest percentage of serious complaints (fraud and government bureaucracy, among others) they receive from American businesses investing in Asia comes out of Vietnam.

The potential to hit it big, however, is alluring. When I asked one of the American students, a red-haired, freckled face, two ear-ringed 22-year-old from Colorado in the MBA program, why he was in Vietnam and not in Korea or Japan, he replied, "It's raw, man ... this is like the beginning." Doing business in Vietnam is not for the inexperienced or timid.

Americans who visit Vietnam are surprised by the people's lack of bitterness. Hanoi is replete with museums and monuments of the Vietnam War, including a plaque marking the site by the lake into which U.S. Sen. John McCain parachuted when his plane was shot down -- and yet the people were warm and friendly.

U.S. Embassy officials believe the friendliness is genuine but note that nearly 60 percent of Vietnam's 80 million people were born after the war.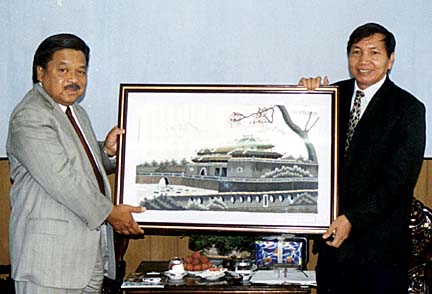 COURTESY DR. JIM DORIAN
Chairman Nguyen Van Me of Hue Province, right, presents Gov. Ben Cayetano with a picture of one of the area's new developments. Me said Vietnam looks to Hawaii as a role model for creating a visitor industry.
---
Dr. Huu Ngoc, noted Vietnamese author and journalist, explained that the Vietnamese fought for independence for 117 years (80 in the struggle against the French), that more than 3 million Vietnamese had been killed, that the post-war famine had produced a generation of undernourished and malnourished people, and finally, that the Vietnamese are more pragmatic than ideological and just wanted a better life.

"Besides," our tour guide added," Americans have big hearts ... they are the kindest people" -- a reference to the growing number of U.S. Vietnam veterans who returned to honor their fallen buddies and help rebuild Vietnamese schools and orphanages.

America's first ambassador to the Republic of Vietnam, Douglas (Pete) Peterson, an Air force fighter pilot who spent six years in the infamous "Hanoi Hilton," became highly respected by the Vietnamese. And like many Vietnam veterans, changed his view of America's former enemy.

"There are many things I didn't now about Vietnam," he said in an interview with CNN. "Being incarcerated ... we were like blind men."

"Both sides had ... a wrong impression of what the other was and what their intentions were. People made assumptions. I'm becoming much more close to saying the war could have been avoided totally if we'd had more down-to-earth communication ... Everything I do now is to make up for it."

As we prepared to leave Vietnam, we met Honolulu surgeon, Brad Wong, and four nurses from Hawaii at the Da Nang Airport. Wong, who practices out of The Queens' Medical Center, and his delegation of nurses had just completed a tour of Vietnam conducting training sessions for Vietnamese doctors and nurses. No fanfare, no publicity, they just wanted to help. We were very proud of them. Like the man said, "Americans have big hearts ..."

---

Ben Cayetano is serving his second term as Hawaii's governor.
E-mail to Editorial Editor
---
---
© 2002 Honolulu Star-Bulletin
http://archives.starbulletin.com