CLICK TO SUPPORT OUR SPONSORS

---

---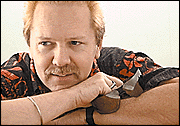 Island Mele



Friday, July 5, 2002
By John Berger
---
"Jennifer"

Jennifer
Koa

Jennifer Perri is aiming for the national pop charts with this six-song, Hawaii-only preview of her upcoming Victor Entertainment album. The songs are pure teen-diva material but all are age-appropriate for a 15-year-old vocalist. Perri isn't posing as a Britney Spears-style teen sexpot; the theme here is wanting that special someone, not teasing or, oops, playing with others' hearts.

Perri debuts as a songwriter with "Fall In LOVE ... With Me," which she co-wrote with her manager. This hit-to-be combines an irresistible up-tempo arrangement with an appealing vocal performance. Every woman can relate to the sentiment; every guy can wish she was singing to him!

"My Secret" isn't by Perri, but is similar in tone and tempo, and equally commercial. "If You Believe" shows she's just as appealing in sweet-and-slow mode.

"Back to Hawai'i"

Randy Parker
Mauka Productions

Singer/musician/ songwriter Randy Parker should already be getting play on Hawaiian radio. His 10 originals offer vivid images of island life. The title song speaks for those currently living elsewhere and longing to return.

Two songs are about times past, but Parker is clearly a modern guy who enjoys traditionalist Hawaiian music. Gilman Kahai joins him in playing guitar and ukulele; Mike Enocencio (electric bass) completes the studio band. Almost every song has a soothing slack-key sound.

Two romantic numbers -- "Honey Pie" and "The Gingers Are Blooming" -- reflect his love for his wife, Zita. A third, "Iliahi," is beautiful but enigmatic. "Chamorita Tita" adds katchi-katchi rhythms and the tale of a female flirt who causes problems at parties. Parker's poetry is sometimes ragged but his songs are worth hearing.

Write:
Mauka Productions
HCl 556
Kea'au HI 96749

"Boat Days Tropic Nights"

Leon & Malia
Haku Mele

Leon Siu and Malia Elliott reintroduce themselves with this musical celebration of the days when Hawaii was a territory and people came and went by boat. About half of the songs are hapa haole classics that date from that era. "Boat Days," one of several originals by Siu, is arranged to suggest that it is of similar vintage.

Although not identified as such, this is basically a re-release of the duo's 1991 "Tropic Nights" album with one song deleted and four others added. "Boat Days" is one of the new ones. "Ho'ala Hou Hawai'i," which Siu and Elliott wrote as the theme song for the 1995 Aloha Festival, is another one. There's nothing here from their early triumphs -- "The Voyage of the Hokule'a" and "Boy With Goldfish" -- but tourists and malihini (newcomers) will find this album an enjoyable introduction to one of Hawaii's unique musical duos.

www.islandheritage.com





---




John Berger, who has covered the local
entertainment scene since 1972, writes reviews of recordings
produced by Hawaii artists. See the Star-Bulletin's Today
section on Fridays for the latest reviews.
E-mail to Features Editor
---
---
© 2002 Honolulu Star-Bulletin
http://archives.starbulletin.com