CLICK TO SUPPORT OUR SPONSORS

---

---
Friday, June 7, 2002
T Bone Burnett scores
again with 'Ya-Ya' cut

"Divine Secrets of the Ya-Ya Sisterhood"
Various artists (DMZ/Columbia/Sony Music Soundtrax)

---

Review by Gary C.W. Chun
gchun@starbulletin.com

While not as revelatory as the bluegrass Grammy Award winner "O Brother, Where Art Thou?" T Bone Burnett's latest soundtrack venture into Americana, created for the film "Divine Secrets of the Ya-Ya Sisterhood," is just as rich musically.

There may be no breakout song like "Man of Constant Sorrow" on this album, but there are some outstanding contemporary interpretations of older songs, ranging from Cajun, folk and swinging jazz.

Macy Gray and Taj Mahal both front a big band led by trumpeter-arranger Darrell Leonard in a couple of delightful re-interpretations of, respectively, Billie Holiday's "I Want to Be Your Mother's Son-in-Law" and Fats Waller's "Keepin' Out of Mischief Now."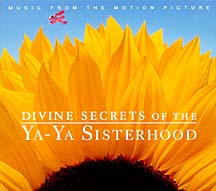 Alison Krauss also appears on this soundtrack with a lovely "Sitting in the Window of My Room" that features the phenomenal Jerry Douglas on lap steel, and Tony Bennett contributes a wistful "If Yesterday Could Only Be Tomorrow."

Cajun revivalist and scholar Ann Savoy brings all of the music's rustic charm in a trio of songs, including a couple of interpretations of "Lulu's Back in Town" ("Lulu Revenue dans la Village") and "It's a Sin to Tell a Lie" ("C'est un Peche de Dire un Mentire").

Other major artists contributing to this well-conceived project include Bob Dylan (a new, open-hearted waltz titled "Waitin' for You"); Lauryn Hill with a soulful, meditative acoustic number, "Selah"; and a gorgeous, sublime revisit of Richard Thompson and ex-wife Linda's "Dimming of the Day," an emotionally deep song made complete with an orchestral arrangement by Stephen Barber.

Throw in a choice selection of seductive blues, R&B and gospel numbers by the likes of Jimmy Reed, Slim Harpo, Ray Charles and Mahalia Jackson, and you've got yourself a stellar album of musical memories.





Click for online
calendars and events.
E-mail to Features Editor
---
---

© 2002 Honolulu Star-Bulletin
http://archives.starbulletin.com