CLICK TO SUPPORT OUR SPONSORS

---

---
Friday, June 7, 2002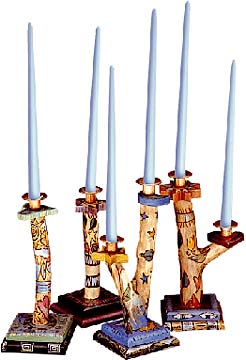 STICKS, INC.
Candlestick holders can be special ordered through Nohea Gallery.
---
Sticks figures


Whimsical art furniture bearing
homespun maxims makes
a daring isle debut

---

By Ruby Mata-Viti
rmataviti@starbulletin.com

The customers are different, but their order of expressions as they eye each piece of furniture the same. They walk into Nohea Gallery drawn to the intensity of hues and linger, first raising or scrunching an eyebrow in puzzlement. Then, upon closer inspection, the corners of their mouths curve up.

These are the faces of those who have been amused and charmed by the philosophy of Sticks, art disguised as furniture.

Laurie Baron, owner of the art gallery -- the latest of three that opened last month at Ward Centre -- said the furniture arrived two weeks ago and has been selling well. "No one's seen Sticks in Hawaii before," she said. "And of course they make people smile."

How could they not? Whether looking at a chair, CD cabinet or toy chest, the pieces elicit the feelings a child must experience after opening a Crayola box, the 20-pack variety, for the first time.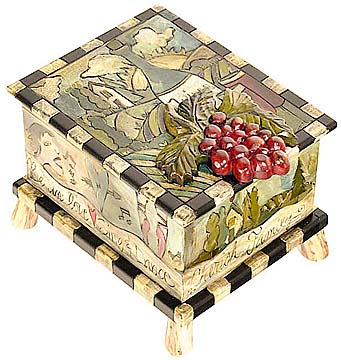 STICKS, INC.
A wine chest can be special ordered through Nohea Gallery.
---
Husband-and-wife team Jim Leuders and Sarah Grant-Hutchinson, based in Des Moines, Iowa, formed the company in 1992, calling it Sticks Inc., because "earlier pieces used sticks." Driftwood was incorporated into their designs later as table and chair legs or arms of benches, one of which is displayed in the gallery, bearing the words, "Life is an Adventure, Partake."

The furniture is made of birch or poplar and painted with nontoxic acrylics. No two pieces are alike. Some have similar themes -- among them "Life is a Pasture (so get on down and roll around in it)," "Eat Good Food and Share," "Sit and Think," "Know Huck," "Know Nature" -- that don't usually come to mind while paying bills or setting the dinner table, unless of course, the words are painted on the table.

Mirrors are popular, said Leuders. No wonder. Look at a Sticks mirror and you'll likely be inspired by what you see, even on a bad hair day. Light brush strokes in dark tones crown each frame, forming words such as "Seize the Day, Relish the Night" or "Go-out for Adventure, Come Home for Love." They're perfect to hang near the front door as a gentle reminder when you take that last quick check before rushing out for work 10 minutes late.

Then there's a game table with a secret compartment for backgammon and chess pieces situated in the center of the gallery that wouldn't be out of place in an "Alice in Wonderland" movie scene.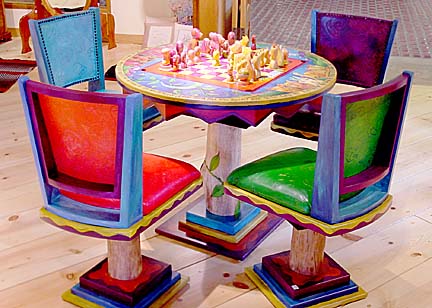 NOHEA GALLERY
This game table at $2,450, does not include chairs, which sell for $1,195 each. Get the complete set with four chairs for $6,850 at Nohea Gallery.
---
These may, however, seem out of place in the typical home because they're so colorful and bright, and may scare conservative sorts.

Not true, says Baron. "In Hawaii we've got a pretty eclectic style."

She said the whimsical furniture works well in a home with Asian influences or one with a contemporary aesthetic. Those who appreciate humor and brightness buy them, she said, adding the best sellers are Lazy Susans ($350), lamps ($298) and mirrors ($548).

"People think it's childish at first" said Leuders, whose clients include rock stars and a Middle Eastern king. He said buyers often start out intending to use the furniture in a kid's room. "Next thing they know," he said, "it's in the family room, and they end up buying more pieces for the rest of the house."

Leuders, who has never been to Hawaii, says he feels Sticks does well because of the topics of encouragement, adding that, as artists, he and Grant-Hutchinson enjoy dealing with issues and life philosophies. "It gets people talking."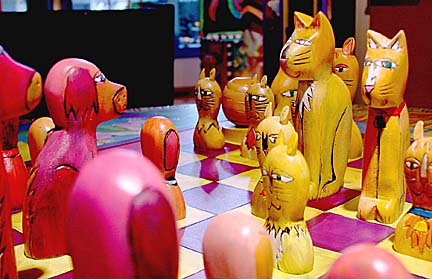 NOHEA GALLERY
Chess pieces topping a game table by Sticks are available at Nohea Gallery, Ward Centre.
---
For instance, one of their first pieces was "a real conversation piece" entitled "Mother Told Me Table." It had a border with phrases Grant-Hutchinson heard as a child from her mom, mantras like "Eat your potatoes, floss your teeth."

Another project they worked on was a gourmet Mexican restaurant they furnished with a spinning-wheel game. Bar stools were numbered, and a person who sat on a number that was called out had to spin the wheel and talk about whatever topic the needle stopped on.

The two started out in a small Des Moines studio with other starving artists, said Leuders, adding that he feels fortunate their business has grown. He credits Sticks' success to giving people what they want.

Since most of their pieces are custom, growth would seem a natural progression. These works include requests for family histories, such as a table for a family that visited the seven wonders of the world, represented by drawings and well-known quotes about each place. "People send us photos of their kids, dogs, horses, you name it."

To order, simply go through Baron, said Leuders, and select a color palette and theme.

Although they're based in Iowa, their work is shown in 120 galleries nationwide, and they'll travel to create built-in cabinetry. The most recent was for professional golfer Kirk Triplett, who also had on his wish list beds, a built-in kitchen table, and sculpture hanging over his grand piano.

The couple hopes to make it to Hawaii someday.

"Need a built-in?" he asked.

---

Check Sticks Inc.'s Web site at www.sticks.com.





Click for online
calendars and events.
E-mail to Features Editor
---
---

© 2002 Honolulu Star-Bulletin
http://archives.starbulletin.com