CLICK TO SUPPORT OUR SPONSORS

---

---
Thursday, June 6, 2002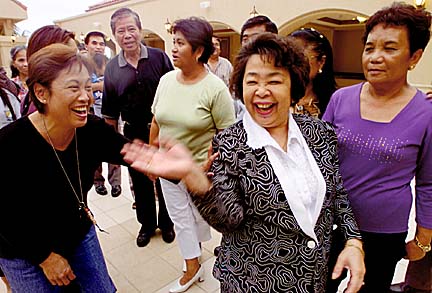 DENNIS ODA / DODA@ STARBULLETIN.COM
Jessie Quemado, left, joked with Cleo Bala-Casino as Acela Garcia looked on May 9. They were some of the folks involved in fund-raising for the Filipino Community Center.
---
A center of their own


The $14.2 million Filipino Community
Center's grand opening will be Tuesday

» Mabuhay Festival begins tomorrow
» Skeptics said it couldn't be done
» Center looks to be a place of activity

---

By Rosemarie Bernardo
rbernardo@starbulletin.com

Seventy-six-year-old Nora Cabico spent five days on Molokai last month walking door to door to collect more than $1,000 in donations.

On Tuesday, Cabico and dozens of fellow volunteers will get to see the fulfillment of their fund-raising efforts, the grand opening of the $14.2 million Filipino Community Center in Waipahu.

"I remember when I arrived here in Honolulu, a lot of people try to build the same kind, but they never make it," said Cabico, a longtime Waipahu resident. "I'm so happy ... we have this."

The 94-428 Mokuola St. center -- home to businesses, a health clinic, community groups and recreational activities -- is the culmination of a decade-long effort that involved a cadre of architects, engineers and businessmen.

Members of the FilCom Center said the facility will not only serve Filipinos, but the whole community with social, educational and medical services.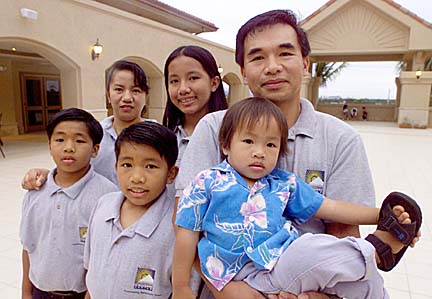 DENNIS ODA / DODA@ STARBULLETIN.COM
Community members gathered last month at the Filipino Community Center in Waipahu. The Pablo family posed in the center's courtyard. They were, front from left, Neill-Clint, 8, Glenn-Ford, 11, Jacinto holding son, Jordunn-Tripler, 2; back from left, mom Consolacion and Hershey-Gayle, 13. Not pictured in the photo is 14-year-old Winfrey-Cliner.
---
Though the center received major donations from charitable groups, including $3 million from the Harry and Jeanette Weinberg Foundation, members of a grass-roots committee, including Cabico, helped set the momentum by collecting about $1.2 million in pledges and more than $900,000 in cash.

With the committee's help, an estimated total of $13 million in donations from the community, government agencies, corporations and private trusts and foundations was collected for the center.

"It symbolizes our pride here in Hawaii," said Edith Pascua, co-leader of the center's community relations committee with her husband, Roland.

Members spend the first Saturday of every month approaching residents and mom-and-pop businesses. Donations were sought in areas where a concentration of Filipinos lived such as Waialua, Whitmore Village, Poamoho Village and Kunia Village.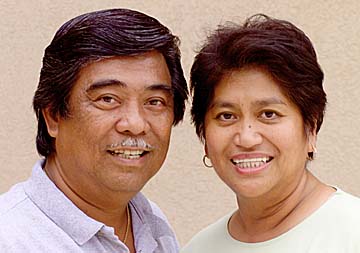 DENNIS ODA / DODA@ STARBULLETIN.COM
Roland and Edith Pascua, coordinators of the Community Relations Committee involved in fundraising efforts for the new center in Waipahu.
---
Between $200 and $30,000 were collected by committee members weekly, said Edith Pascua. Though the center is complete, the committee continues to solicit donations in the Kalihi area to help raise the remaining $1.25 million toward construction and overhead costs.

"I owe so much to them. They are the soldiers," said Roland Casamina, president of the FilCom Center. "They really feel that sense of ownership. They protect it literally."

While the committee focused on individual donors, Casamina and the center's Chairman Eddie Flores Jr. targeted corporations, government agencies and private foundations seeking support to fund the FilCom Center.

Along with the Weinberg Foundation donation, $500,000 was donated from the Conseulo Zobel Alger Foundation. About $4.1 million came from government grants, $3.9 million from private trusts and donations, and about $370,000 from corporations.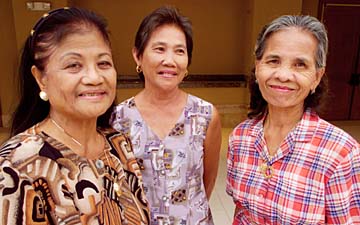 DENNIS ODA / DODA@ STARBULLETIN.COM
Nora Cabico, Nora Respicio and Fely Cristobal pose for a photo in the courtyard last month.
---
Committee coordinators searched for volunteers to form the grass-roots committee through social clubs and organizations.

During a Gumil Hawaii literary club meeting in 1999, Roland and Edith Pascua handed Cabico, Nora Respicio and Fely Cristobal brochures about the FilCom Center and asked the trio if they were interested in soliciting donations.

"Since then we never stopped already," said Cristobal. "Our dreams came true. It's the Filipino dream. ... We worked hard for that."

Cristobal, 69, arrived in Honolulu from Ilocos Norte, the Philippines, in 1967 with her husband, Leo Domingo Sr., a worker at Ewa Plantation, where they resided in housing commonly known as Banana Camp.

Cristobal's second cousin, Nora Respicio, arrived in Honolulu in 1966 after her brother brought her to the islands. Respicio later met her husband, Bruno Respicio, through Cristobal's friend and moved into Banana Camp.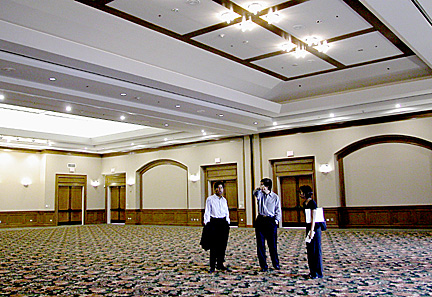 CRAIG T. KOJIMA / CKOJIMA@STARBULLETIN.COM
Roland Casamina, left, and Eddie Flores spoke last month with a reporter in the ballroom.
---
Respicio, who donated $2,000 of her savings to the FilCom Center, was elated that the center is complete and said it will serve future generations through technological and cultural services.

"To me, that's why we worked so hard," Respicio said.

Nicknamed "the Three Musketeers," Cabico, Respicio and Cristobal would often solicit donations as a team.

"Whenever we go, we go out together," Cabico said.

For Waipahu resident Jacinto Pablo, collecting for the FilCom Center has become a family affair. Pablo and his wife, Connie, bring along their five children, ages 2 to 14, as they solicit donations.

"I wanted to instill the value of volunteerism," Pablo said.

Pablo said that when he first arrived in Hawaii 16 years ago from Baguio City, Philippines, his first inquiry was, "Is there a Filipino Community Center in Hawaii?"

Pablo, who was active in politics and community activities in the Philippines, later heard about the project to construct the FilCom Center.

"At that time that we needed help, we don't know where to go," he said.

"I'm proud that it's already finished. It will not only help Filipinos, it will help the people of Hawaii," he said.

BACK TO TOP

---

|


Mabuhay Festival
begins tomorrow

---

Calendar of events for the Mabuhay Festival:

>> Tomorrow: Filipino-American film "The Debut" will kick off at selected Consolidated & Signature Theatres.

>> Saturday: Miss Oahu Filipina pageant at 7 p.m. at Sheraton-Waikiki's grand ballroom


>> Sunday: Tinikling Dance World Record at 10 a.m. at Waikiki Beach during the city's Brunch on the Beach event. At 7 p.m. the Kayamanan Ng Lahl Cultural Show will be held at Pacific Beach Hotel's grand ballroom.

>> Monday: Kasminawa Cultural Group Concert at 7 p.m. at the Pearl City Cultural Center

>> Tuesday: Grand opening of the Filipino Community Center at 10 a.m. Open house will follow at noon. Officials will unveil a statue of Dr. Jose Rizal fronting the building at 1:30 p.m. At 7 p.m. the Pasinaya Inaugural Ball and Banquet will be held at the FilCom Center's main ballroom.

>> Wednesday: Philippine Independence Vin D'honneur from 11 a.m. to 1 p.m. at the FilCom Center's main ballroom. At 6 p.m. a cultural dance fashion show will be held at the center courtyard of the FilCom Center. From June 12 to 14, a Philippine-Hawaii Import/Export Trade Expo will be held from 8 a.m. to 5 p.m. at the FilCom Center's meeting rooms. From 1 to 5 p.m., Filipino-American International Ballroom Dance Workshops will be held in the main ballroom of the FilCom Center.

>> Next Thursday: Cultural Dance Festival at 6 p.m. at the center courtyard of the FilCom Center

>> June 14: Filipino-American International Ballroom Dance Championships will be held at 6 p.m. in the FilCom Center's main ballroom.

>> June 15: Annual Filipino Fiesta & Parade from 9 a.m. to 6 p.m. at Kapiolani Park in Waikiki

>> June 22: Dr. Jose Rizal Celebration from 10 a.m. to 2 p.m. at the Philippine Consulate grounds
E-mail to City Desk
---
---


© 2002 Honolulu Star-Bulletin
http://archives.starbulletin.com