CLICK TO SUPPORT OUR SPONSORS

---

---
Tuesday, May 28, 2002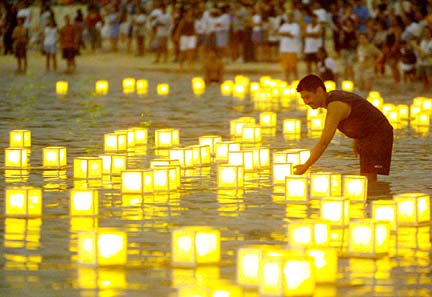 GEORGE F. LEE / GLEE@STARBULLETIN.COM
Members of Shinnyo-En, above, helped the floating lanterns along yesterday evening as they were launched from the beach at Ala Moana Beach Park.
---
1,000 lanterns fill the
ocean with memories

Yesterday's Buddhist rite at
Ala Moana was the largest yet

---

By Rod Antone
rantone@starbulletin.com

Twilight fell softly on the ocean off Ala Moana Beach Park last night along with the glow of more than 1,000 floating lanterns.

Each lantern held the prayers and thoughts of those who wanted to remember their loved ones and others who have died. Among the prayers were those of Ronald and Nancy Murakami of Aiea.

"His parents and brother passed away 10 years ago," said Nancy of her husband. "That's why we're here."

"And to support the church," added Ronald.

The ceremony at Ala Moana is the largest yet for the Toro-Nagashi (Lantern Floating) Ceremony held by the Buddhist order of Shinnyo-En Hawaii, which is headquartered in Tokyo.

The ceremony started with chanting and prayers along with a video presentation from a movie screen stage set up on Magic Island. Then about 7:15 p.m., canoe paddlers released the lanterns into the water.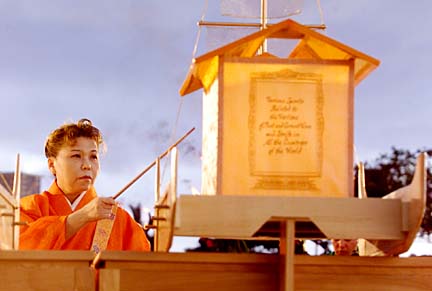 GEORGE F. LEE / GLEE@STARBULLETIN.COM
Shinnyo Keishu-sama, head of the order, blessed the floating lanterns before they were set adrift.
---
"We're just here to watch," said Moanalua resident Mike Dunford, whose children were playing in the sand close to shore. "We heard about the ceremony and thought it might be nice to go to."

"It was kind of an excuse to just get together this evening," said Palolo resident Debbie Cutner, who sat with her friends Luisa Herrera and Margarita Arakaki, "and offer some family prayers."

While some in the crowd could be seen closing their eyes in prayer or reverence, about seven men with longboards watched the lanterns intently to make sure the symbols of faith did not go astray.

"We're just making sure that that no one tries to gather the lanterns from the public," said church member and surfer Alan Hoshino. "With the weather conditions as it is, they'll probably float to shore instead of out to sea."

Event staff members estimated there were about a 1,000 prayer requests from church members and 1,600 more from nontemple members. Prayer requests by the public could be made from 3 to 6 p.m., just before the start of yesterday's ceremony.

Those taking prayer requests said they were similar to previous years -- prayers for the deceased, victims of war to be remembered on Memorial Day and, of course, those who died on Sept. 11. However, it was the largest crowd to attend the annual event, according to Shinnyo-En officials, with an estimated 8,000 onlookers clapping after the taiko drums and chanting finally ended.

"It was a beautiful ceremony," said Woody Moore of Kailua. "My wife, Suzy, and I just got married in Hawaii this year, and this is our first time here.

"It was just beautiful."
E-mail to City Desk
---
---


© 2002 Honolulu Star-Bulletin
http://archives.starbulletin.com