CLICK TO SUPPORT OUR SPONSORS

---

---
Monday, May 27, 2002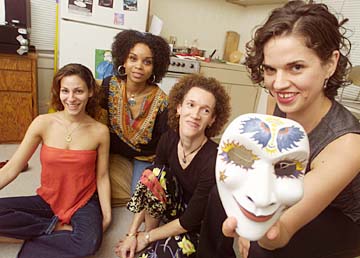 GEORGE F. LEE / GLEE@STARBULLETIN.COM
Members of the Living Poets Society, from left, Jenifer Contini, Sequoia Carr-Brown, Khajira (a k a wisdomisfree) and Rachel Kaiser gathered last week to plan tomorrow's performance. Kaiser, a dancer, performs with wooden masks that she carved to represent the stages of women's lives.
---
Poetry lives


Music, dance and the spoken
word unite in a display of
verbal and visual artistry

---

By Gary C.W. Chun
gchun@starbulletin.com

The Ghetto Geisha is feeling mighty ambitious. The self-dubbed "geisha" and poet Cora Spearman knows the third time around for the Live Poets Society will be the charm. "Three's a good number. It's a spiritual and magical number," she said with confidence.

As the coordinator for the poets' monthly get-together at Wave Waikiki, she and a large group of spoken-word performers (both MCs and poets), dancers and musicians will blend their "eclectic and bohemian" voices in the spirit of unification.

It's the group's intention to bring this lively form of performance art to a diverse audience not usually exposed to such underground culture.

"We want to get all the way up in your head, in your ear, in your brain!" she said. "We have two hours to rock our s--," she told the group at a recent meeting, which means there will be a lot happening before the faboo Pussycat Lounge swings into full effect. And the audience will help determine the direction of the freestyle portion of the poets' show, picking themes chosen from a menu that includes laundry-inspired topics such as "Love Your Dirty Drawers," "Cultural Permanent Press" and "Personal Handwashed."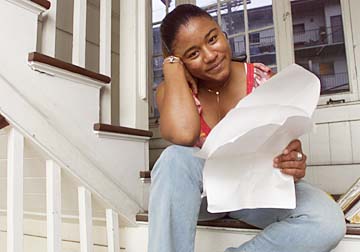 GEORGE F. LEE / GLEE@STARBULLETIN.COM
"We want to get all the way up in your head, in your ear, in your brain!" said Cora Spearman, founder and spiritual leader of the artists collective Living Poets Society, as she talked about tomorrow's performance.
---
Broader topics cover the cosmic, love and sensuality, and "personal stuff," using a spirited tag-team format as the artists work off the audience's shouted choices to create off-the-cuff verbal and musical artistry.

Spearman has invited a diverse bunch of artists to pull this all off, including DJ A2Z, the DJ/turntablist and drummer for the Microscopic Syllables. This will be his first collaboration with his Makiki neighbor.

"In the live band I'm in, I work with MCs," he said, "but poetry is different than rap, and this format is more stop-and-go. What I'll be doing is that I'll be looking at each of the poets' pieces beforehand, figure out what kind of mood is going to be put out and then find an appropriate song to play behind each of their performances."

A2Z said he'll do a bit of turntablism between each poet's spot and spin a bit of music before the show to help set up the vibe.




Live Poets Society III

On stage: 9:30 to 11 p.m. tomorrow
Where: Wave Waikiki, 1877 Kalakaua Ave.
Cost: $5 cover, 21 and over
Call: 941-0424




"They'll be at least 15 people involved in this show," Spearman said. "There'll be dancers; one of them is Rachel (Kaiser), who works with handcrafted wooden masks she carved in Bali to represent different stages of women's lives, and Sequoia (Carr-Brown), a more Afrocentric dancer. ... Spoken-word performer Khajira will be doing some African drumming, and A2Z will play on his drum kit as well.

"I wanted both visual and performing mediums to come together in this show. Because of our exposure to MTV, we're used to the mass media selling us products all at once, so why not use that simultaneous approach in expressing ideas and art?"

Included in that mix will be MCs Makepa and Doc Takata from the Direct Descendants, who call Waimanalo home.

"We like that this show is very visual," the dreadlocked Makepa said, "and that it gives the audience a chance to be part of the freestyle portion. That kind of interaction is like life, you know? What we bring is straight-up street art, uplifting the Hawaii experience where different people bring their stuff to share together."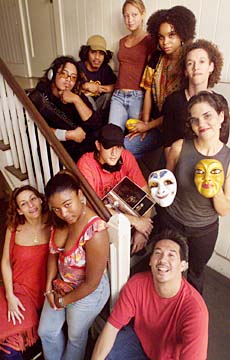 GEORGE F. LEE / GLEE@STARBULLETIN.COM
The full membership of the Living Poets Society, clockwise from center: DJ A2Z, Makepa (a k a Archaic), Doc Takata, Holly Ming, Sequoia Carr-Brown, Khedija (a k a wisdomisfree), Rachel Kaiser, Hawaiian Ryan, Cora Spearman (a k a The Ghetto Geisha) and Jenifer Contini.
---
The Descendants take their influence and strength from other underground MCs not only from here, but from Los Angeles, Canada and even Japan.

"We're not into the usual rapping, where the message is 'It's OK to go out and sell drugs and get women,'" said Taketa.

"We're against the booty mentality," added Makepa.

Khajira (a k a wisdomisfree), a spoken-word artist originally from L.A., will be working with Spearman's group for the third time, and said she appreciates the "very open-minded vibe here, where people are more peaceful and respectful. On the mainland, live poetry events can have a more hard-core slam feel, and poets get all-in-your-face with each other. While it can be as competitive here sometimes, everyone's on good-spirited terms.

"Cora's concept for this show has become tighter now. Where, in the beginning, things were a little scattered, it's become more precise."

And Spearman made it known to the group that without them, "I would not and could not do this."





Click for online
calendars and events.
E-mail to Features Editor
---
---

© 2002 Honolulu Star-Bulletin
http://archives.starbulletin.com