CLICK TO SUPPORT OUR SPONSORS

---

---
Thursday, May 23, 2002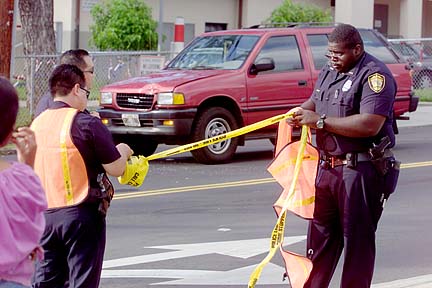 GEORGE F. LEE / GLEE@STARBULLETIN.COM
Honolulu police cordoned off Punchbowl Street near Royal School yesterday after a double pedestrian accident involving a sport utility vehicle. Two girls, students at the school, were in guarded condition last night at Queen's Medical Center.
---
Fears realized
as 2 girls are struck
by car at busy corner


Children often jaywalk near
Royal School to get to a playground

---

By Rod Antone and Gordon Y.K. Pang
rantone@starbulletin.com gpang@starbulletin.com

In her seven years as principal at Royal School, convincing students and their parents not to jaywalk to get to and from the school has been a priority with Sandra Ishihara-Shibata. "It's always been a concern with me. I'm very passionate about this," she said.

Ishihara-Shibata's fears were realized when two girls, ages 9 and 12, were struck yesterday at the back of the school jaywalking across Punchbowl Street, a busy entrance and exit of the H-1 freeway.

"There was a loud screech, then a loud bang," said Alan Piiohia, who works at the Jiffy Lube across the street from the school. "And there they were, two girls on the road."

Piiohia's co-workers said he, a customer and other bystanders rushed over to help direct traffic around the two girls until an ambulance arrived.

Though both girls were initially reported in critical condition at the scene, they were upgraded to fair condition this morning, according to Queen's Medical Center officials.

The accident angered some residents -- especially those such as Laulani Teale and her husband Masahida Kato, who have been pushing for the city to build a park on the Koko Head side of Punchbowl so children do not have to cross the street to get to a playground.

"I can't believe those girls got hit," said Teale. "It's really scary ... because that's an onramp, a really busy one.

"It's terrible that they don't have any other way to get to a simple patch of grass to play."

Teale said the area for the proposed park is at the top of Pele Street, overlooking the H-1 freeway.

"It's not the most ideal location, but it's the only space available," she said. "There aren't that many alternatives in this neighborhood."

In a message to her students this morning over closed-circuit television, Ishihara-Shibata identified one of the girls as a Royal School fifth-grader.

"Fortunately I think she's fine. I have spoken with her this morning, and she says she's okay. And we're hoping that she can be discharged from the hospital very shortly."

Neighborhood residents identified the girls as cousins in the third and fifth grade at Royal and whose families live nearby on Lusitana Street.

Karl Rhoads, a member of the Downtown Neighborhood Board, said a number of children from the area often cross Punchbowl to get to the nearest playground facilities at Kamamalu Park, which is at Queen Emma Street and Vineyard Boulevard, on the other side of Royal School.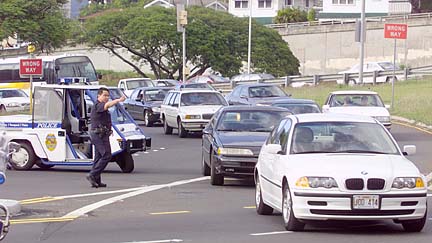 CRAIG T. KOJIMA / CKOJIMA@STARBULLETIN.COM
Police officer Melvin Andres talks to Royal School kindergarten students today about traffic safety. Two older students were hit by a car yesterday near the school.
---
Rhoads said children will try to jaywalk across Punchbowl near Royal to take a shortcut through the school on their way to Kamamalu instead of walking to the traffic light on Vineyard.

"That's one place they're tempted to cross, even if there is no crosswalk there, because it's shorter," Rhoads said. "Certainly there are kids going to (Kamamalu) Playground."

Discussion about an overhead pedestrian bridge across Punchbowl at the Jiffy Lube stopped when it was determined that there was not enough room to put one there, he said.

A $150,000 vision team request for funding of the Pele park project appears to be safe in the upcoming city budget, Rhoads said, but a planning approval still is needed from the City Council.

"I hope we get it," said Teale. "This is a good community, but a poor community.

"For that reason we tend to get ignored."

Ishihara-Shibata also sent a letter home with the students about the incident and another copy of a traffic safety sheet that she sent to them earlier in the year.

Ishihara-Shibata also is concerned about getting the message of pedestrian safety to parents. She said some encourage their kids to cross the street there.

Other residents say at some point the neighborhood also will have to stop ignoring the problem of children playing in the streets in general, sometimes turning Pele and Lusitana into their own playground.

"There were maybe 30 children playing in a huge puddle at the bottom of Pele after it rained earlier this week," said Pele Street resident Barbara Tavares. Referring to yesterday's accident, Tavares said: "It's amazing it hasn't happened sooner.

"These are good children -- nobody's doing graffiti or causing trouble ... but they've got no place to go except the streets."
E-mail to City Desk
---
---


© 2002 Honolulu Star-Bulletin
http://archives.starbulletin.com