CLICK TO SUPPORT OUR SPONSORS

---

---
Wednesday, May 15, 2002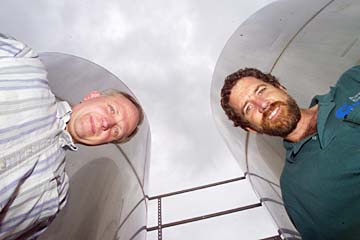 DENNIS ODA / DODA@STARBULLETIN.COM
Pacific Biodiesel Vice President Daryl Reece, left, and President Bob King will open their first Oahu public pump today on Sand Island for residents to buy diesel fuel made from used vegetable oil.
---
Driving change


Pacific Biodiesel turns old
cooking oil into fuel for your auto

---

By Tim Ruel
truel@starbulletin.com

Starting today, Oahu drivers who use diesel and who are willing to pay a little more for a cleaner fuel will have an alternative: recycled vegetable oil.

A private Hawaii company that has been selling "biodiesel" fuel on the neighbor islands for the past six years is opening a single pump on Sand Island that will run five days a week.

The price for the specially made fuel, $2.59 a gallon for road vehicles, will be 64 cents higher than the current $1.95 Honolulu price for regular diesel, but the company behind the venture is betting that some people will pay more for the satisfaction of polluting less with their cars and trucks.

"This does have a lot of value to people beyond diesel fuel," said Bob King, president of Pacific Biodiesel Inc., a Kahului-based firm. Other benefits include the fact that the fuel is less dangerous than gasoline because it is not flammable at low temperatures, he said.
The company's biodiesel can be run in all types of diesel engines, the company said.

On Maui, some residents have even turned in their gasoline-burning cars and switched to diesel, just so they can burn the biodiesel, King said. "One of the first guys who did it was Woody Harrelson," he said. "It's not a bad price to pay."

Last year, a total of 32.75 million gallons of regular diesel fuel were burned by vehicles on all Hawaii roadways, compared with 413.55 million gallons of gasoline, according to figures provided by the state Department of Taxation. Of the two combined, diesel makes up 7.3 percent of the total 446.3 million gallons, while gasoline makes up 92.7 percent.

Pacific Biodiesel is planning to sell 340,000 gallons of fuel to Oahu drivers over the next year, King said.




Fuel use

The amount of fuel used in the state during 2001:

| | | |
| --- | --- | --- |
| Fuel | Gallons | Percent |
| Gas | 413,550,749 | 92.7 |
| Diesel | 32,753,771 | 7.3 |
| Comb. | 446,304,520 | 100 |


Source: Department of Taxation




Much of the oil comes from Hawaii restaurants and food producers. Currently, half of the oil turned to fuel on Oahu comes from outer island sources, but Oahu sources have grown rapidly in the past two months, King said.

Hawaii drivers aren't the only ones to benefit from the oil. Major customers of Pacific Biodiesel are Cyanotech Corp. in Kona, which uses the fuel for power as well as food for its microalgae; A Na Pali Eco Adventures tour firm on Kauai, which uses the diesel to run its boats; and Oahu contractor Grace Pacific Corp., which burns as much as 50,000 gallons a month for boiler fuel.

The firm's main competitor for sales of recycled cooking oil is Island Commodities Corp. of Kapolei.

Biodiesel sales to vehicles are subject to various per-gallon fuel taxes, though the state last year reduced biodiesel taxes in half to 8 cents from 16 cents. Regular diesel is still taxed at 16 cents per gallon by the state.
E-mail to Business Editor
---
---


© 2002 Honolulu Star-Bulletin
http://archives.starbulletin.com