CLICK TO SUPPORT OUR SPONSORS

---

---
Tuesday, May 14, 2002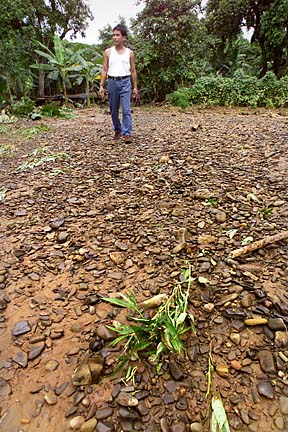 KEN IGE / KIGE@STARBULLETIN.COM
Ruben Villanueva walked last week through the sweet-potato patch of the Waikane farm of neighbors Manuel Moniz and Ben Alezo. Most of the 35 acres of crops were destroyed by the flood.
---
Isle farmers endure
$300,000 damage


The losses from the heavy
rainfall affect mostly small farmers

---

By Treena Shapiro and Lisa Asato
tshapiro@starbulletin.com lasato@starbulletin.com

Oahu farmers suffered nearly $300,000 damage from last week's heavy rainfall

About $230,000 in crop damage occurred May 5 to 6, and $60,000 was reported in damage to equipment and supplies, the Department of Agriculture said in its weekly report.

The two-day deluge affected mostly small farmers in Waialua, Haleiwa, Waiahole and Waimanalo, according to agriculture spokeswoman Janelle Saneishi. Larger farms in the Kunia area were not affected.

Saneishi said most of the farmers who have loans with the Department of Agriculture were not affected, but several farmers have asked for loan applications.

Because the flooding affected mostly smaller farms, it is not expected to have an impact on supply or prices in the grocery stores, Saneishi said.

Doreen Shishido, administrator of the agricultural loan division, said the department would be able to cover the loans, but a $4.8 million cut in the program's budget may mean there will be no provisions for future emergencies.

Shishido said that last week's flooding is a good example of the scenarios that the department gave the legislature last session hoping to avoid cuts. "That emergency wasn't as grave, but it could have been."

As of this month, the loan division's budget is "tapped out" due to the budget cut, Shishido said. At the May 23 meeting, the department will decide whether to dip into fiscal year 2003 funds to cover loans.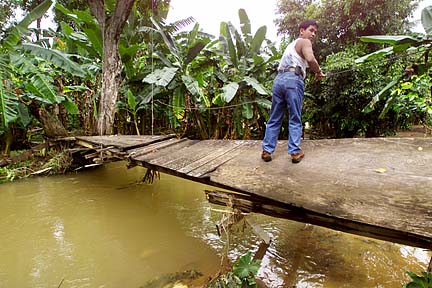 KEN IGE / KIGE@STARBULLETIN.COM
Ruben Villanueva carefully crossed the severely damaged foot bridge to the Waikane farm of neighbors Manuel Moniz and Ben Alezo last week. Normally, this stream is only a few inches deep, Villanueva said. Floodwaters and accompanying debris nearly took the bridge away and destroyed most of the 35 acres of crops on Moniz and Alezo's farm.
---
Gov. Ben Cayetano is considering a line-item veto of the decision to raid the loan program out of concern for the state being able to help the farmers, according to spokeswoman Kim Murakawa.

The flooding would have to be very unusual for the farmers to apply for federal disaster assistance. For example, to qualify for the federal emergency conservation program, it would have to be a degree of flooding that does not occur more than twice in 25 years, according to Steve Peterson, chief program specialist for farm programs.

Damage and crop losses occurred in areas adjacent to streams and in low-lying fields with poor drainage, the report from the Hawaii Agriculture Statistic Service said.

Some farmers suffered heavy losses in their fruit and vine commodities and ethnic crops. Other farm operations were slowed by heavy cleanup activity, the report said.

Windward and North Shore farmers dealt with moderate to heavy rainfall that led to flooding on several farms.

"Every year got flood, but not like this," said Ruben Villanueva, a noncommercial farmer in Waikane. "I can't believe it. Maybe we encounter 1 foot, that's it, but now it's almost 3 feet."

He said friends of his who grow 15 to 20 acres of vegetables for market suffered big losses because they were closer to Waikane Stream. What the flood did not wash away was ruined after being under water for two days, he said, estimating their crop damage at $2,000 to $4,000.

"It's back to basics again, square one," he said.

Before they begin cultivating again, he said, small and large rocks that washed onto the farm will have to be removed.

According to the report:

>> In Koolauloa, 7.5 inches of rain caused the Kaukonahua Stream to overflow and flood up to 8 feet in some low-lying areas.

>> Nearly 80 acres suffered crop damage and major losses of topsoil after eight hours of heavy rain.

>> The Waiahole Stream overflowed and washed away numerous young papaya plants and nursery stock.

>> Farmers in the Otake Camp area in Waialua suffered losses to crops and equipment.

>> Other Waialua and Ewa areas faced significant losses in crops and newly planted fields.

>> Leeward and Central Oahu fields were muddy.
E-mail to City Desk
---
---


© 2002 Honolulu Star-Bulletin
http://archives.starbulletin.com