CLICK TO SUPPORT OUR SPONSORS

---

---
Sunday, May 12, 2002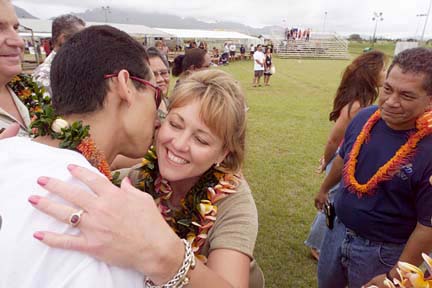 RICHARD WALKER / RWALKER@STARBULLETIN.COM
Shark attack victim Hoku Aki, left, gave a lei and a kiss to rescuer Nancy Roberts. To the right is Hoku's father, Harmon. The reunion took place in Lihue yesterday, where a fund-raiser was held for Aki.
---
Shark victim
reunites with rescuers


Tears and laughter mark their
first meeting since the March attack

---

By Anthony Sommer
tsommer@starbulletin.com

LIHUE >> "There go my eyes again," laughed Nancy Roberts, tears streaming down her cheeks, as she hugged Malinda Souza, a good friend she had never seen before.

Roberts, a Littleton, Colo. registered nurse, helped save the life of Souza's nephew, 17-year-old Hokuana Aki, on March 25 when a shark attacked him at Brennecke's Beach.

Roberts and her husband, David, returned to Kauai this weekend to meet Aki for the first time and attend a nine-hour fund-raising concert for his benefit yesterday. Aki, a talented musician, sat on the grass listening to the bands.

Souza called Nancy Roberts from her home on Oahu after the couple returned to Colorado to thank her. They have since had many long telephone conversations.

"We talk like we've known each other forever. We're definitely friends for life. But we've never actually seen each other until just now," Souza said.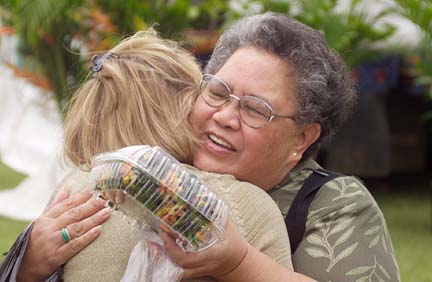 RICHARD WALKER / RWALKER@STARBULLETIN.COM
Malinda Souza, Hoku Aki's aunt, hugged Nancy Roberts, who helped Aki after a shark attack on a Kauai beach on March 25. The two had talked on the phone since the attack, but yesterday was the first time they met.
---
Roberts said it's been "tears and laughter" since she and her husband arrived Thursday. Aki came to visit them at the house where they are staying Thursday night.

"I did a lot of crying when I saw him Thursday," she said.

"This has all been kind of surreal," said Roberts, whose nursing specialty is psychiatry. "It's very emotional. It's really emotional stuff."

David Roberts, who pulled Aki from the water, said the last time they saw Aki being loaded on an ambulance they were afraid he had lost too much blood to survive.

The family had seen Aki bodyboarding at the same beach the day before the attack.

On March 25 they were at the beach with their son Spencer, 14, who was swimming in shallow water. Aki was back again, staying on the outside waiting for a good wave.

"David said, 'Look at the dolphin. Oh my God, it's not a dolphin,'" Roberts recalled. "It was pretty traumatic. We saw him being pulled under and rolling around. We felt very helpless, there wasn't anything we could do."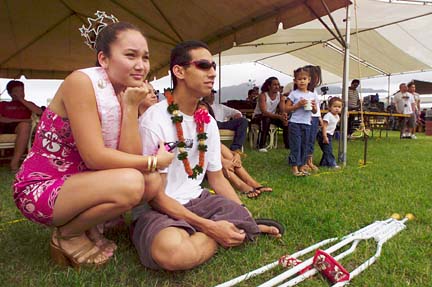 RICHARD WALKER / RWALKER@STARBULLETIN.COM
Hoku Aki, right, and Samantha Sasan, Miss Teen Garden Isle, watched entertainment yesterday at a Lihue fund-raiser held for Aki.
---
Aki had lost a huge amount of blood as he made his way close to shore where David Roberts pulled him up on the beach. They could still see the shark swimming just beyond the surf.

"When David pulled him up on the beach I remember I was screaming. His leg was completely off," Roberts said.

Nancy Roberts applied a tourniquet to the stump of Aki's left leg.

"More than anything, I was trying to keep blood flowing to his heart. He had lost a lot of blood," she added.

Aki, who yesterday was surrounded by family and friends, said he has a memory of someone helping him, but it wasn't until he met the Roberts family Thursday night that he really knew what they looked like.

Aki's mother and sister arrived from their home in nearby Koloa right behind the ambulance. After Aki was taken to the hospital, Roberts said she stayed to comfort his family.

Aki underwent two amputations at Wilcox Memorial Hospital and Queen's Medical Center. He went home April 6 and almost immediately returned to school at Kauai High School.

Two weeks ago, Aki's father, Harmon Aki, called the Roberts to invite them to Kauai. United Airlines offered to pay their airfare. The couple agreed immediately.

"The last time we saw Hoku, we didn't know if he was going to make it," David Roberts said. "We really wanted to see how he is doing."

David Roberts said they went to Hanalei on Kauai's north shore on Friday. He went swimming, but his wife didn't.

"I don't know if I'll ever go back in the ocean again," Nancy Roberts said as she shook her head.
E-mail to City Desk
---
---


© 2002 Honolulu Star-Bulletin
http://archives.starbulletin.com