CLICK TO SUPPORT OUR SPONSORS

---

---

Local Color



Sunday, May 12, 2002
BY SUZANNE TSWEI
---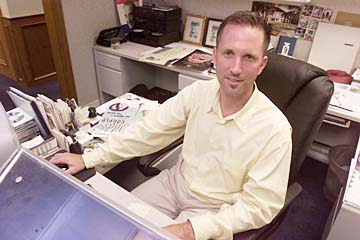 F.L. MORRIS / FMORRIS@STARBULLETIN.COM
Graphic artist David Cox aims to elevate the art of the community poster. Below, his poster for "Wit."
---
Graphic artist attracts attention
with enticing posters

Nobu and Masi are two people graphic designer David Cox had to bring to life, not literally, but on paper with pen and colors that would grab attention immediately.

Nobu is a man in his 60s dealing with newfound bachelorhood after his wife, Masi, demanded they separate. The couple isn't entirely estranged as Masi continues to take care of his laundry every week -- an obligation she still feels toward her husband.
Nobu and Masi are characters in the play, "The Wash," by writer Philip Kan Gotanda. Cox's job was to incorporate them in a poster advertising the Manoa Valley Theatre production late last year.

"Right away I knew I didn't want to represent the characters literally. I wanted to use colors and shapes to describe these two people who are going through their marital problems," Cox said.

Nobu takes shape in angular blocks in black and white on the right. Masi becomes a puddle of soft greens in traditional Japanese textile patterns on the left. They are juxtaposed to represent the collision of man and woman, and contemporary American and traditional Japanese cultures.

"I was going for a design in an illustrative manner that was provocative, hopefully not beating people over the head with it, but I wanted to create a certain tension," Cox said.

Theater officials were pleased, and advertising professionals were impressed enough to select it for a Pele Award recently. His design garnered the prestigious advertising industry award for the advertising firm Ostrander-Chu, where he is senior art director.

"I did the posters pro bono for all the plays at Manoa last season, but my aim was the same as any paying job -- No. 1 is understanding my client and the needs of the client, and giving the client the level of work that is very high," Cox said.

The job meant servicing a small community theater by attracting attention and enticing people to go see the plays. The posters offered a break from his usual roster of business clients, giving him an opportunity to push the aesthetic envelope a bit, he said.

Cox wanted the poster to be evocative, playful and abstract, but with bold lettering that clearly conveyed the "who, what, where and when" information. Those are the basic rules to any graphic design, he said.
"I don't design for design's sake. Ultimately this is a customer-service kind of business. We do anything from radio, print, television, Web sites, events promotion; anything that falls under marketing. Our job is to help the client bring in customers," Cox said.

In his business, the client is always right and his purpose is to deliver value for every dollar the client spends. An artist who thinks his aesthetic sense reigns over the client's needs isn't going to be successful, he said.

Artistic skills and sensibilities are necessary but a graphic artist must learn to keep his ego in check. "You have to roll with the punches. You can't please everybody every time, but if you really understand your client, you'll come up with something that is useful to the client that he will like," Cox said.

WHILE GROWING UP in Seattle, Cox always was drawn to art. He enjoyed drawing and painting but aspired to be a chef and restaurant owner.

"I started working in restaurants when I was a teenager. By my mid 20s, I was tired of it. I always did art on the side, I did art to my own accord and tried to get shows. But I learned very quickly I wasn't going anywhere with art," Cox said.

A roommate who was a graphic designer admired the graphic design quality in the way Cox combined typography and photography and suggested that he pursue a different artistic career. Cox enrolled in Seattle Central Community College, earned a degree in design and found steady work for 10 years in Seattle.

He moved to Hawaii two years ago after visiting the islands on vacation. The climate and the hospitality convinced him to make the move, he said.

"I found Hawaii really suits me. It's not just the weather or the people. I am really fascinated by anything that's Asian, and there's a lot of it here," Cox said.

He was a military brat who remembers a childhood stay in Taiwan with fondness. He has discovered more sources for inspirations in the islands' blending of Chinese, Japanese, Korean and other Asian cultures.
"I just find I have an affinity for it, and I've been told, for a haole guy, I do Asian designs pretty well. I consider that a real compliment," he said.

Cox also hopes to boost poster art in the islands with his theater poster designs. He designed six last season for Manoa Valley Theatre and has completed six more for this season.

"Where I come from, poster art is a vital part of the art community. They become collectors' items. I don't see as many of them here, and I hope my posters will get people to look at posters differently."

He's been told that his posters are disappearing from public places, perhaps falling into the hands of admirers. He considers that the ultimate stamp of approval.





---




---

Suzanne Tswei's art column runs Sundays in Today.
You can write her at the Star-Bulletin,
500 Ala Moana, Suite 7-210, Honolulu, HI, 96813
or email stswei@starbulletin.com
E-mail to Features Editor
---
---
© 2002 Honolulu Star-Bulletin
http://archives.starbulletin.com