CLICK TO SUPPORT OUR SPONSORS

---

---
Sunday, May 12, 2002


[ STUFFS ]
ISLE PAGES

---


New releases from Hawaii authors, Reviewed by Burl Burlingame
bburlingame@starbulletin.com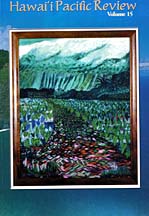 Hawaii Pacific Review Volume 15, various editors (Hawaii Pacific University, $8.95)

The title page of this ongoing collection notes that "All works in this journal are works of the imagination." That's fair. Now in its 15th year, the journal published works by contributors from all over the Pacific, with more than a thousand annual subscribers. This year's edition features both the winning and honorable-mention poems from HPU's James Vaughan Award for Poetry. The rest of the short stories, essays and poems are equally interesting. As the only real local competition for Bamboo Ridge, the Review is holding its own.

---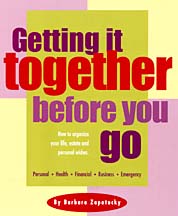 Getting It Together Before You Go by Dr. Barbara Zapotocky (CoZap Publishing, $11.95)

As they say, dying is easy but comedy is hard. Even tougher is making sure all your affairs are in order before the Grim Reaper come knocking. No one -- I mean, no one -- is completely ready to check out, document-wise. This very practical workbook makes it a lot easier, however. Honolulu health-care professional Zapotocky has assembled what seems like dozens of checklists and forms in a clearly formatted sequence that makes the process of getting your affairs in order less painful. Actually, most grown-ups should do this anyway. There's flesh-eating bacteria out there, for chrissakes.

---






Click for online
calendars and events.





---





Send WatDat? questions, stories
or any other story ideas or comments to:
Features, Honolulu Star-Bulletin, P.O. Box 3080,
Honolulu, HI 96802 or send a fax to 523-8509
or E-mail to features@starbulletin.com.
Please include your phone number.
E-mail to Features Editor
---
---
© 2002 Honolulu Star-Bulletin
http://archives.starbulletin.com