CLICK TO SUPPORT OUR SPONSORS

---

---

Books for cooks

BARBARA BURKE
Sunday, May 12, 2002
---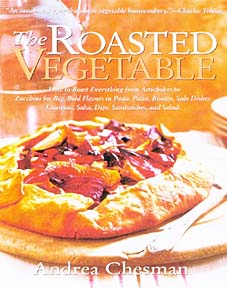 "The Roasted Vegetable"

By Andrea Chesman (Harvard Common Press, softcover, $12.95)


---



"The Roasted Vegetable" is a cookbook for vegetable haters as well as vegetable lovers, author Andrea Chesman says. It's a cookbook for people who want to eat more vegetables but are tired of carrot sticks and steamed broccoli. It's for people who don't have a lot of time to cook.

Roasting enhances the taste of ordinary vegetables, creating caramelized flavors and rich, nutty undertones that you can't possibly get by microwaving or steaming.

Chesman, author of more than a dozen cookbooks, makes preparing great-tasting vegetables seem simple. In one recipe, she roasts sliced carrots with a glaze of melted butter, orange juice, pure maple syrup, fresh ginger, nutmeg, salt and pepper. Prep time is about 10 minutes; total baking time 25 minutes.

For another colorful side dish, she roasts whole cherry tomatoes for 20 minutes, then sprinkles them with extra virgin olive oil, balsamic vinegar, salt, freshly ground black pepper and whatever chopped, fresh herbs are on hand. Prep time is about 5 minutes.

Roasted vegetables are wondrously versatile. Chesman uses them to create such tempting main dishes as Stacked Roasted Vegetable Enchiladas, Summer Pasta Salad and Mushroom Steak Sandwiches with Roquefort Dressing.

Chesman's own children had sworn off all green vegetables, but have now named her roasted green beans the world's best. They aren't the prettiest vegetable you'll ever make, but they may be among the tastiest, says the author. Enjoy them as a side dish, snack or pupu.
World's Best Green Beans
2 pounds green beans, ends trimmed
2 tablespoons olive oil
Coarse sea salt or kosher salt, to taste
Preheat oven to 500 degrees. Lightly oil a large shallow roasting or half-sheet pan.
Arrange green beans in a single, uncrowded layer in pan. Drizzle oil over beans and roll until evenly coated. Roast 15 minutes, until the beans are well browned, shaking pan occasionally for even cooking. Sprinkle with salt. Serves 4 to 6.
Approximate nutritional information, per serving (using 1 teaspoon coarse sea salt): 90 calories, 5 g total fat, 1 g saturated fat, no cholesterol, 390 mg sodium, 11 g carbohydrate, 3 g protein.
Rating Scale:




Best in its class /



Highly recommended /


Recommended /

Not recommended

Barbara Burke is a Hawaii-Pacific University instructor who teaches and writes about food and nutrition. Contact her at the Honolulu Star-Bulletin, 7 Waterfront Plaza, Suite 210, Honolulu 96813; or e-mail her at: features@starbulletin.com

E-mail to Features Editor
---
---
© 2002 Honolulu Star-Bulletin
http://archives.starbulletin.com