CLICK TO SUPPORT OUR SPONSORS

---

---


Whatever
Happened...
An update on past news
Saturday, May 11, 2002
---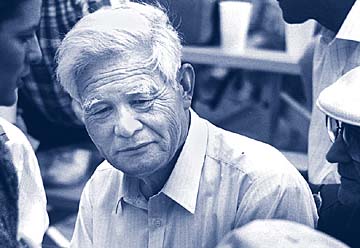 STAR-BULLETIN
Kazuo Sakamaki met in 1991 with other veterans of the Pearl Harbor attack at a historic conference in Texas.
---
WWII's first Japanese prisoner
shunned the spotlight

---

By Burl Burlingame
bburlingame@starbulletin.com

Question: What ever happened to POW No. 1, Kazuo Sakamaki?

Answer: After a lifetime of avoiding the spotlight, Kazuo Sakamaki passed away on Nov. 29, 1999, at 81. His passion for privacy was such that his family did not release the news of his death for nearly a month. He left a wife and two children who were not named in news accounts.

As an ensign in the Japanese imperial navy, Sakamaki and crewman Kyoshi Inagaki were aboard a tiny "midget" submarine that was pummeled by American depth charges and cannon shells at the entrance to Pearl Harbor on the morning of Dec. 7, 1941.

Sakamaki and Inagaki were overcome by battery fumes and spent the remainder of Dec. 7 unconscious and drifting.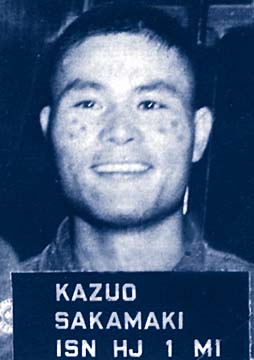 STAR-BULLETIN
Sakamaki burned his cheeks with a cigarette before posing for this booking photograph.
---
When they came to, they were near Waimanalo Beach. They set an explosive charge aboard the submarine and tried to swim ashore. Inagaki died in the attempt, and Sakamaki was captured by Hawaiian soldier David Akui. All the rest of the midget submariners perished in the attack, and Sakamaki was deeply humiliated to be taken alive as Prisoner of War No. 1. He burned himself with cigarettes in prison on Sand Island and demanded to be allowed to commit suicide. American guards declined.

His submarine was also captured intact and became a valuable war-bond recruiting tool, touring the United States.

The National Park Service at Pearl Harbor loaned the submarine in 1990 to the Admiral Nimitz Pacific War Museum in Texas, and the Texans lobbied fiercely to keep the craft there rather than have it returned to Hawaii. Sakamaki moved steadily around POW camps on the mainland United States, an experience that offered him lots of solitary time to reflect on the nature of war. When the war ended, he returned to Japan deeply committed to pacifism.

There, Sakamaki was not warmly received. He wrote an account of his experience, titled "The First Prisoner" in Japan and "I Attacked Pearl Harbor" in the United States, and thereafter refused to speak about the war.

He found work with the Toyota Motor Corp. and became president of the Brazilian subsidiary in 1969. In 1983, he returned to Japan where he worked for Toyota before retiring in 1987.

In 1991, Sakamaki attended a historical conference in Texas and was reunited with his submarine for the first time in 50 years. He wept.

---




Ever wonder what happened to a person, event or issue
that has been in the news? We'll try to find out
for you if you call the City Desk
at 529-4747, email to citydesk@starbulletin.com or write us at
500 Ala Moana Blvd., Suite 7-210, Honolulu, HI 96813.
E-mail to City Desk
---
---
© 2002 Honolulu Star-Bulletin
http://archives.starbulletin.com