CLICK TO SUPPORT OUR SPONSORS

---

---
Tuesday, May 7, 2002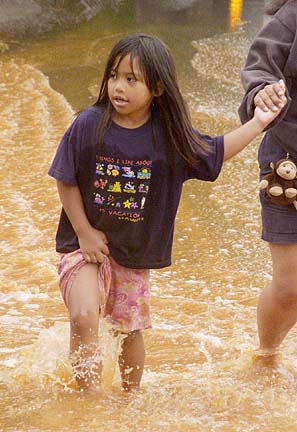 CRAIG T. KOJIMA / CKOJIMA@STARBULLETIN.COM
Walking along Haleiwa Beach Road from her grandfather's flooded home yesterday, Kaikana Hatchie held the hand of her aunt Mercy Hatchie.
---
Isles mop up,
brace for more showers


Downpours continue to cause
traffic snarls, but residents
start clearing rain damage

---

By Nelson Daranciang and Rosemarie Bernardo
ndaranciang@starbulletin.com rbernardo@starbulletin.com

Rain continued to fall on Oahu this morning creating delays for some motorists as Waialua and Windward Oahu residents began cleaning up the damage from flooding last night and yesterday.

Rubin Villanueva, who grows taro, bananas and vegetables on his Waikane property, looked over the damage this morning after last night's rains.

"They (his crops) all make already," he said.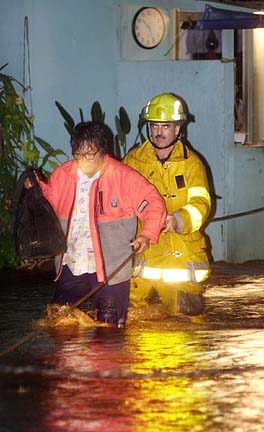 KEN IGE / KIGE@STARBULLETIN.COM
A firefighter assisted Shirley Pacyau-Papahu from her home after flood waters started to rise last night.
---
About 8:15 last night, police shut down Kamehameha Highway at the Waikane Bridge as firefighters rescued four people trapped in four different cars, said Capt. Kenison Tejada of the Honolulu Fire Department. Fire officials also rescued three people from another vehicle at the bridge who were trapped by the rising flood waters.

One police officer who was directing traffic at the bridge also had to be rescued by firefighters last night as the water forced him to stand on top of his police vehicle.

Police reopened the highway about 11 p.m. When the officer went to retrieve his vehicle this morning, he said the flood waters had carried it about 60 feet from where he had left it.

Water on Kamehameha Highway from Heeia to Kualoa Regional Park was reported to be a foot deep.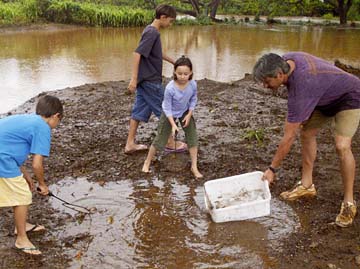 CRAIG T. KOJIMA / CKOJIMA@STARBULLETIN.COM
In Haleiwa, Jake, Max, Hanna and their dad, Mitch Nowicki, gathered up fish left stranded by receding waters yesterday.
---
Romeo Quiros, 55., who has lived in Waiahole for 20 years, watched the water rise from his front porch. Firefighters helped his neighbor across the street escape the flooding. He's seen other floods but, "this one was the worst one," he said.

"The atmosphere remains favorable for more heavy showers and a chance of thundershowers for this afternoon and part of the evening," said Henry Lau, National Weather Service lead forecaster.

The National Weather Service extended the flood watch for Oahu and Kauai until 4 p.m. today.

In the 24-hour period that ended at 8 a.m. today, Hakipuu Mauka in Waikane recorded 7.15 inches of rain, Waihee Pump in Kahaluu recorded 7.74 inches and Ahuimanu Loop above Heeia recorded 6.91 inches.

By comparison Mililani recorded 1.25 inches over the same period.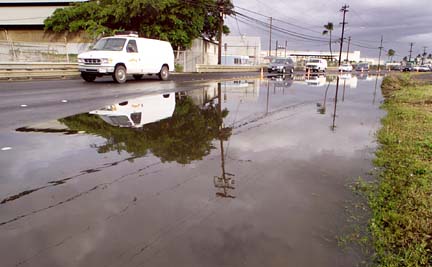 DEAN SENSUI / DSENSUI@STARBULLETIN.COM
Ponding water closed off two lanes on Nimitz Highway between Alakawa and Pacific streets this morning. Police officers directed traffic at the nearby intersection.
---
Despite the amount of rain that fell overnight, some Oahu residents were without water this morning because of water main breaks.

The Honolulu Board of Water Supply estimates 500 homes in Halawa Heights were affected by a break in a 12-inch main at 99-893 Meaala Street. The break occurred at 3:55 a.m. Two roving water wagons were dispatched to assist people who were affected by the break.

A water wagon was also dispatched to Ala Kiao Place in Moanalua Valley this morning to provide service to the five homes affected by a four-inch break that occurred at 7:21 a.m. at 1654 Ala Kiao Place.

Honolulu police closed lanes on some roadways to morning traffic due to flooding.
The H-1 Middle Street Off Ramp was closed as were the two outside east-bound lanes of Nimitz Highway at Alakawa Street and Pacific Street.

Yesterday, 19 people were evacuated from Otake Camp in Waialua after Kaukonahua Stream flooded some of their homes. Twelve residents were airlifted about 11:30 a.m. while seven residents were escorted out of their homes by police.

Residents had to swim out of their houses, said Otake Camp resident Lori Camou.

"The water was waist deep," said Camou, who lives on Kaupe Road with her husband, Clemente, and two dogs, Mugs and Girly.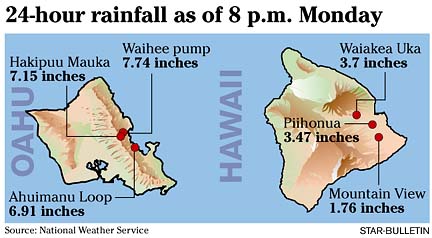 After the flood subsided, residents were allowed to return to their homes by 4 p.m.

Some of the residents' livestock was affected by the flood, said Tejada.

Heavy rains also caused raw sewage to overflow at the Wahiawa Wastewater Treatment Plant yesterday morning. Sewage spilled into storm drains and exited into Lake Wilson.

According to city officials, a total of 9,000 gallons of spillage occurred at four sites on the plant about 5:30 a.m. Within five hours the overflowing sewage was diverted into holding tanks. Signs were posted around the lake of the pollution.

---

Star-Bulletin reporter Crystal Kua
contributed to this report.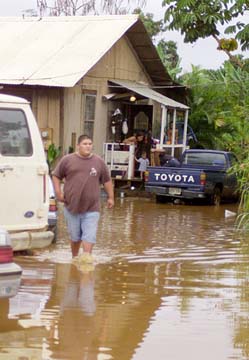 CRAIG T. KOJIMA / CKOJIMA@STARBULLETIN.COM
On Haleiwa Beach Road, Mike Waters walked from the flooded front yard of his mother's home.
---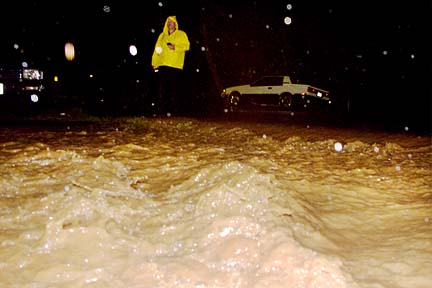 KEN IGE / KIGE@STARBULLETIN.COM
HPD Officer Larry Santos monitored the situation at a house at 48-274 Kamehameha Highway. At 10 p.m., with the water rising, he ordered the people to evacuate.
---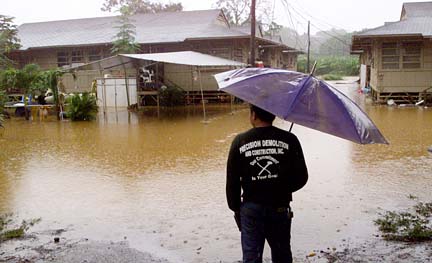 CRAIG T. KOJIMA / CKOJIMA@STARBULLETIN.COM
Holding an umbrella, Rodney Lobitos, a resident of Kaupe Street, waded through floodwaters to inspect his home.
---
E-mail to City Desk
---
---


© 2002 Honolulu Star-Bulletin
http://archives.starbulletin.com