CLICK TO SUPPORT OUR SPONSORS

---

---
Tuesday, May 7, 2002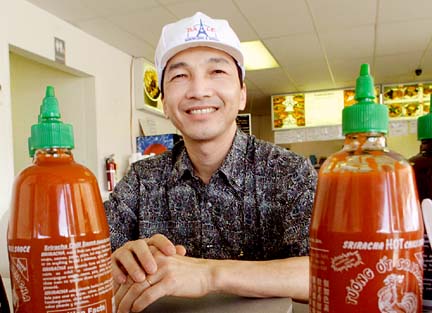 GEORGE F. LEE / GLEE@STARBULLETIN.COM
Thanh Quoc Lam, shown here with the Sriracha sauce often used used to spice up his Ba-Le sandwiches, has been a hot item.
---
When he's hot,
he's hot


Ba-Le owner adds top national
SBA award to his Hawaii honor

---

By Lyn Danninger
ldanninger@starbulletin.com

Hawaii businessman Than Quoc Lam, the founder of Ba-Le Sandwich and Bakery stores, was named National Small Business Person of the Year yesterday in Washington, D.C.

But the accolade didn't come as a surprise to at least one person, the man who originally nominated Lam, his banker.

"He's down to earth, honest, and very creative. That's what attracted me. He's also humble and very giving," said Leslie Chang, vice president and central region manager at Hawaii National Bank.

Lam, who will be in Washington for several more days, was selected yesterday for the honor over 49 other regional winners.

He was named Hawaii Entrepreneur of the Year by the SBA in March.

Chang said he admires Lam's ability to grow Ba-Le in spite of Hawaii's soft economy, combined with his willing- ness to train and mentor his employees, some of whom now own their own Ba-Le franchises.

While the 39-year-old award has no monetary prize attached to it, local SBA Assistant District Director Jane Sawyer said past winners usually find they are in demand when they return home.

"There is no real way we can tell what it will really mean but a lot of past winners have gone on to become even more busy, more visible in the community on local boards and task forces," she said.

Sawyer said this year the award selection for Hawaii was even more competitive than usual with many strong candidates.

"It speaks a lot about our small businesses in Hawaii," she said.

When the winners move on to judging at the national level, the selection process includes lengthy screenings by the SBA's inspector general's office to make sure the candidates are in full compliance with government regulations relating to such things as taxation, accounting and employment matters.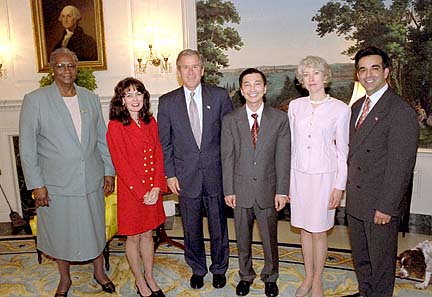 WHITE HOUSE
National Small Business Person of the Year Thanh Quoc Lam joined President Bush at the White House yesterday with runners-up Belinda Guadarrama, left, and Mary Jurmain.
---
In a highlight of the trip, Lam met with President Bush in the White House yesterday, an opportunity that the SBA's Sawyer said he had been excited about.

"Especially being an immigrant, he was so excited to go to Washington and potentially meet the President," she said. "He told me it would be a lifelong dream."

Lam left his native Vietnam in 1979 and spent time in a Malaysian refugee camp before finally arriving in the United States with little money and minimal English.

He is a living example of the American dream come true, Sawyer said.

Lam began the chain of Ba-Le Sandwich and Bakery Stores in Hawaii 1984. Now, some 13 years later, his multimillion dollar operation will soon branch out to Nagoya, Japan, when Lam opens two Ba-Le outlets.

But Japan won't be the final stop for the hard-working entrepreneur. Lam one day hopes to take the Ba-Le concept to China.

In the meantime, there are 21 Ba-Le sandwich outlet franchises on Oahu, Maui and the Big Island, many run by former employees, and one Lam still retains.

He also plans to open a Ba-Le franchise at Daiei on Kaheka Street this month and a store and a bakery for Kapolei in August.

The company's bakery prepares and wholesales pizza dough, deli sandwiches and baked goods to a variety of clients including airlines, caterers, hotels, markets and restaurants.

At the company headquarters, Lam employs 71 people.

Only one other Hawaii resident has ever won the SBA national award. Charles Nishioka, now retired, owner of Charles K. Nishioka and Son Inc., which operated gas stations and tire outlets, was recognized in 1987.
E-mail to Business Editor
---
---


© 2002 Honolulu Star-Bulletin
http://archives.starbulletin.com