CLICK TO SUPPORT OUR SPONSORS

---

---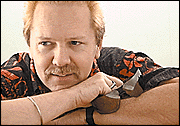 Island Mele



Friday, April 26, 2002
By John Berger
---
"Origins"

'Ale'a
(Poki)

History repeats itself with this perfect second album by 'Ale'a. First, because it is as exquisite as their first, "Take Me Home," a multi-Hoku Award-winner. Second, because the group -- now a trio consisting of Ryan "Gonzo" Gonzalez, Kale Hannahs and Chad Takasugi -- proves as accomplished and appealing as the original quartet.

They open tight and traditionalist with a brisk rendition of "He Ma'i No Ka Lani" and maintain the ambiance with the songs that follow. The influence of the Brothers Cazimero and Ho'okena is evident, but 'Ale'a is building on tradition rather than cloning it.

Classic hapa-haole music is represented with a whimsical take on "Princess Poo-poo-ly," and, while local remakes of pop chart hits are usually jejune, the trio's bluesy acoustic rock makeover of "Kiss And Say Goodbye" is a worthy successor to the Manhattans' original.

www.aleaonline.com

"The Art Of Solo 'Ukulele"

Various artists
(Tradex)

The cover tells the story: Four ukulele virtuosos have pooled their talents to celebrate the musical possibilities hidden within the humble island instrument.

The presence of Benny Chong and Gordon Mark makes this compilation particularly significant. Chong has been known for almost 40 years at the leader/guitarist of the Aliis; this is his first recording playing solo ukulele. Mark, like Chong, has been playing the instrument since childhood; his repertoire consists primarily of original arrangements of European classical melodies, and this is the first time any of have been recorded.

www.honoluluacademy.org

"Re-Entry"

G.F. Mlely
(JazCraft)

Add the eclectic selections of Jake Shimabukuro and Byron Yasui, and the album stretches from traditional Hawaiian to rock, and from pop standards to marches. Biographical information completes this excellent album. (It is currently available at the Honolulu Academy of Arts and at the individual artists' performances.)

Beautifully crafted instrumental jazz is the thing with this first of four planned indie/underground-type albums by pianist G.F. Mlely. Blues and pop melodies coexist neatly in his musical universe, and a pair of Gershwin tunes provide an instant frame of reference in appraising his perspectives as an arranger. Mlely's interpretation of "Bess, You Is My Woman" has a familiar yet fresh feel. A series of free-wheeling thematic excursions based on "Battle Hymn of the Republic" is bolder in intent and just as remarkable.

The overall impression is that Mlely is basically a right-hand guy fond of embellishing his work with arpeggios and runs, but his arrangements never lack a secure foundation, and his work is interesting throughout. ("Re-Entry" is available by e-mail query to jazcraft@gte.net).

http://home1.gte.net/jazcraft





---




John Berger, who has covered the local
entertainment scene since 1972, writes reviews of recordings
produced by Hawaii artists. See the Star-Bulletin's Today
section on Fridays for the latest reviews.
E-mail to Features Editor
---
---
© 2002 Honolulu Star-Bulletin
http://archives.starbulletin.com