CLICK TO SUPPORT OUR SPONSORS

---
---
Thursday, April 18, 2002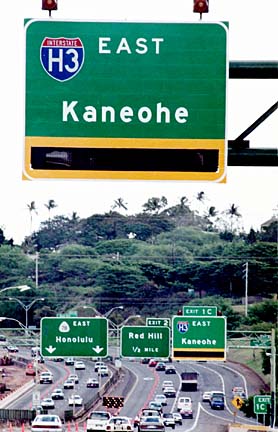 STAR-BULLETIN / 1997
The state Transportation Department is looking to raise the speed limit at, among other sites, stretches of the H-3 freeway.
---
State approves
higher speed limits


Speed limit will rise to 60 mph
next month on stretches of the
H-1 and the H-3 freeways

---

By Rod Antone
rantone@starbulletin.com

Instead of slowing down for traffic camera vans, motorists will be able to speed up along portions of the H-1 and H-3 freeways starting next month.

Gov. Ben Cayetano announced yesterday that at certain areas of both freeways, the speed limits will be raised to 60 mph from 55 mph by mid-May.

"It's about time," said Hauula resident Tony Borge, who travels the H-3 daily to get to his job in Halawa Valley. "I don't see anyone sticking to the speed limit over there.

"The speed limit over there should have been made 60 to 65 miles per hour a long time ago. ... It'll be a welcome change."

The new speed limits would be in effect between the Makakilo and Kunia interchanges along the H-1 and between the Halawa Interchange and the tunnels on the H-3.

Community leaders said the changes are part of a Department of Transportation review of state highways that came about during the camera van controversy. Cayetano permanently shut the camera vans earlier this month in the face of vocal public opposition and numerous legal challenges.

During the controversy, legislators were told by many constituents that instead of camera vans, the DOT should be setting speed limits that would allow traffic to flow more freely, thus avoiding gridlock and accidents.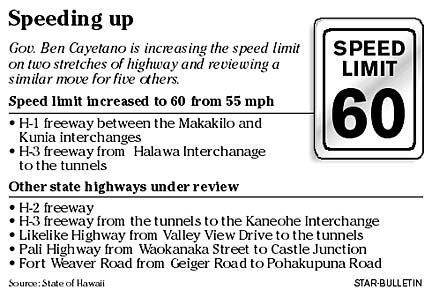 "I don't know how much time you'll save going an extra 5 miles per hour," said Kapolei/Makakilo Neighborhood Board Chairman George Yamamoto. "But it sounds like a reasonable first step."

Yamamoto, who is also a Kapolei police captain but was speaking as the neighborhood board's head, said that prior to the announcement, some people in the community suggested to him that the speed limit be set even higher, "at around 70 to 75 miles per hour."

Some legislators warn that there will be motorists who keep driving faster than the speed limit no matter how high it is raised, especially after District Court Judge Russel Nagata went on record in February saying that there was a 9 mph threshold that police officers usually apply to the speed limit when deciding whether to pull someone over. Police officials denied such a threshold exists.

"I'm concerned that people are going to use the same threshold and now think they can go 70 mph," said Sen. Cal Kawamoto (D, Pearl City-Waipahu). "I don't think that's what he (Cayetano) intended to do when he changed it."

House Transportation Chairman Joe Souki (D, Maalaea-Kapalua-Wailuku) said Cayetano's action "is a wonderful idea, but because of the courts, it's really going to be 70..."

DOT Director Brian Minaai said that the increases are based on a study that looked at structural limitations as well as speed and crash data of both freeways. The speed limit changes are part of the first phase of the study, which also will review the H-2 freeway, H-3 from the tunnels to the Kaneohe Interchange, Likelike Highway from Valley View Drive to the tunnels, Pali Highway from Waokanaka Street in Nuuanu to Castle Junction on the Windward side, and Fort Weaver Road from Geiger Road to Pohakupuna Road.

Honolulu police traffic officials were not available for comment yesterday about the proposed increases. However retired Deputy Police Chief Bill Clark, who also is chairman of the Aiea Neighborhood Board, which includes the Halawa area, noted that no matter what the posted speed limit is, drivers should always use common sense.

"I admit it's hard to go the speed limit on the H-3 when you're going down the hill after coming out of the tunnel from the Windward side," said Clark. "But just remember that you don't have to go faster just because the number on the sign is higher."

---




State of Hawaii

E-mail to City Desk
---
---


© 2002 Honolulu Star-Bulletin
http://archives.starbulletin.com