CLICK TO SUPPORT OUR SPONSORS

---

---
Sunday, April 14, 2002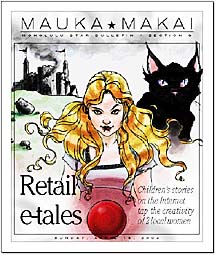 [ MAUKA-MAKAI ]

---



DEAN SENSUI / DSENSUI@STARBULLETIN.COM
Author Pam Calvert shares her story, "The Flying Saucer," with her family. From left are Holly, 8; Rhett, 6; husband, Rex; Courtney, 9 months; and Kayla, 9.
---
Download me a
story, Mom


The StoryPlus Network provides
fast-paced picture books over the
Internet to encourage beginning readers

---

nancy arcayna
narcayna@starbulletin.com

Reading aloud with children is an essential component to language development. It's one of the most important activities needed to prepare them to be successful readers.

Yet youngsters today are most often expected to sit in a classroom and learn to read. And the material isn't always presented in an interesting and fun way. Think back to your own childhood and you can probably remember a monotoned teacher who could make the most interesting subjects dull, leading you to daydream.

In a technological age, it's becoming even harder to keep children focused on learning , given the distractions of television, video games and computers.

Jean Chalopin, creator of Inspector Gadget, created the StoryPlus Network to make sure kids have interesting stories to read. The global media and education company specializes in Internet-delivery of stories.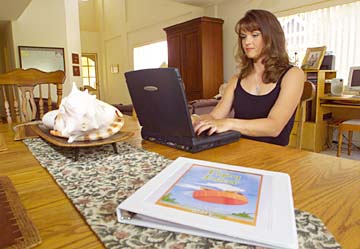 DEAN SENSUI / DSENSUI@STARBULLETIN.COM
Pam Calvert, a stay-at-home mom, loves e-publishing because she can work at home.
---
"I am the father of two children so I am concerned, as are the majority of parents in the western world, with anything in relation with childrens' ability to read and write properly," he said. "I am an avid reader and manic writer. I've always considered that reading skills are essential in life -- it is the absolute key to success in all fields of study."

Just as television companies make sure that viewers associate their programs with pleasure, Chalopin said, "Reading also must be associated with pleasure if we want a child to develop good literacy skills. It begins at home by storytelling."

Even so, he said, "I was amazed to realize that very little effort is made to publish stories that children would be interested in reading. The tremendous publishing success of 'Harry Potter' showed -- if a story intrigues and fascinates children, they will read.

"It's amazing to see how fast and easy it is for a child to learn how to use a television or electronic games, often no more than a few minutes. By comparison, learning how to read fluently requires a tremendous effort."

The first step was to create www.scribum.com, said Chalopin. There, parents, children and educators will find stories as well as information about building reading skills, learning disorders and more.

Any illustrator or writer may submit their work for consideration by the StoryPlus Reading Committee. Generally, about 15 new writers apply each week. Less than one application out of 20 is accepted, said Chalopin.

Once selected, a writer is put in touch with a story editor and an illustrator is connected with an art director until the story is completed to the satisfaction of all involved.

LOCAL RESIDENTS Pam Calvert and Holly Braffet both submitted their work and were chosen to be a part of the site.

Calvert said she stumbled upon e-publishing. "As a children's author, I'm always searching out new markets for my work," she said. "I saw how easy and wonderful e-books were for children and was hooked. They are cheap -- a mere $1.50 for a picture book."

The books can be printed on a color printer and placed in a folder. "I could buy 10 stories for the same amount as one print picture book. My children loved them. Plus, my older children started to become better writers from reading these short stories," she said.

Calvert's work has appeared in Highlights, Guideposts for Kids, Odyssey and Nature Friends magazine. "This was an easy way for my stories to get published. I believe e-publishing is the way of the future. People just don't know about it. Once they do, they will realize they have an easy, affordable way to get stories in an instant.

"Many of my colleagues submitted work and did not get accepted. I feel privileged to work for this company," said Calvert, who lives in Waipahu with her husband and four children.

Her online book is titled, "Flying Saucer" and is a story about five bugs in a swamp who fight over a round object. The boy who started the whole mess solves their problem in a surprising way in the end.
Holly Braffet, a graduate from Molokai High School, is an illustrator for StoryPlus. After attending Ringling School of Art and Design, she moved to Kaneohe and is currently working at the Imaginarium at Windward Community College. She works on her illustrations in the comfort of her home. The story she worked on is "Septima Beldor" about a girl who ventures down a foggy street only to end up in another world. She doesn't realize that she has magical powers that are needed by a magician's cat named Malperkin, who will stop at nothing to get her to use them.

"I receive $5 per illustration and a percentage from stories sold. It isn't much, but as an illustrator, it is very important to keep working and building a portfolio. The money is second to the productivity and exposure StoryPlus is giving me," said Braffet.

Calvert added, "Another benefit to e-publishing for the consumer is that StoryPlus is offering animated versions of these picture books. The books are read to children and animated for a small price. People pay over $20 for computer programs to do the same thing."

Both Braffet and Calvert agree that flexibility is one of the best perks. "I set my own schedule. I work at my own pace and can send my work via e-mail anytime for critique. When the project is over, my work is published the next day and available for sale. It doesn't take months and I can start the next project right away. I usually do my work in the mornings or evenings, so I also have time for other jobs," said Braffet.

Calvert added, "I'm a full-time stay at home mom, so any type of writing makes it easy on me. I have a computer and do my interviews for articles and historical fiction by e-mail or phone. I've never had an office. My first assignment from an editor happened when I was in my pajamas. It's a great job when you have kids."

Chalopin added, "By working together in this way, we are offering first-class, exciting, page-turning stories. We are expressing our belief that we can renew reading as the 'cool thing' to do."





Click for online
calendars and events.
E-mail to Features Editor
---
---

© 2002 Honolulu Star-Bulletin
http://archives.starbulletin.com