CLICK TO SUPPORT OUR SPONSORS

---

---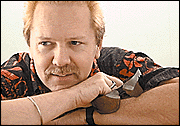 Island Mele



Friday, April 12, 2002
By John Berger
---
"Salsa from Hawaii"

Various artists
(Quiet Storm)

Salsa is of Puerto Rican origin, but local Puerto Rican bands are more known for jibaro music, so most of the songs here are by Puerto Rican-born military personnel or Rolando Sanchez & Salsa Hawaii.

(No one has done more than Nicaraguan-born Sanchez to take salsa to non-Hispanics in Hawaii.)

Local salsa fans will love this. Almost every song is newly recorded. The mosquito-scarfing coqui frog is honored in "Serenata de el Coqui." Other songs also speak fondly of Puerto Rico and its culture.

Local Puerto Rican musicians and the older jibaro music (known here as "katchi-katchi") popular within the local Puerto Rican community are well represented with a medley by Second Time Around. "La Borinque Rap," by another local act, El Leo the Jarican Express, is an odd hybrid effort.

---

"Eddie Would Go"

Dan-o
(Stink Eye)

Dan-o is a Big Island quartet with a great grasp of modern rock. The melodies, arrangements and singer Jim Major's expressive world-weary voice combine to make a great first impression. It's evident these guys have a knack for lyrics as well -- a description of graduation is the transition "from maggot to full-blown fly," for example. This is the most memorable new album by a local rock band since the Sticklers surfaced.

Dan-o addresses social issues (with "Heartbeat" and "Native Song") and the detritus of romantic social misadventures with equal skill. Arrangements are clean, varied and neatly detailed throughout.

Dan-o's remake of "White Sandy Beach" is fresh and imaginative, while the band's assault on "Leaving on a Jet Plane" brings to mind the Circle Jerks' classic "Golden Shower of Hits." Bravo, Dan-o!

www.danomusic.com

---

"I Belong 2 U"

Norm
(Neos Productions)

Norm Thompson is such a personable entertainer, and his repertoire so representative of basic Jawaiian/"island" music, that he should be a Jawaiian superstar. Most of the songs on his third album are originals arranged either Jawaiian or "urban" style with all the familiar riffs and rhythms. There's also a plodding rehash of Freddie Jackson's "Rock Me Tonight (For Old Times Sake)" for local radio play.

"Lonely" uses a unaccredited interpolation of a Bobby Vinton hit, but Norm has plenty of ideas as writer. "Summatime," an ode to Laie, is one of several notable originals. Norm's medley of "Venus," "Casanova" and "I Want to Sex You Up" is imaginative, and "In These Islands" proves he can go beyond the Jawaiian/"urban" thing.

www.neosproductions.com





---




John Berger, who has covered the local
entertainment scene since 1972, writes reviews of recordings
produced by Hawaii artists. See the Star-Bulletin's Today
section on Fridays for the latest reviews.
E-mail to Features Editor
---
---
© 2002 Honolulu Star-Bulletin
http://archives.starbulletin.com