CLICK TO SUPPORT OUR SPONSORS

---

---
Sunday, April 7, 2002
[ SUNDAY TRAVEL ]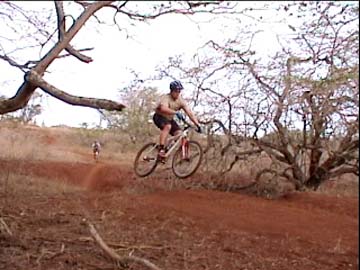 MOLOKAI RANCH
Will Carlson, mountain bike foreman at the Sheraton Molokai Lodge & Beach Village, rides along a ravine on one of the resort's many bike trails.
---
Hop on a bike for
adventure on Molokai


The Sheraton resort offers
"mild to wild" trails for novice
or experienced bicyclists

---


By Cheryl Chee Tsutsumi
Special to the Star-Bulletin

Will Carlson calls the Skills Corral at the Sheraton Molokai Lodge & Beach Village "a playground for bikers," but to a white-knuckled novice on wheels like me, it looks more like a training course for GIs. In the 100-by-75-foot enclosure are thick logs, ascending and descending ramps, narrow boardwalks and boulders as big as bookcases. Making matters even more interesting, the terrain, emulating the natural environment, is uneven and full of rocks and overgrown weeds.

The Bike Trap in one corner of the corral is a large rectangular box divided into smaller sections by planks rising up to 6 inches in height. According to Carlson, the Sheraton Molokai's mountain bike foreman, experienced cyclists can ride right over those planks -- definitely a deed of derring-do.

I've been told the Sheraton Molokai, located on 54,000-acre Molokai Ranch, is a haven for mountain bikers, boasting 125 miles of single-track trails that run from sea level to 1,600-foot-high sea cliffs. Biking in unpredictable nature is a lot different from biking on smooth city blacktop, so this breezy morning, Carlson is giving me a few pointers.

After spending half an hour getting accustomed to my steel steed, Carlson says I'm ready to tackle "splitting a line." He explains, "Being able to avoid obstacles on a trail is important. Obstacles are particularly difficult to negotiate when they're in a turn. Because the front and rear wheels take different paths in a turn, it is common for riders to miss the object with the front tire, only to have the rear tire hit it and throw the bike off or cause it to stall."

When there is not enough room for both tires to go around the same side of an object, the trick is to "split" the object by having each wheel pass on opposite sides of it without touching it. This allows you to maintain momentum in tight spots.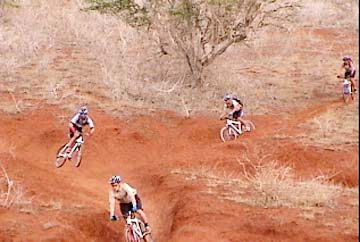 MOLOKAI RANCH
Mountain-bikers hit the second ravine on Keoki's Trail at the Sheraton resort on the 54,000-acre Molokai Ranch.
---
After Carlson demonstrates the desired move around a short wooden board, it's my turn. I don't fare as well; both wheels swing wide around the board. I give it another shot and am able to make a sharper turn but still don't achieve the objective. On my third attempt, I clumsily manage the split, but the rear wheel scrapes the board, and I lose my balance and control of the bike. Fortunately, my right foot hits the ground in time for me to avoid a fall.

Exasperated and embarrassed, I ask Carlson, "Did you say little kids have done this?" He nods, smiling.

During the next half-hour, I also try riding round and round in a small circle, weaving around a series of boards and cruising over a narrow, 50-foot boardwalk. Carlson asserts these exercises and others performed in the Skills Corral enable riders to improve their balance, braking modulation, gear shifting and obstacle negotiation, and prepares them for challenges they may encounter on the trails.

Depending on your biking ability, you can tackle options ranging from 1 to 30 miles in length and, as Carlson says, from "mild to wild" in difficulty. Easy Street is just that -- a gradual 3.5-mile downhill ride along an old pineapple plantation road. The toughest trail, reserved only for experienced cyclists, is the 4-mile Blood Drive -- so called because workers blazing it got badly scratched by the kiawe trees that blanket the area.

"There are drops, climbs, large rocks, ruts, trees and gullies to deal with," says Lisa Davis, the Sheraton Molokai's recreation manager. "You have to pay attention to what's going on, otherwise you, too, may see why we call it Blood Drive!"

On a clear day, depending on where you may be pedaling, you can admire views of Oahu to the west and Maui and Lanai to the south.

The Naiwa Sea Cliff Ride, a daylong guided adventure, breaks for lunch atop magnificent cliffs overlooking the ocean and the historic settlement of Kalaupapa. In addition to such spectacular scenery, you'll appreciate the seclusion; because the Sheraton's Molokai's network of trails is so expansive, you won't usually see other bikers when you're out exploring.

Davis loves biking for its health benefits and for "the sense of freedom it gives me; it makes me feel alive and aware of the earth. Biking gives me a sense of peace and well-being. It clears my head and my soul."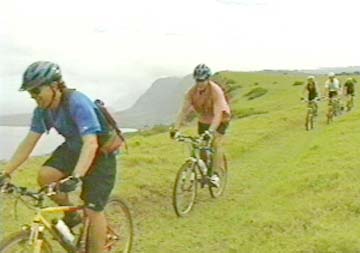 MOLOKAI RANCH
Guests exercise and go sightseeing at once riding the Sea Cliff trail at the Sheraton Molokai Lodge & Beach Village.
---
Molokai Mountain Biking

Where: Mountain Biking at Sheraton Molokai Lodge & Beach Village
Address: P.O. Box 259, Maunaloa, HI 96770
Hours: 9 a.m. to 5 p.m. daily
Cost: Guided bike tours range from $35 to $80 per person for resort guests and $50 to $100 per person for nonguests. Two-hour mountain-biking classes are $35 per person for resort guests and $50 for nonguests. Unguided bike rentals are $30 per person (resort guests only), including maps and suggested routes.

Restrictions: To participate in biking activities, children must be able to ride a two-wheel bike; otherwise, a parent can pull them in a carriage or a "trail-a-bike" that accommodates kids weighing up to 80 pounds.

Call: 808-552-2741
Web site: www.molokairanch.com

It helps to develop good balance, smart braking and tight turns before hitting the trails

>> Balance is a fundamental skill in bicycling. To develop good balance, practice coming to a complete stop and maintaining a sitting position on the bike with your feet remaining on the pedals above the ground.

>> You also can improve your balance by riding as slowly as you can around a rock, both clockwise and counterclockwise. Make the radius of your circle as small as possible.

>> Negotiate terrain with more precision by employing proper brake modulation, which consists of: 1) a smooth and even pull on the brake levers; 2) synchronization between the front and rear brakes; and 3) timing (knowing when to apply the brakes).

>> As the terrain changes, so does the center of gravity on the bicycle. To keep a proper center of mass, you need to make adjustments as you ride by moving forward and back and from side to side in the saddle.

>> When biking, always look ahead and concentrate on where you want to go, rather than solely focusing on the objects you want to avoid.

---

Cheryl Chee Tsutsumi is a Honolulu-based free-lance writer.
E-mail to City Desk
---
---
© 2001 Honolulu Star-Bulletin
http://archives.starbulletin.com