CLICK TO SUPPORT OUR SPONSORS

---

---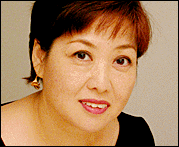 Local Color



Sunday, April 7, 2002
BY SUZANNE TSWEI
---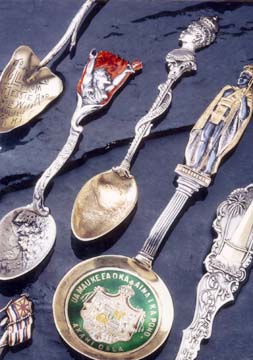 MICHAEL D. HORIKAWA
Watters Martin Jr. loaned 20 spoons from his collection of Hawaiian souvenirs to "Finding Paradise."
---
Silver scenes reveal
the art of the spoon

The fact that Watters Martin Jr. stores his collection of 350 sterling silver Hawaiian souvenir spoons in two old shoe boxes is no indication of the spoons' worth.

In monetary terms the collection isn't extravagant; another collector might be willing to pay $55 to $75 for a spoon. But the real significance -- impossible to measure in dollars -- lies in the stories of Hawaii preserved in these dining utensils.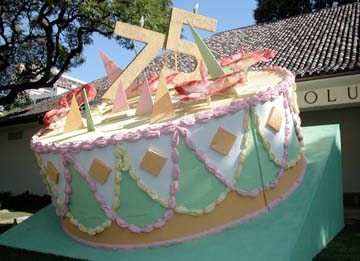 CRAIG T. KOJIMA / CKOJIMA@STARBULLETIN.COM
Staff members of the Honolulu Academy of Arts made a cake out of plywood, craft paper and ceiling material for the academy's 75th birthday.
---
"They are like little photos or paintings of Hawaii frozen in silver and gold -- very interesting to look at. They let you know what Hawaii used to be like, what happened in Hawaii, historically and culturally," Martin says.

His spoons, originating in the late 19th century, may be ornate or simple and were made by skilled artisans for upper-end jewelry stores. They depict popular scenes: a clear view of Diamond Head, an uncluttered Waikiki shoreline, a fisherman casting his net, picturesque grass houses and other Hawaiian images.

Some spoons are decorated with finely detailed motifs, such as floral and fauna patterns, hula girls, tiki torches, royal crowns. Others commemorate special historical occasions, such as statehood, or pay homage to the monarchy with enameled designs of Hawaii's coat of arms.

The decorations appear both on the handles and in the bowls of the spoons. The bowls may be in the shape of seashells, flowers or taro leaves, or fashioned from Hawaiian coins that were minted in 1883 during King Kalakaua's reign.




'Finding Paradise: Island Art in Private Collections'

On display: Thursday through May 26
Place: John Dominis and Patches Damon Holt Gallery, Honolulu Academy of Arts, 900 S. Beretania St.
Hours: 10 a.m. to 4:30 p.m. Tuesday through Saturday, 1 to 5 p.m. Sunday
Admission: $7; $4 for seniors, students and military; free to members and children. Free on first Wednesday and Sunday of the month and next Sunday, for the Founder's Day celebration.
Call: 532-8700




"It's just amazing to see all the different designs," says Martin, who is parting temporarily with 20 of his beloved spoons. He is lending them, as well as two paintings and a feather cape, to the Honolulu Academy of Arts for an all-encompassing exhibition of island art opening Thursday.

Martin is one of many collectors of Hawaiiana (on the mainland and locally) participating in "Finding Paradise: Island Art in Private Collections," an ambitious project showcasing everything from ancient artifacts and serious paintings to surfboards and souvenir trinkets. It runs through May 26.

The Hawaiiana-only exhibition may be unequaled in its size (about 250 pieces) as well as scope. It ignores the usual museum fine-arts boundaries and includes lowbrow, mass-produced popular items along with well-documented paintings by established artists. Indigenous expressions in stone, wood, feather and fiber from pre-Western contact are represented as well as modern art from the early 20th century.

The exhibition grew out of a book project by two other island collectors, Don Severson, who owns Tahiti Imports, and photographer Michael Horikawa, both of whom also are loaning pieces from their collections to the museum. The book, six years in the making, is expected to be released later this year and serves as the companion catalog to the exhibit. "The book and the exhibit are of interest to anybody who collects any Hawaiiana. It has everything -- we have 17 different subjects -- from pre-Western contact calabashes to contemporary kitsch," Severson said.

Locating collectors and photographing their collections took a couple of years, Severson said. He and his partner approached the museum for additional funding for the book, and museum director George Ellis (who also happens to collect spoons) enlisted their effort to expand the museum's plan for an exhibition on island art.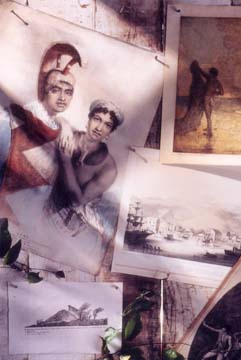 MICHAEL O. HORIKAWA
An exhibit of Hawaiiana and collectibles at the Honolulu Academy of Arts explores both high- and low-brow forms of expression that define the island culture.
---
The exhibit and the book contain examples of the best in Hawaiian collectibles, which have become vogue among collectors worldwide. "Hawaiiana is hot, hot, hot. Competition is getting ferocious out there," Horikawa said, as collectors become more educated and focused on the limited supply.

"When I started, in the '60s, nobody really knew what these things were," said Martin, who was bitten by "the collecting bug" when he came across a rare copy of Queen Liliuokalani's book on the monarchy and its overthrow in a junk shop in Los Angeles, where he was attending a business school.

Martin, who is one-quarter Hawaiian, said his collection reflects his desire to seek out more information on his heritage. The artistic value is a bonus, giving him extra pleasure when he hauls the shoe boxes out of a safety deposit box to examine the spoons.

"Finding Paradise" is not only a benchmark exhibition of Hawaiian art, but also marks the Honolulu Academy of Arts' 75th anniversary. As part of the museum's diamond jubilee, admission is free to festivities next Sunday.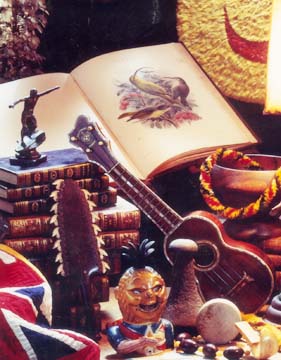 MICHAEL D. HORIKAWA
More than 250 pieces of Hawaiiana are part of the "Finding Paradise" exhibit.
---
A giant birthday cake built by the museum staff will greet visitors on the front lawn. Slices of birthday cake, keiki art activities, entertainment and other programs will be offered as part of the Founder's Day celebration. More than 20 textile masterpieces collected by Anna Rice Cooke, the museum's founder, will be shown in an exhibit beginning the same day. About 50 artworks by Hawaii's artists, with a birthday theme and created especially for the celebration, will be exhibited throughout the museum.

The Academy Theatre will host a free 2 p.m. screening of Elvis Presley's "Blue Hawaii" and a 4 p.m. lecture by Stephen McClaran, museum volunteer and retired Navy commander, on the events of the museum's grand opening in 1927.

The museum will open at noon, an hour earlier than the usual Sunday schedule. Call 532-8700.





---




---

Suzanne Tswei's art column runs Sundays in Today.
You can write her at the Star-Bulletin,
500 Ala Moana, Suite 7-210, Honolulu, HI, 96813
or email stswei@starbulletin.com
E-mail to Features Editor
---
---
© 2002 Honolulu Star-Bulletin
http://archives.starbulletin.com