CLICK TO SUPPORT OUR SPONSORS

---

---
Sunday, April 7, 2002


[ STUFFS ]
ISLE PAGES

New releases from Hawaii authors.

---


By Burl Burlingame
bburlingame@starbulletin.com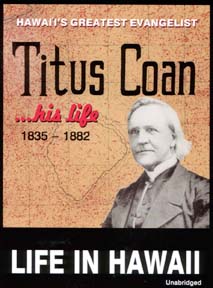 Titus Coan ... His Life, Hawaii's Greatest Evangelist, by Titus Coan (Beryl Walter, $12.95)

This privately funded facsimile reprint of Coan's 1882 autobiography resurrects an important piece of modern Hawaiian history, as the original has been out of print for more than a century. It was published the year he died. Coan, a Connecticut farmer, landed on the Big Island in 1835, was noted for the thousands of Christian conversions he made among the "heathens." He did well, by missionary standards, and shared his experiences in this work, which, he notes, was "a difficult, delicate and dangerous task. One does not choose to publish his own follies and sins, and surely it is not modest for one to proclaim his own goodness." This is a direct route into the curious mindset of a 19th-century missionary. When he writes, "Our view of these islands, garlanded with green, and shining under a tropical sky, was enchanting, but the moral picture was dark. Why are these thousands of immortal beings left to perish in ignorance, poverty and paganism?" you begin to understand the profound impact such people had on the islands.

---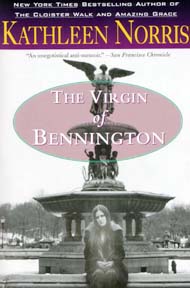 The Virgin of Bennington by Kathleen Norris (Riverhead Books, $13)

The paperback edition of Honolulu resident Norris' student memoir brings to vivid life a time and place long ago and far away -- New York in the turbulent late '60s.

---






Click for online
calendars and events.





---





Send WatDat? questions, stories
or any other story ideas or comments to:
Features, Honolulu Star-Bulletin, P.O. Box 3080,
Honolulu, HI 96802 or send a fax to 523-8509
or E-mail to features@starbulletin.com.
Please include your phone number.
E-mail to Features Editor
---
---
© 2002 Honolulu Star-Bulletin
http://archives.starbulletin.com