CLICK TO SUPPORT OUR SPONSORS

---

---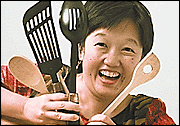 By Request

BETTY SHIMABUKURO
Wednesday, March 20, 2002
---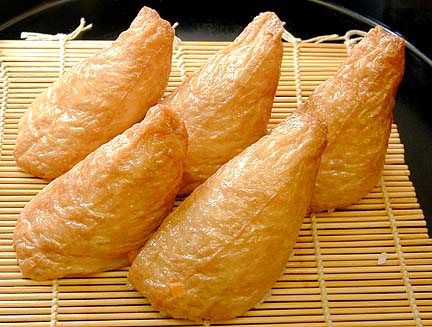 CRAIG T. KOJIMA / CKOJIMA@STAR-BULLETIN.COM
The photographer's reverence for Yama's Fish Market's
cone sushi is obvious in the attention he paid to this
simple specialty.
Yama's Fish Market
offers more than fish

---

The photographer who took the pictures on this page -- Craig T. Kojima -- is among the most loyal customers of Yama's Fish Market. He stops there for lunch almost every two days.

"One of my favorites is the cone sushi made Monday through Friday by Mrs. Yamamoto," he says. "It's unmistakable sweet taste and firm rice is great for a small snack or for lunch."

Anne Yamamoto and son Brian opened the first Yama's 22 years ago in Waipahu. At the time she was an office worker and he had a year left of college. "I told him, 'Finish college, but he said he wanted to open a business."

The market carries all manner of seafoods, including various types of poke, opihi, pulehu tako and dried ahi. But, Yamamoto says, "You can't make money only selling fish, so I went into simple foods, like stews."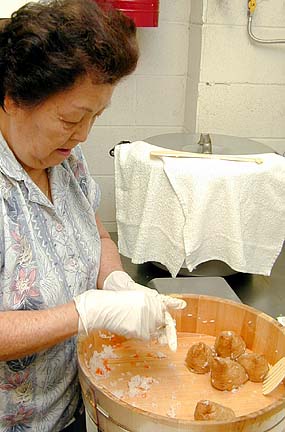 CRAIG T. KOJIMA / CKOJIMA@STAR-BULLETIN.COM
After much coaxing, Anne Yamamoto indulged him by allowing the photos to be taken and sharing her recipe.
---
Now Yama's caters, makes lunch deliveries to businesses around town and even assembles Hawaiian Care Packages for carrying to homesick college students on the mainland.

At the heart of it all, though, is Yamamoto's "simple food," including laulau, kalua pig, chicken long rice, lomi salmon and sweet potato/haupia pies. Craig managed to sweet-talk her out of her cone sushi recipe, for all those who love okazuya fare.

Yama's expanded years ago, from Waipahu to a second shop in Manoa. Eventually that store moved to Young Street. A few months ago, the Yamamotos moved again, a block Diamond Head to a larger location, at 2332 Young St. That's where you'll find the cone sushi now, which is good to remember, as yours probably won't quite come up to Yamamoto's level.

Her son says that when she's on vacation, customers complain that the sushi just doesn't taste the same.
Mrs. Yamamoto's Cone Sushi

12 age triangles (see note)
8 cups water
3-1/3 cups cooked rice
1/3 teaspoon salt
1/8 cup sugar
1/4 cup cooked carrots, chopped fine
1/4 cup sushi vinegar (recipe follows)
Combine ingredients and mix gently
>> Age seasoning:
2-1/2 cups water
1/2 cup soy sauce
1/2 cup sugar
1 tablespoon hondashi

Combine age in water and boil for 30 minutes to remove oil; cool slightly and squeeze to remove liquid.

Combine age seasonings and bring to a boil. Add age and boil for another 20 minutes. Meanwhile, combine rice with salt, sugar, carrots and sushi vinegar.

Cool age slightly and squeeze. Stuff with prepared rice. Makes 12.

Approximate nutritional analysis, per cone sushi: 175 calories, 4.5 g total fat, 1 g saturated fat, no cholesterol, greater than 350 mg sodium, 26 g carbohydrate, 7 g protein.*

Note: Age is the fried bean curd wrapper for cone sushi -- or inarizushi, in Japanese. It is sold in the Asian sections of most supermarkets in cans and packages, under various labels. Yamamoto uses a type that comes as a large square and must be cut diagonally in half, but many can be purchased already cut, sometimes in triangle and other times in rectangle shapes.

Sushi Vinegar

2-2/3 cups sugar
2-1/3 cups vinegar
Pinch of salt
1 teaspoon lime juice (optional)
Shake and refrigerate.





Send queries along with name and phone number to:
"By Request," Honolulu Star-Bulletin,
500 Ala Moana, No. 7-210, Honolulu 96813.
Or send e-mail to bshimabukuro@starbulletin.com




Asterisk (*) after nutritional analyses in the
Body & Soul section indicates calculations by
Joannie Dobbs of Exploring New Concepts,
a nutritional consulting firm.







E-mail to Features Editor
---
---
© 2002 Honolulu Star-Bulletin
http://archives.starbulletin.com