CLICK TO SUPPORT OUR SPONSORS

---

---
Friday, March 8, 2002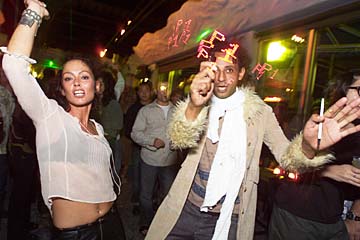 GEORGE F. LEE / GLEE@STARBULLETIN.COM
The mod, the odd and the trendy share the main dance floor of the Waterfront Cafe at the Aloha Tower Marketplace.
---
Al fresco tables
and view save a
dressed-up venue


Aloha Tower's new upscale club
offers a fresh alternative to
a sea of baseball caps

---

By Shawn 'Speedy' Lopes
slopeS@starbulletin.com

In a land where aloha shirts are the preferred attire of even the most distinguished businessmen, a posse of gentlemen in tailored suits makes for an intimidating nightclub greeting party. Case in point: no sooner had I stepped through the doorway of Waterfront Café & Cabaret in the Aloha Tower Marketplace for last weekend's grand opening when a gray-suited greeter approached me, informing me that my knee-length shorts were considered unacceptable attire. Thankfully, my Star-Bulletin credentials were enough to pardon this heinous oversight.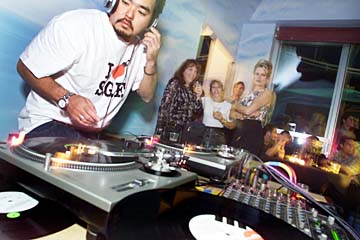 GEORGE F. LEE / GLEE@STARBULLETIN.COM
DJ G-Dogg spins tunes in the second room of the Waterfront Café & Cabaret at the Aloha Tower Marketplace.
---
According to Waterfront's Friday night co-promoter, Jerry Yamenfeld, however, there really is no definable dress code here. Partiers are simply "encouraged" to dress up. While it is refreshing to find a club in which the horizon isn't blocked by a bobbing mass of baseball caps, Yamenfeld realizes that buttoning up goes counter to the local vibe. Thus, he declares, "Nothing's written in stone." For a Kalihi boy who's worn a tie only once -- at my high school graduation -- that's welcome news.

It's been a year or so since W Honolulu Hotel's ritzy "Wonder Lounge" parties first took root here, and ever since, nightclub owners have scrambled to grab a piece of this city's mythical "upscale" crowd. Ah, to have a Christian Slater, Cameron Diaz or Mike Tyson grace your establishment, even if just once in a blue moon -- how magnifique!

But is Aloha Tower Marketplace the most appropriate locale for such a hoity-toity affair? How swanky should an establishment aspire to be when its closest competitor is Hooters? In addition, as a licensed cabaret that can remain open until 4 a.m., is Waterfront Café & Cabaret prepared to deal with the kind of sketchy nightcrawlers that are likely to materialize during those ungodly hours? (Shrug, palms up.)
Thank Yamenfeld and partner Kevin Williams for salvaging what could have been the latest in a series of ego-flossing weekend functions. The astute promotions duo, whose posh Spy Bar shindig at John Dominis was once the crown jewel of Friday night events, assembled an impressive roster of Honolulu DJs for the evening: The world renowned Nocturnal Sound Krew, Scottie Soul, G-Dog, G-Spot, DJ Evil, Balance, and DJ Mark (Chittom) manned the 'tables in an elevated booth between the main bar and dance floor. Most patrons, however, couldn't be bothered to pry themselves from the lustrous liquor trough long enough to take advantage of the sublime soundtrack.

A few brave souls, however, unable to resist the thump of the beckoning sound system, allowed themselves to be entranced by offerings like Soulstice's "Fall Into You" and Negrocan's "Aquela Esquina." Amidst a veil of artificial smoke, swirling lights and pencil-thin laser beams, a smattering of dancers twirled and shuffled, careful not to bump into rubbernecking patrons passing through with cocktails in hand. At the far end of the club in a remote enclave, local funksters Quadraphonix laid down a silken groove of their own.




Waterfront Café & Cabaret

Where: Aloha Tower Marketplace
Nightclub hours: 10 p.m. to 2 a.m. Friday and Saturday
Cover: $10
Call: 585-8488




The venue, which endured the fiasco of Buffalo Bud's (was Honolulu really ready for buffalo burgers?) and the drunken spectacles of the old Sloppy Joe's/Fat Tuesday watering hole has undergone a few minor modifications, mostly cosmetic. The healthy opening night turnout emphasized the ghastly layout of the club, which remains several times as long as it is wide. For strollers making trips between Waterfront's front and back rooms, the trek is as frustrating as ever.

Still, Waterfront Café & Cabaret's indoor/outdoor setup is not without charm, and its canopied outdoor tables provide customers with a pleasant seaside retreat. The view of Honolulu Harbor, which holds up well against even John Dominis' Kewalo Basin backdrop, is ideal for eyes like mine, wearied from following sexy backless numbers all night.





Click for online
calendars and events.
E-mail to Features Editor
---
---

© 2002 Honolulu Star-Bulletin
http://archives.starbulletin.com