CLICK TO SUPPORT OUR SPONSORS

---
---
Sunday, March 3, 2002
[ SUNDAY TRAVEL ]




3 DAYS IN FLORENCE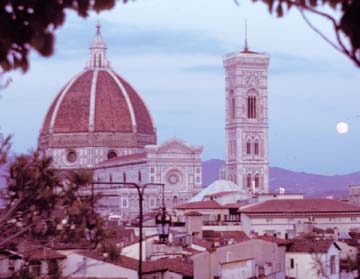 DENNIS CALLAN / SPECIAL TO THE STAR-BULLETIN
The Duomo Cathedral, finished in 1434, is Florence's most important landmark and the world's fourth-largest church. Its dome, which towers 300 feet above the city, keeps visitors oriented.
---
Renaissance town


Florence, with 66 museums, is a
center of culture, an Italian
treasure and a shopper's heaven

---

By Dennis Callan
Special to the Star-Bulletin

Consistently ranked among the world's top four cities to visit by magazines like Travel + Leisure and Conde Nast Traveler, Florence is an Italian treasure to put on your list of places to go.

Tuscany's capital is most famous as the birthplace of the Renaissance, the city where art took major leaps during the 14th and 15th centuries and, combined with advancements in science, literature, politics and business, helped pave the way for modern civilization. By 1300, Florence was already Europe's largest and wealthiest city, with roots that reached back to the ancient Romans, who founded the town and laid out many of the streets in the grid pattern still used today.

With the patronage of the Medicis, artists like Leonardo da Vinci, Michelangelo, Raphael, Botticelli, Brunelleschi, Donatello, Giotto and others created masterpieces here that defined new ways of seeing that still influence us with their dramatic use of perspective, color and realism.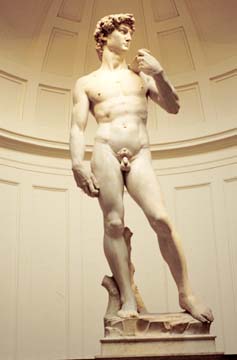 DENNIS CALLAN / SPECIAL TO THE STAR-BULLETIN
Michelangelo's 18-foot-tall statue of David is in the Accademia Gallery. Many say it is the greatest statue ever created.
---
Great Florentine thinkers like Galileo, Dante, Boccaccio and Machiavelli also played important roles in their hometown. This confluence of talent was unique in history, with more geniuses gathered in one small place than ever before or since. The Medici dynasty managed to provide a stable government, despite constant military threats from the nearby city-states of Pisa and Genoa.

The history has been frozen in stone, displayed in the beautiful architecture in the city. Florence looks much like it did centuries ago, filled with wonderful palaces, piazzas and more art per square inch than any other city.

Don't let the town's 66 museums intimidate you; you can see the important sights. For those more interested in shopping than art, you are in retail heaven. Florence is famous for its high-quality leather goods. There is an endless array of beautiful shoes and handbags at street markets or in the many fancy boutiques that line the narrow medieval lanes.

There are plenty of designer boutiques and jewelry shops. Numerous sidewalk stands clustered around the church of San Lorenzo have low prices on small leather goods such as wallets, belts, lipstick holders, bags and souvenirs of all kinds.

The town's small size -- at only 1 square mile -- makes it easy to get around. You could juggle this itinerary with little difficulty: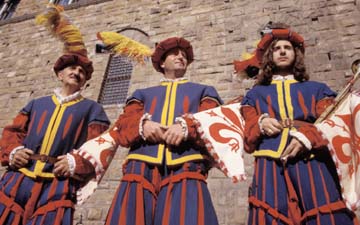 DENNIS CALLAN / SPECIAL TO THE STAR-BULLETIN
Colorful pageants often take place, with locals dressing in Renaissance costumes like those worn by their ancestors.
---
Day 1: Duomo, back alleys, Piazza della Signoria, Uffizi, Santa Croce and Casa Buonaroti
Day 2: Ponte Vecchio, Pitti Palace, Oltrarno, shopping, Accademia
Day 3: A few more museums, shopping and a quick trip out of town

Day 1

The Duomo: Florence's most important landmark, the great Duomo Cathedral, was the tallest building in Europe when it was finished in 1434, and is still the world's fourth-largest church. You can find it by looking up from almost anywhere in town, for the huge dome towers 300 feet over the city. This handy landmark will keep you oriented throughout your stay since the rest of town is low-rise, with historic buildings about four stories high.

Residential buildings during the Middle Ages were taller than today, with nearly 200 "skyscraper" towers that reached up to 240 feet, built for status and defense, until a more egalitarian-minded government cut them down in the mid-13th century. At the same time, a building boom commenced, with the construction of the cathedral, Palazzo Vecchio and Santa Croce, all designed by the same Gothic genius, Arnolfo de Cambio.

The 500-foot-long cathedral was an immense achievement of the medieval masons who invented new construction techniques as they worked, creating Europe's largest building. The exterior was covered with multicolored marble in geometric patterns related to the carpets and fabrics that were created by the wool industry, the most important business in Florence. The wool guilds were the main financiers of the cathedral, eager to create an attraction that would draw travelers from throughout Europe.

For the first hundred years of construction, they could not figure out how to build a roof to cover a huge hole over the altar, until Filippo Brunelleschi came along in the early 15th century with a plan for a great dome. Some historians suggest that the Renaissance began with the completion of that dome. You can climb it if you can spare an hour, winding your way up a narrow staircase between the inner and outer shells, emerging at the top to a spectacular view over the city.

The Piazza del Duomo in front of the church has two more structures covered in multicolored marble, Giotto's Bell Tower and the Baptistery. Both charge admission. You could walk up the tower for a view of the cathedral, but the dome is more exciting to climb. The Baptistery is probably the oldest building in Florence, built more than a thousand years ago, but pay to enter only if you want to see the ceiling mosaic of "The Last Judgment."

The most famous treasures of the Baptistery are on the outer doors, especially copies of the "Gates of Paradise" by Lorenzo Ghiberti (1425-1452) on the side facing the Duomo, important for their early use of perspective. Compare these scenes with the Gothic approach of Andrea Pisano (1333) on the south side, where figures are rigid in typical medieval style.

Walk behind the cathedral to visit the Museo dell'Opera del Duomo, which has several rooms of beautiful statues taken from the cathedral, especially Della Robia's Choir Galleries, Verrocchio's reliefs, Michelangelo's final Pieta, Ghiberti's original panels from the Baptistery doors, Arnolfo di Cambrio's Gothic statues -- and the actual tools used to build the great dome, with explanations of how it was done.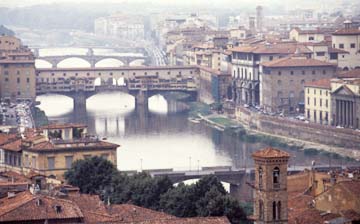 DENNIS CALLAN / SPECIAL TO THE STAR-BULLETIN
Several picturesque bridges cross the Arno River in Florence, including the famous Ponte Vecchio, which is lined with gold shops, making for a pleasant stroll to the Pitti Palace.
---
>> Back alleys: Meander through the narrow back alleys heading toward Piazza della Signoria and the Ponte Vecchio. The buildings have not changed much since the Middle Ages. It's easy to find your way, so don't just follow the typical tourist route along Via dei Calzaiuoli.

Get off the beaten track to escape the mobs and soak up the atmosphere, looking for medieval towers, churches, neighborhood trattoria, snack shops, and locals out for a stroll. A favorite spot is the tiny Piazza Santa Elisabetta, with three surviving towers from the Middle Ages.

>> Piazza Della Signoria: After 30 minutes of wandering, you will arrive at the Piazza della Signoria, the town's other major square, with its statues, cafes, and the massive architecture of the Palazzo Vecchio looming above, the center of political power for 700 years. Looking like a giant castle, the Palazzo Vecchio is open as a museum. Have a look in the front door to admire the grotto design of the courtyard and a bronze replica of Verrochio's puto holding a dolphin.

There are clusters of important statues in the Piazza della Signoria, but the big David is only a copy of Michelangelo's original masterpiece, which you will see in the Accademia. Foremost in the square are Giambologna's equestrian statue of Medici hero Grand Duke Cosimo I and Ammannati's Neptune Fountain, but the best treasures are in the open arcade of the Loggia dei Lanzi. Cellini's Perseus is probably the most outstanding of all the outdoor statues in Florence, cast in perfect bronze that a restoration has brought back to original luster. The other statues are still being renovated, including Giambologna's "Rape of the Sabines."

Look inside Orsanmichele, a stunning small Gothic church with a dazzling tabernacle holding a recently restored portrait of the Virgin Mary. If this is the lunch hour, it will be closed. Things come to a screeching halt during siesta, from noon to 3 p.m. The outdoor markets keep going all day, so take time to shop in the colorful Straw Market, just one block from Piazza della Signoria.

For a splurge, you could eat lunch on the outdoor terrace at Cafe Rivoire with a fabulous view of the Piazza. Cheaper, but without the view, you can stand at the counter and pay a much lower price, as in all Italian cafes. There are also two casual restaurants a block away that offer some of the best values in town. Piccadilly Pizzaria, on Via Por S. Maria, the road leading to Ponte Vecchio, has great slices at low prices, with picnic tables in a garden setting out back. The Hot Pot is my favorite cafeteria, on Via de Lamberti, across from Orsanmichele. There are half a dozen bargain cafeterias where you can have a big meal for less than $10, especially during lunch hour.

>> Santa Croce: After lunch and a little shopping, it's time to visit the church of Santa Croce, where you will see important early Renaissance paintings by Giotto, Michelangelo's tomb, and fine Gothic architecture designed in the Middle Ages by Arnolfo de Cambio. Located just four blocks behind the Palazzo Vecchio, Santa Croce is an easy walk. There is also a nice leather school in the back of the church, with good values in locally made items.

>> Uffizi Gallery: This gallery contains the finest collection of Italian Renaissance art, with masterpieces by Leonardo, Michelangelo, Botticelli, Bellini, Mantegna, Raphael and more, making it one of the top museums in the world. It's a must for the art lover, and a major reason why people come to Florence. You can walk through in 90 minutes. The problem lies in getting in because this is the town's No. 1 attraction, and there is usually a wait of one to two hours. Beat the line by calling a few weeks ahead for reservations, or time your visit for after 3 p.m.

Take the elevator to the top. Notice the Medici busts, and try to identify Renaissance patron Lorenzo. The first gallery on your left has two large paintings that look like typical inert Byzantine until you notice some depth and perspective. These important works by Giotto and Cimabue mark the beginnings of the Renaissance. In the next room is Filippo Lippi's great "Virgin with Child and Angels." The largest gallery has the main jackpot, featuring works by Botticelli including "Birth of Venus," "Primavera" and the spectacular "Annunciation," along with a half-dozen glorious paintings. In the next room, another "Annunciation," but this time by Leonardo da Vinci, one of the few paintings he ever finished, and a piece he did with his mentor, Verrochio.

Classical statues stand in the middle of the Tribune, a red room with a pearl shell dome. The paintings are dark and unimpressive, but the overall effect of this space is rewarding. Follow the crowd into rooms with paintings by Durer, Cranach, Bellini, Giorgione and Mantegna, heading to the South Corridor, which gives you a lovely view over the River Arno, especially nice in the direction of the Ponte Vecchio.

There are two more rooms worth visiting. Through the first door after you turn right into the West Corridor, you will see a stunning Michelangelo masterpiece, the round "Tondo Doni" depicting the Holy Family. Michelangelo made only three paintings on canvas, and this is his best effort. In the next room, admire works by Raphael, including portraits of himself and Popes Julius II and Leo X, the latter Lorenzo's son. Finally, make eye contact with Titian's grand life-size nude, the "Venus of Urbino."

Make an exit at the staircase, or there are a few more rooms you could explore, especially if you want to see the Caravaggio "Bacchus" and the northern talents of Rembrandt, Rubens, Van Dyck and a few dozen more, in seven galleries.

By now you may be ready to take a rest before dinner, but don't make the mistake of falling asleep only to wake up hungry at midnight. Take a brief nap, protected by your alarm and a wake-up call, because Florence is full of excellent restaurants you won't want to miss. Check earlier with your hotel concierge to make dinner reservations, or call the restaurant yourself. Everyone understands English, so you'll have no problem communicating.

Day 2

>> Pitti Palace: You need to cross the Arno River to get to your first stop of the day, either with a pleasant short walk across the famous Ponte Vecchio, lined with gold shops, or a taxi direct from your hotel, depending on how far from the center you are staying. Pitti Palace, the former home of the Medici ruling dynasty, was the largest residence in Europe before Versailles was built.

In the 19th century, when Florence was briefly the capital of Italy, the palace was the home of the nation's king, Vittorio Emanuele II. The palace's Palatine Gallery has a small but important collection gathered in six main rooms. The paintings are hung one above the other in the traditional way that reflects the Medici system of showing their art treasures.

These dazzling images, surrounded by lavish golden frames, hung on red velvet walls, provide almost too much stimulation, but the main attraction is waiting above, in the ceiling murals by Pietro da Cortona. The ceilings depict scenes from the life of a Medici, showing the education and maturity of a young prince, ending with his glorious apotheosis into heaven. On the walls are masterpieces by Raphael, Rubens, Velasquez, Titian, Lippi, Perugino, Caravaggio, Van Dyke, Veronese and many others. Your visit includes 10 worthwhile rooms of the royal palace, with many original furnishings, and a dozen rooms of minor art along the courtyard.

You have an option of visiting several smaller galleries in this palace, each with its own separate admission, including the Silver Museum, with amazing trompe-l'oeil murals covering all the walls and ceilings in this 26-room collection of little sculptures. Afterward, have a stroll in the Boboli Gardens, a fine example of 16th- and 17th-century Italianate landscape architecture, with shaded paths leading up the rising hillside to a panoramic viewpoint. You could pass a pleasant hour in the gardens, finding the various fountains, and the cavelike grotto at the rear of the palace.

Enjoy a stroll through this neighborhood that blossoms with galleries, antique shops, ateliers, piazzas and more restaurants. Oltrano, as the neighborhood is called, also has two important churches: Santo Spirito, designed by Brunelleschi, and the Brancacci Chapel, in the church of Santa Maria del Carmine, with its famous fresco cycle by Masaccio, considered the inventor of realistic perspective in the 1420s.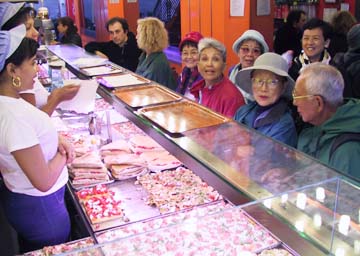 DENNIS CALLAN / SPECIAL TO THE STAR-BULLETIN
Piccadilly Pizzaria Us offers these Hawaii travelers an easy, inexpensive way to grab lunch. It's one block from the Ponte Vecchio.
---
>> Cross the Arno: Walk back across the Arno on the pretty Ponte Santa Trinita Bridge, which offers a fine view of Ponte Vecchio. You will emerge into a busy piazza with a restored palace that is the world headquarters of Ferragamo, with an elegant shoe store on the ground floor. The shopping street of Via de Tornabuoni leads from here into the center of town, but detour to the right, down narrow Borgo SS. Apostoli, and through a "time tunnel," going eight centuries back into the Middle Ages, with ancient palaces and tower houses lining both sides of this charming peaceful street. It only takes five minutes before you reach the busy Ponte Vecchio. Double back along Via delle Terme, another time tunnel leading you back where you started at Piazza S. Trinita and Ferragamo.

Stroll along Via Tornabuoni, with its many fancy shops. For more glamorous boutiques, go to Via Della Vigna Nuova, one of Europe's great shopping streets, especially for clothing, shoes and accessories.

Nearby you will see the massive Strozzi Palace, which often displays fascinating exhibitions relating to Florence's history, so peek into the courtyard and see if the current show interests you. One block over is the Piazza della Republica, home to Gilli, a pleasant cafe with a stand-up coffee bar, tables outdoors and restrooms. This area used to be a bustling town center until it was all knocked down in a misguided 19th-century urban renewal project.

By now it is probably lunch hour, and there are several outstanding restaurants nearby -- especially Buca Lapi, in the basement of Palazzo Antinori on Via del Trebbio, or Buca Mario, on Piazza Ottaviani. You can always get by with a simple sandwich in any of the dozens of snack bars in town, but try to have a few special lunches and dinners.

>> Santa Maria Novella and San Lorenzo: You are in striking distance of another fascinating church, Santa Maria Novella, located on the piazza of the same name. You have come to see art, and the churches -- patrons of old -- are where to find it.

Santa Maria Novella is a good example, with the "Trinity" by Masaccio, considered the first painting to use perspective, plus glorious frescoes by Ghirlandaio, an early teacher of Michelangelo. The church has much more art but is beautiful for its harmonious Gothic architecture alone. Even if you don't want to pay the 4 euros to see another church, admire its facade and the perfect piazza.

You then pass through Florence's busiest outdoor market, alongside the church of San Lorenzo. This market has about 150 stalls with vendors selling belts, T-shirts, wallets, jackets, statues and souvenirs. Don't try to bargain. They are not interested. The prices are reasonable and the quality is OK, but if you want top-quality leather, stick to the stores.

You will emerge at the church of San Lorenzo, which charges 3 euros to get in, 3 euros to enter the Laurentian Library designed by Michelangelo and 4 euros to see the Medici Chapel, also designed by Michelangelo. Once you get past the turnstiles, San Lorenzo is well worth it. Another architectural masterpiece by Brunelleschi, the church interior has Tuscan columns and arches holding up the coffered ceiling, and many artworks, including two pulpits that were the final works of Donatello. This was the family church of the Medici, who are buried in the chapel.

Continue to the next museum to see Michelangelo's David. Yes, this one piece is worth the three-block walk to the Accademia Gallery. He stands 18 feet tall, poised to strike down the giant. Many feel this is the greatest statue ever created, and I agree, but words and pictures cannot do it justice, so you'll just have to see for yourself. The problem is that everyone wants to visit David, so there are long lines, except at the end of the day. If you arrive between 5 and 6 p.m., you should be fine, but the door closes at 6:20 p.m. It is also possible to make a reservation.

The Accademia also has a room filled with Michelangelo's work that most people walk past because of their obsession with David. Called the "Slaves" or the "Captives," these unfinished statues were intended for Pope Julius II's tomb, which never was built, even though Michelangelo spent half his career on this project. These unfinished pieces reveal the way in which the great artist cut stone, and demonstrate his approach of liberating figures from the marble. Another room has a full-size copy of Giambologna's Sabines, and paintings by Fra Bartolomea and Vivarini.

Day 3

Start with a visit to the Bargello, with the main collection of sculpture in Florence. Built in the Middle Ages, the Bargello has served many functions, including town hall, courthouse, prison and museum. The original architecture is still intact, so the building is as interesting as its contents. It has an excellent selection of statues, including several by Michelangelo, and notable pieces by Giambologna, Donatello, Verrocchio, Brunelleschi and Ghiberti.

A few blocks away is the towering Palazzo Vecchio. Enter the museum, which emphasizes the domestic life of the noble ruling class of the city. This palace is one of the most important buildings in town, for the government has been meeting here for 700 years. It is the former residence and seat of power of the Medici, who ruled Florence during the Renaissance. You'll see meeting halls and intimate private rooms of the Medici, with many original furnishings, tapestries, paintings and sculptures.

Now, you can catch up with sights you missed or take a short trip out of town. For more history and culture, you could visit the Archaeological Museum, which has three or four wonderful bronze statues dating to Etruscan and Roman times, and near it you might visit the Convent of San Marco to see frescoes by Fra Angelico.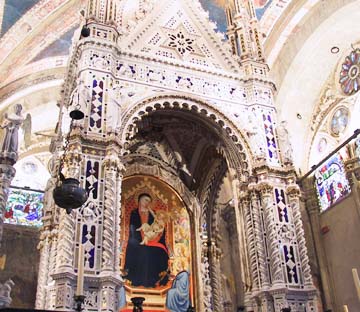 DENNIS CALLAN / SPECIAL TO THE STAR-BULLETIN
Orsanmichele Tabernacle is one of the most beautiful examples of late medieval art in Florence. The tabernacle framing a painting of the Virgin mother is found inside the church of Orsanmichele.
---
Walking from one museum to the next, you will pass through Piazza della Santissima Annunziata, with a remarkable church filled with more art treasures, including the sculptured tomb of Giambologna and a huge ceiling mural. Notice the arcades along the side of the piazza, designed by Brunelleschi as part of another landmark building, the Hospital of the Innocents.

If you are a big fan of Michelangelo, you might head over to Casa Buonarroti, his family's house, on Via Ghibellina. While Michelangelo never lived there, he did pay for its construction for his father and brothers. The museum has two of his original marbles, "The Madonna of the Steps" and "Battle of the Centaurs," along with some sketches, household items, memorabilia and a gift shop.

>> Excursions: A visit to Siena, Fiesole or Pisa would make a nice day trip. However, the quickest of all excursions is to take the No. 13 bus from the train station on a 15-minute ride through town up to Piazalle Michelangelo for a classic overview of the city.

The trip to Fiesole is almost as easy and offers many rewards. Ride public bus 7 through the suburbs, passing large, well-kept villas and pastoral scenery, arriving in Fiesole 30 minutes later. You can walk to principal sights, starting with the viewpoint next to Palazzo Vescovile, which offers a sweeping vista across the hills to Florence, five miles away. Signs will lead you through public gardens and to the real treasure of town, the Roman ruins with the spectacular amphitheater, and remains of a bathhouse, plus some earlier walls built by the Etruscans, who founded this town. There is also a small museum with hundreds of artifacts recovered during excavations.

A longer trip from Florence will take you one hour away to Siena, a classic, well-preserved example of a Tuscan Renaissance hill town. You can get there on an organized bus tour or take the train for $5. If you arrive by train, purchase tickets for the city bus in the station and ride up the hill. It will bring you right into the historic center. This small historic town is ideal for walking, so the main activity is to stroll through its narrow pedestrian lanes and find the artistic and cultural highlights, including the cathedral, the main piazza and several small museums. Most of the buildings were constructed between 1200 and 1500.

If you must see the Leaning Tower of Pisa, you can get there in an hour from Florence, either on a guided bus tour or by train. The tower has been reopened to visitors. The scaffolding is gone, so you have a clear view of this odd phenomenon. If you want to climb it, you should check with your hotel desk for instructions, as the daily number of entrances is limited. Be sure to also visit the magnificent Romanesque cathedral and baptistery.

IF YOU GO

Following are recommendations for lodging and dining in Florence, as well as hours for museums and churches, and Web sites to further your research. If telephoning from the United States, use the phone prefix 011-39.

HOTELS

>> Grand Hotel Baglioni (our favorite): P.za Unita Italiana, 6; call 055-23580; fax 055-358895
>> Grand Hotel Minerva: P.za S. Maria Novella, 16; call 055-27230; fax 055-268281
>> Hotel Astoria: Via del Giglio, 9; call 055-2398095; fax 055-214632
>> Hotel Brunelleschi: P.za S. Elizabetta; call 055-27370; fax 055-219617
>> Hotel Mediterraneo: Lung. del Tempio, 44; call 055-660241; fax 055-679560
>> Hotel Villa San Michele (superdeluxe, 5-star rated, a few miles out of town): Via Doccia, 4, Fiesole; call 055-59451; fax 055-5678250

RESTAURANTS

>> Alle Murate: Via Ghibellina, 52-54r; call 055-240618
>> Al Trebbio: Via delle Belle Donne 47-49; call 055-287089
>> Buca Mario: P. Ottaviani, 16r; call 055-214179
>> Cantinetta Antinori: Piazza Antinori, 3; call 055-292234
>> Cibreo: Via del Verrocchio, 8; call 055-2341100
>> Le Fonticine: Via Nazionale, 76r; call 055-282106
>> Ottorino: Via delle Oche, 12-16r; call 055-218747
>> Terrazza Brunelleschi: Hotel Baglioni; call 055-218441
>> Belle Donne: Via delle Belle Donne 16r; call 055-2382609
>> Il Gelato Vivoli 7: Via Isole Delle Stinche (the best ice cream)

MUSEUMS AND CHURCHES

Museums are closed on Monday, unless otherwise noted. Schedules are subject to change.
>> Ufizzi Gallery: Open 8:30 a.m. to 6:20 p.m., 6-euro admission. Book your ticket by phoning 055-294883.
>> Pitti Palace: Open 8:15 to 6 p.m., 6 euros
>> Boboli Gardens: Open 9 a.m. to 4:30 p.m. in winter; until 7:30 p.m. in summer; 5 euros
>> Bargello: Open 8:15 a.m. to 1:20 p.m.; 4 euros
>> Archaeological Museum: Open 9 a.m. to 2 p.m.; 4 euros
>> San Marco Convent: Open 8:30 a.m. to 1:50 p.m.; 4 euros
>> Palazzo Vecchio: Open 9 a.m. to 7 p.m.; 5 euros. Closed Thursdays.
>> Giotto's Tower: Open daily 9 a.m. to 4:20 p.m. in winter; 9 a.m. to 6:50 p.m. in summer; 4 euros
>> Buonarroti House: Open 9:30 a.m. to 1 p.m.; closed Tuesdays, 6 euros
>> Dome of the Cathedral: Open 8:30 a.m. to 6:20 p.m.; 5 euros
>> Museo del Opera del Duomo: Open 9 a.m. to 6:30 p.m.; closed Sundays; 5 euros
>> Medici Chapel: Open 8:15 a.m. to 5 p.m.; 5 euros
>> Accademia: Open 8:15 a.m. to 6:20 p.m.; 7 euros
>> San Lorenzo Basilica: Open 10 a.m. to 5 p.m.; closed Sunday; 3 euros
>> Santa Maria Novella: Open 9:30 a.m. to 5 p.m.; 3 euros

FLORENCE WEB SITES

>> www.mega.it/eng/enot
>> www.florence.ala.it
>> www.inyourpocket.com/Italy/Florence_home.shtml
>> www.florenceart.net
>> www.infirenze.net
>> www.italyguide.net/primae.htm
>> www.english.firenze.net
>> www.guidedflorence.com

---

Dennis Callan is the president of the Hawaii Geographic Society and produces the "World Traveler" television series, shown at 7 p.m. Tuesdays, repeating 9 a.m. Wednesdays on 'Olelo, channel 52. He frequently leads tours through Europe, and writes "Three Days In ..." the first Sunday of each month explaining how to get the most out of three days in the world's great places. View the companion TV episode this week.
E-mail to City Desk
---
---
© 2001 Honolulu Star-Bulletin
http://archives.starbulletin.com