CLICK TO SUPPORT OUR SPONSORS

---

---
Wednesday, February 20, 2002
[ THE ARAKAWA VERDICT ]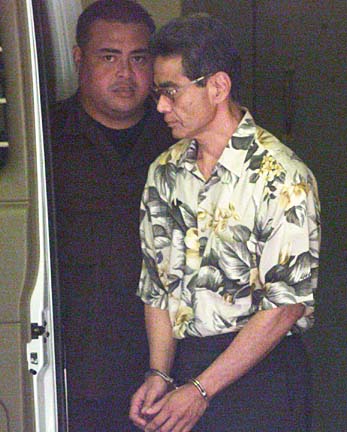 CRAIG T. KOJIMA / CKOJIMA@STARBULLETIN.COM
After the verdict yesterday, retired HPD officer Clyde Arakawa was led away in handcuffs to a van that took him to Oahu Community Correctional Center, where he will await sentencing on April 22.
---
Jurors felt veteran
cop should have
known better


An emotional verdict goes against
retired officer Clyde Arakawa

---

By Debra Barayuga
dbarayuga@starbulletin.com

In the end, it all boiled down to whether former police officer Clyde Arakawa was aware of the substantial risks of driving while intoxicated, but disregarded them.

A panel of nine women and three men unanimously agreed and found Arakawa guilty yesterday of reckless manslaughter for causing the death of 19-year-old Dana Ambrose in a car crash in October 2000.

The jury also found the prosecution had proved beyond a reasonable doubt that Arakawa was speeding, driving while impaired by alcohol, ran a red light and had a blood alcohol level higher than the legal limit of 0.08.

They could have found him guilty of the lesser offense of first-degree negligent homicide, where the prosecution would have had to show only that Arakawa should have been aware of the risk of his conduct.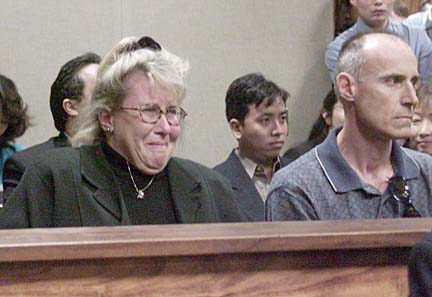 CRAIG T. KOJIMA / CKOJIMA@STARBULLETIN.COM
Susan Ambrose, Dana's mother, left, began to cry as the verdict was read. At her left was Ambrose's father, Rod.
---
While there was no key deciding factor in finding Arakawa guilty of manslaughter, jurors felt he was a veteran police officer who should have known better.

"Out of all the jurors, probably eight maybe did say that it did weigh heavily," said jury forewoman May Shim.

"Clyde Arakawa not only should have been aware, he's an adult, he was a police officer," said another juror who declined to be named.

City Prosecutor Peter Carlisle said he will be asking the court to sentence Arakawa to the maximum 20 years.

Arakawa's attorney, Michael Ostendorp, said they intend to appeal all possible issues, including the court's decision to include jurors on the panel who said they had opinions about his guilt or innocence and had a difficult time setting it aside.

"I'm disappointed, very disappointed because it does not reflect the evidence in this case," Ostendorp said of the verdict.

"Obviously, someone did not take a look at all the evidence."

The jury, which included retired schoolteachers, secretaries and a mechanic, felt otherwise.

Shim said they carefully weighed all the evidence, which included conflicting testimony by experts and eyewitnesses.

The state maintained Arakawa was intoxicated after a seven-hour drinking binge, was speeding and ran a red light when he collided with Ambrose at Pali Highway and School Street.

The defense blamed Ambrose for her injuries, saying she was the one who was speeding and who ran a red light.

While Carlisle said he was pleased with the verdict, he took issue with the way Ostendorp accused Ambrose of being a drug user during closing arguments when the autopsy report showed she had neither alcohol nor drugs in her system.

"I am very, very unhappy that that was done in the courtroom, and I was very pleased that the jury was able to see through it."

Carlisle also found Arakawa's "resilient liver" defense flew in the face of common sense and was appropriately disregarded by the jury.

"I don't think you could sit there and say, 'Well, he couldn't have been a drunk driver because he's such a good drinker.' "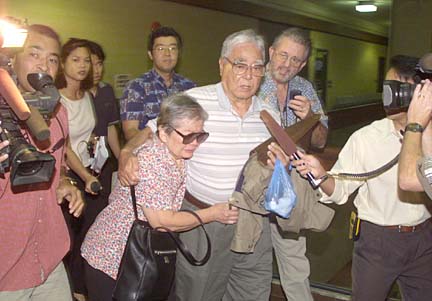 CRAIG T. KOJIMA / CKOJIMA@STARBULLETIN.COM
Hideo and Aiko Arakawa, parents of the accused, were pursued by reporters after the verdict was read yesterday.
---
Carlisle also took issue with testimony by a defense expert who concluded Ambrose contributed to her injuries by not wearing her seat belt, calling it speculation. A firefighter testified he cut Ambrose's seat belt to help remove her from the crushed car.

"I don't think we should have phony experts in the courtroom and that lady seemed to me pretty much to be have-tongue, will-travel," Carlisle said.

Critical to the state's case was the introduction of Arakawa's 1992 conviction for criminal trespassing in which the sentencing judge expressed concerns to Arakawa about the effects alcohol had on him, Carlisle said. Arakawa was found passed out and drunk in a stranger's house.

That case showed Arakawa was aware of the risks, but consciously disregarded them, he said.

The case also reaffirms that law enforcement officers aren't going to be treated differently from any other citizen who breaks the law, Carlisle said.

Police Chief Lee Donohue said he hopes the verdict sends a warning to others who drink and drive.

"It must have been a difficult decision for the jury, but the verdict sends a clear message that this type of behavior will never be accepted," Donohue said. "My heart goes out to the Ambrose family and to everyone who has been hurt by this tragedy."

Donohue had acknowledged shortly after the crash that Arakawa had been extended courtesies at the crash scene, but that it had no bearing on the results of the investigation.

Arakawa was captured on video roaming the scene, being comforted by other police officers, and he had a union lawyer summoned to the scene.

Despite the courtesies extended to Arakawa, Carlisle said the verdict was in part due to the work by dedicated police investigators, and he called accusations by the defense that evidence had been tampered with "hocus-pocus."

Ostendorp, during the trial, had questioned the handling of the traffic light signal by police investigators who later were promoted.

At a press conference today, Dana Ambrose's father, Rod, thanked everyone who has supported the family through their 16-month ordeal, especially "the jury for seeing through the confusion the defense threw at them and just looking at the facts of the case."

The manslaughter verdict "sends a message to the people that the consequences of driving under the influence are way too costly. The penalty should be very severe," he said. "The consequences are so exceedingly high, it's unbearable, and it has to stop."

Dana's mother, Susan, entered the press conference in good spirits but later she fought back tears as she discussed what her family now faces. "We go now to dealing with our life without Dana, and that is so difficult."

Like Arakawa, who showed little emotion when the verdict was read, members of his family appeared stoic until they exited the courtroom.

Arakawa's mother, Aiko Arakawa, said the family feels as though they have been mistreated.

"The trial has been one-sided all along," she said. "He's a good boy."

Circuit Judge Karen Ahn, who presided over the nearly two-week trial, set aside Arakawa's bail and ordered him immediately into custody. He was taken to the Oahu Community Correctional Center to await his April 22 sentencing.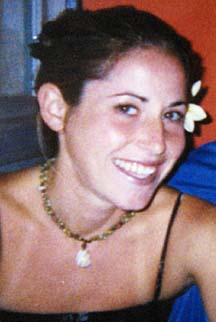 COURTESY OF THE AMBROSE FAMILY
Dana Ambrose: The UH student died in a collision in October 2000.
---
"They didn't have to take him away today," said Arakawa's aunt, Ruth Eckert, wiping away tears. "At least let him see his family."

Ostendorp said that, despite the outcome, Arakawa thanked him for what took place during the trial.

Ostendorp had strongly objected to Arakawa being taken into custody after he was found guilty, saying there was no evidence he was a flight risk and has never been a danger during his 25 years as a police officer.

Throughout the trial, Ostendorp had criticized the judge's rulings, saying she appeared to be biased against the defense and at one point asked Ahn to excuse herself from the case.

Carlisle called what the Ambroses have gone through "every parent's worst nightmare."

"Losing an attractive, young, vibrant and healthy daughter and having her accused of being a drug addict in court and having somebody sue them for car damages -- give me a break," said Carlisle. "That's something none of us wants to go through."

Mothers Against Drunk Driving called the verdict a victory for the safety of Hawaii's roadways and residents.

"It sends a clear message that Hawaii will not tolerate drinking and driving," said Yvonne Nelson, MADD Hawaii board president.

"We are deeply saddened that it took a tragedy like this -- and the senseless death of a beautiful and vibrant young woman -- to remind everyone to not drink and drive, no matter how little alcohol they consume."

Hideo Arakawa, Arakawa's father, said the jury had already made up its mind before hearing the evidence and that the evidence was all for naught.

He said he hopes the court will be lenient toward his son at sentencing.

"Everybody makes mistakes. Of course, this was a real bad one."

---

Star-Bulletin reporters Gordon Pang, Leila Fujimori, Lisa Asato, Treena Shapiro and Rod Antone contributed to this report.
E-mail to City Desk
---
---


© 2002 Honolulu Star-Bulletin
http://archives.starbulletin.com